On Monday two teams from San Miguel were in action for the first game of the season.
San Miguel Orcas were at home to  El Rancho Pintos, where they got off to a 'blistering' start winning 12 – 0, 105 shots to 55. The best winning triple were Linda Douglas, Sandi Hannan and Dave Young 29 – 10.
San Miguel Dolphins were away to County Bowls Flamingos where they shared the points 6 – 6, 75 shots to 90, the best winning triple were Jan Farmer, Dave Greenland and Lynn Greenland.
On Thursday San Miguel played Monte Mar in a re-arranged Winter League game. It wasn't the result that San Miguel were hoping for losing 8 – 0 29 shots to 58.
On Friday San Miguel Comanches were away to San Luis Tigers where they shared the points 6 – 6, 82 shots to 95. The best winning triple were Pat Staden, Dave Homer and Alan Harris 27 – 12.
Also on Friday San Miguel Apaches were home to Emerald Isle Cavaliers where they shared the points 6 – 6, 96 shot to 93. The best winning triple were Allan Patterson, Steve Parr and Gail Willshire 29 -8.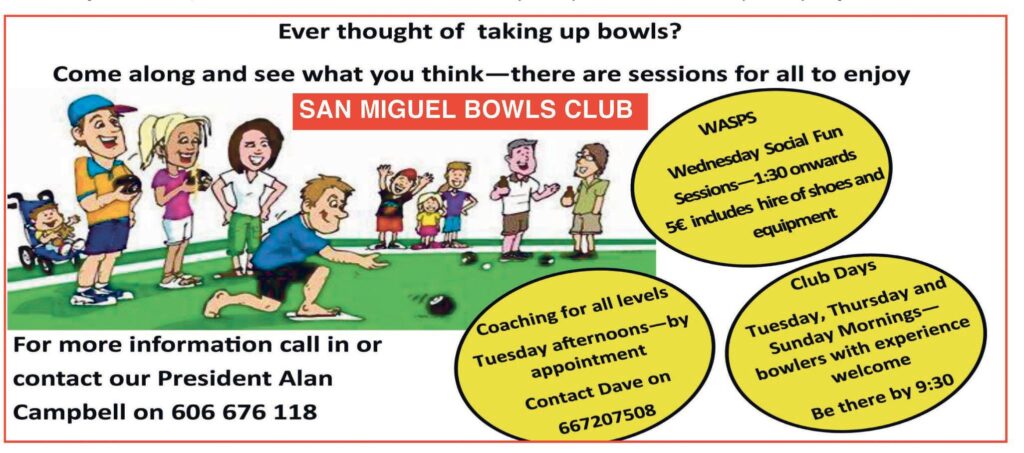 A reminder that the Wasps sessions take place Wednesdays 1.30pm for 2.00pm – €5 for an afternoon's bowling with shoes and bowls available to borrow. Due to the popularity of the Wasps, first time bowlers are asked to attend an initial coaching session on Tuesday afternoons, starting at 1.45pm.
We welcome all bowlers who would like to join San Miguel B.C. as we are a unique club  we only pay owner fees and a club fee and NO LEAGUE RINK FEES.
For further information on San Miguel B.C please contact club secretary Barry Jones on 602 504 905 or club president Alan Campbell on 606 676 118