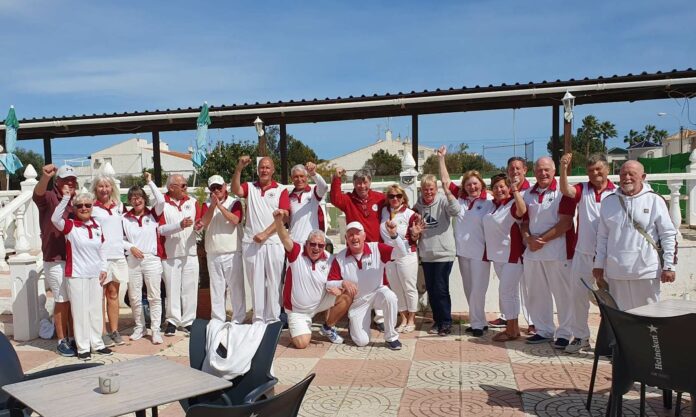 The Panther win Southern League Division 3
It's the last week of the LLB winter leagues and pride of place go to our Panthers team winning Division 3 of the Friday Southern League in style, going to the seconded place team San Luis Tigers and winning 8 to 4. Winning rinks were Dave Belton, Jim Rennie, Kevin Store 22 to 8, Val Lever, Allan Lever, Steve Wailes 20 to 9, Liz Mildon, Nick Mildon, Dean Webb 20 to 12, overall 92 to 65.
Meanwhile at a very windy Country Bowls, the Geckos entertained San Miguel Bulldogs and finished off the season with a fine win 10 points to 2, shots 88 to 53. Winning rinks were Barry Evans, Clive Hoyal, Graham Richardson 15 to 9, Sheila Whitehall, John Jukes. Ray Robson 19 to 11, Alison Robson, Linda Ponsford, Gary Ponsford 28 to 9, Del Gunning, Derek Lewis, Peter Whitehall 13 to 9.
On Monday both teams travelled to La Siesta, Flamingos had the early game and recorded a good win in their last game, 7 points to 5, shots 94 to 71. Winning rinks were Sheena Mallet. Alan Miller, John Mallet 30 to 11, Clive Hoyal, Trish Dix, George Burrage 22 to 11
In the afternoon the Seahawks battled hard and managed a creditable draw 6 points each, shots 85 to 79, winning rinks were Sue Hudson, Del Gunning, Peter Whitehall 30 to 14, Ben Noke, Dave Belton, Ray Robson 21 to 13.
A good winter season for the club, 2 team were promoted last season, finishing midtable and Panthers win League, a great performance overall.
Peter Dix