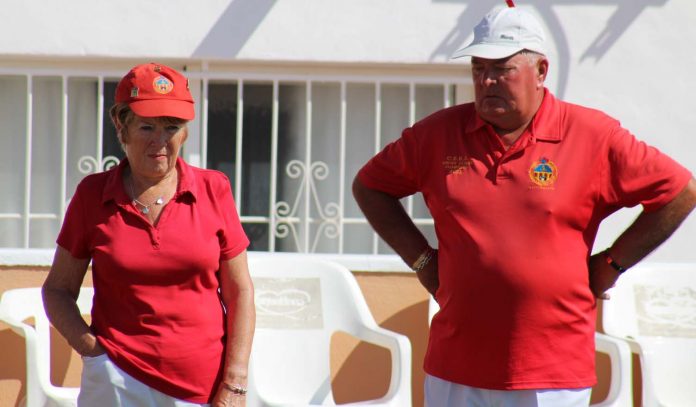 EL RANCHO BOWLS CLUB
The Pintos, on Monday, played host to the Greenland Sycamores on a horrendous day for bowls, with a strong gusting and cold wind. But the Pintos having the advantage of the home mat, adjusted to the conditions sooner than their worthy opponents and took 5 rinks and the overall shots, well worth getting out of bed for.
Meanwhile the Broncos travelled to the Emerald Isle to play the Moonrakers in very difficult conditions on an away mat, but although they came away without a point, the ones I spoke to this morning had enjoyed the experience and one or two had been close matches.
Friday morning brought the Vistabella Conquistadors to El Rancho to play the Raiders, alas the opposition failed to provide a full team and conceded one rink, but took two, and hence the Raiders took the points by 10-4. Helga Schiffman, Gill Bartlett and Rob Clark drew the conceded rink and I am sure would rather have played. Pam Harris, Malc Elmore and Brian Harris 19-14. Marion Haynes, Diane Yates and Dave Haynes 13-18. Edward Elsam, Tony Robinson and Graham Day 18-10. Ngaio Baldwin, Bob Easthope and Gary Newson 23-14. Tricia Elsam, Peter Blackburn and Keith Longshaw 16-23.
In the afternoon the Mustangs played host to the Emerald Isle Claymores, struggled a little without complaint, to master the speed of the mat. Though they played well and took 2 rinks, although some of the scores had large points differentials, the game play was close. Judy Foley, Keith Cunningham and Geoff Jones 15-10. Barbara Jones, Sheila Cooper and Jane Hamill 15-22. Ann Taylor, Malc Sykes and Jim Gracie 34-8. Irene Thomson, Jim Taylor and Eddie Thomson 33-7. Maxine Wright, John Skipper and Rod Wright 14-21. Henry Ryder, Jan Bright and Richard Lee 26-6. For membership details contact Brian Taylor on 965077093 or at briantaylor_es@yahoo.co.uk or Carolyn Harris on 966774316 or at elranchobowls.secretary@gmail.com
EMERALD ISLE BOWLS CLUB
The Titans were at home to Country Bowls and came out winners by 12=2 aggregate146=69 this win gives them promotion ,,Now a final push is on to go up as champions. Winners were Y Mallerburn P Coffey F Close 34=15,,D Rhodes K Jolliffe D Gerrard 26=8 P Heaney J Pooley I Brewster 28=6 M Whitelock C Highland M Stacey 22=8 J Parkes M Veale P Parkes 21=13
The Neptunes travelled to second placed La Siesta Apollos and came away with an excellent 9=5 win,,with winning rinks being E Morris D Birkett J Mullarkey 36=10. J Jarvis E Sheperd J Mulloy 20=8 and LHawkins A Malcolm B Smith 18=9. L Fisher S Johnson P Willicott got a 18=18 draw
The Moonrakers recorded a fantastic 14=0 win over El Rancho Broncos,with an aggregate of 142=68,,the winners were V Cameron L Burns A Burns 31=7 R Adams M Petty M Breen 30=10 I Fay R Fooks F King 25=12 L Harris S Wickens A Fay 22=12, M Foulds B Foulds E Bennett 19=16 S Adams T Harris R Ede 15=11
Wed saw the EI travel to Finca Guila in the winter league and they keep pressing the top positions with a 9=3 win anda aggregate of 85=74,,winners were J Parkes M Veale C Highland and P Parkes 21=11, M Highland R White A M Stevenson D Gerrard 21=14, P Heaney S Johnson D Birkett I Brewster 17=13,,and they got a 17 =17 draw as well with D Rhodes Y Mallerburn F Close C Lindgren
Thursday brought two games to the Emerald Isle in Fed4s League the Shamrocks home to San Luis Bazars beaten 8=0 with an aggregate of 44=61 the Leprechauns losing at home to Quesada 2=6 and aggregate of 47=56, winning rink D Rhodes L Vincent J Pooley and D Birkett 20=16
Friday saw the Cavaliers play Monte Mar at home and slipped to a 2=12 aggregate of 117=121 defeat. winners were J Parkes M Veale P Parkes 39=9
The Claymores played at El Rancho Mustangs,and lost 4=10 with the aggregate being 74=131 winning trips were A Brown S Johnson P Willicott 22=15, EMorris C Thomas and J Mullarkey 21=14
The Outlaws were at home verses La Siesta Golds and had a great 14=0 win with an aggregate of 143=69, winning trips were J Dear F King R Ede 32=12, V Cameron P Cresswell A Fay 21=10,,, M Foulds T Harris E Bennett 27=11, R Adams M Petty M Breen 20=14 L Harris S Wickens A Burns 20=10, S Adams G Inwood B Foulds 23=12
The Roundheads played Monte Mar Torreadors and got beaten 2=12,with an aggregate of 53=112 winning trips A Padfield P Cresswell S Watson 17=12
ELWYN MORRIS
GREENLANDS BOWLS CLUB
In the South Alicante League, Enterprise Division, The Maples were at Home to San Miguel Meteors. Final scores were – total shots for – 86. total shots against – 92. Points for – 6. Against – 8. Winning rinks were………..Sheila Stead, Val Duchart, skip Sue Brown. – 16 shots to 9. Brian Tomlin, Dave Dudding, skip Mel Brown – 21 shots to 15. Jean Thompson, Joan Oliver, skip Marilyn Fryatt. – 13 shots to 12.
In the Discovery Division, the Sycamores were away to Emerald Isle Titans. Final score was – Total shots for – 88. total shots against – 153. Points for 2. against 12. Winning rink was………………Rudy Wattley, Terry Lawton, skip John Obrien. 37 shots to 6.In the Southern League, the Oaks were away to San Luis Lions. Final score was – total shots for 75, against 100. Points for 4. against – 10. Winning rinks were – Sheila Stead, Joan Oliver,Mel Brown. 23 shots to 8. Brian Tomlin, Dave Thompson, Marilyn Fryatt. – 16 shots to 14.For all inquires regarding new membership please ring Haley on 966844399
LA MARINA REPORT BY BARRY LATHAM
This week has started off a bit like last week. Oops. The Explorers wended their way to the place on the hill only to lose 11-3 at Vistabella Albatrosses. I'm sure there is a saying about Albatross. Margaret & Rob Finlayson plus Maureen Kidd managed a draw, Jim & Kathy Manning and Reg Jackson drew while our winning rink comprised of Dave Hadaway, Arthur Cronk and the inevitable Anne Stone.
Next came the Pathfinders who went to play at San Miguel Comets and lost 10-4. Two winners were John Rae, Mick Fitzgerald and Lynne Armitage 18-10 and David Taylor, Dave McGaw and Lorita Rae 22-16. Hooray for the Raes.
Okay so they don't need us, extra holiday then. Well done to the Winter League at home versus San Miguel with a10-2 win. John Mallet, Peter Parsons, Roger Stacey and Maureen Kidd won19-15; the Armitages and the Taylors combined together to get 25-12 win; Dave Hadaway with his happy girls, Kathy Manning, Barbara Forshaw and Janet Parsons won18-15 and Alan Castle, Phil Pape, the Butlers won 22-9. No mention of Anne. San Miguel won the Berleen.
What a good Friday. All three teams winning. The Sharks played away against Vistabella Lanzadores and a close game it was, one rink drew, two others lost by one and one won by a lot. The big winner was Alan Castle, Phil Pape and Janet Parsons 32-6. The other winners were Margaret and Rob Finlayson and Hilary Cronk; Alex Whyte, Dave Hadaway and Dave O'Sullivan while the ones who drew were Roy Hart, Peter Parsons and Andy Bartlett.
The Dolphins entertained La Siesta Blues and won a closely fought match with the two points for the overall score. John Rae, Dave McGaw and Roger Stacey won 18-15; Brian Duff, Martin Butler and Maria Duff won 19-11 while John and Shirley Withers and Angela Butler made sure we won the overall with a 27-6 win.
Last but not least the Seagulls nearly got their revenge when La Manga Crusaders visited us. 12-2 winners we were. Len Daniels, Steve Hindle and Berni Carr 29-12; Keep it in the family, Sue Daniels, Mike Stone and Mo Taylor 32-11; John Morgan, Clive Pratt and Dave Bulfield 31-6; Colin Armitage, Arthur Cronk and Anne Stone 23-10; Dave Taylor, Gina Hindle and Lynne Armitage 22-15.
LA SIESTA BOWLS CLUB BY ROD EDGERTON
The week began with no fixture for the Pioneers and so the only match involved the Apollos who had a home match,in very windy weather, against Emerald Isle Neptunes.Despite convincing wins for Barbara and Jack Cooper with Vic Mahomet 32-6 and Irene Laverick with Pat and Brian Harman 20-12 the only other point came from Ann and Robert Heath who rescued a draw 18-18 with a final end getting four shots.The overall shots being 97-110.The points 9 to the Isle 5 to La Siesta.
Mixed fortunes in The Fed 4's with the Hoopoes gaining a 6-2 home win against Montemar whilst the Parakeets lost away at Horadada by the same scoreline. Wins for the Hoopoes came from Rod Edgerton,Bill Jordan with Florence and Mike Edwards 23-7 and by Val Dalton,Norman Adcroft Jack Cooper and George Richardson 18-14 whilst Ann and Robert Heath with Tony Dalton and Vic Mahomet lost by a single shot. The winning rink for the Parakeets,in tricky conditions, at Horadada came from Joy and Brian Gardiner with Tony Campbell and Jean Cooper 17-14.
The Winter League saw the visit of Vistabella to our home and they gained revenge from the reverse fixture with a 10-2 win. Our winning rink was Joy Gardiner,Trish Reilly with Bill and Sue Jordan who won 25-15.Bad luck for the rink of Ann Edgerton, Jack Cooper,Pat Reilly and Mike Edwards who lost by a single shot in a match that was in doubt until the skips delivered their last bowl.
The Blues travelled to La Marina to play the Dolphins and suffered a narrow 8-6 reverse the shots score being a close 85-93. Winning rinks for La Siesta were Ann and Robert Heath with Pat Harman 23-9,Joy Gardiner,John Taylor and Jean Cooper 16-8 and Barbara Cooper,Vic Mahomet and Mike Edwards 14-12.
Not such good news for the Golds who lost their away match at Emerald Isle Outlaws without recording any winning rinks.On the day they faced some excellent bowling by their opponents.
Finally,some good news to report one of our stalwart members Roy Millward is at last out of hospital and on his way to recovery, although not yet available to receive visitors.We look forward to seeing both him and Sheila back on the rink as soon as possible.
MONTE MAR BOWLS AND SOCIAL CLUB
Sponsored by The Belfry, The Pub, Bowling Abroad and Avalon
Monte Mar Toreadors v San Luis Romulans.
A hard match played on a very windy day. Well done to the Toreadors winning on four rinks.
Shots Toreadors 120 – 94 Romulans. Points Toreadors 10 – 4 Romulans.
Monte Mar Matadors v San Luis Trekkers.
Winning on four rinks well done ton Sue Kemp, June Young skip Brian Zelin 20 – 16 Geraldine Fisher, Harry Dobson skip Gordon Fisher 10 – 0. Ronnie Cairns, Alan Ashberry skip Tony Finan 23 – 12. Denise Ashberry, Dave Melville, skip Bill Young 19 – 10.
Shots Matadors 94 – 77 Trekkers. Points Matadors 10 – 4 Trekkers.
Tuesday 21st February.
Monte Mar Picadors v La Siesta Hoopoes.
Winning on one rink well done to Sheila Roberts, Lesley Jones, Ron Jones and skip David Eades.
Shots Picadors 35 – 54 Hoopoes. Points Picadors 2 – 6 Hoopoes.
Monte Mar Lords v Greenlands Bulls.
Winning on all three rinks, well done to all.
Shots Lords 61 – 35 Bulls. Points lords 8 – 0 Bulls.
Wednesday 22nd February.
Winter League Monte Mar v Quesada.
Not a very good day at the office losing to a very good team. Winning on one rink well done to Sue Kemp, Jan Gatward, Danny King and skip Brian Zelin.
Shots Monte Mar 69 – 94.Points Monte Mar 2 – 12 Quesada.
Friday 24th February.
Monte Mar Toreadors v Emerald Isle Roundheads.
A good day for the Toreadors with the Roundheads only able to field five teams instead of six. Nevertheless the Toreadors won on four rinks and losing on the last end on the remaining rink. So a big well done to everyone in contributing.
Shots Toreadors 112 – 53 Roundheads. Points Toreadors 12 – 2 Roundheads.
Monte Mar Matadors v Emerald Isle Cavaliers.
Winning on five rinks well done to, Sue Kemp, June Young skip Brian Zelin 21 – 17.
Keith Simpson, Joe Ridley skip Diane Ridley 16 – 14. Ethal Finan, Tony Finan skip Bill Young 30 – 18. Geraldine Fisher, Harry Dobson skip Gordon Fisher 19 – 13. Ronnie Cairns, Val Higgin skip Roy Mercer 28 – 16.
Shots Matadors 121 – 117 Cavaliers. Points Matadors 12 – 2 Cavaliers.
For further information about Monte Mar Bowls and Social Club check out our website www.montemarbowls.com or email us at info@montemarbowls.com. We are also on Facebook.
SAN LUIS BOWLS CLUB REPORT 24.02.17.
An unsettled week, cool, cloudy and windy at times; maybe March will be better.
South Alicante Winter Triples: Enterprise Div. Monday 20th SL Klingons home v Q Pearls, a fight to the end, points 12-2, 118shots-99. Winners: Kath Reid, Sabrina & Russell Marks 21-13, Bob White, Keith Phillips, Scott Malden 19-17, Shirley Verity, Jo & Julian Pering 25-24, Steve Simmons, Keith Roberts, Giuseppe Galelli 18-12, Ray Clarke, June & Keith Jones 22-12. SL Trekkers, away v MM Matadors, hard game, 4pts-10, 77shots-94. Winners: Ros Holmes, Marina Beardsall, Derrick Cooper 19-8, Mags Haines, Dave Tilley, Vic Slater 20-14. Discovery Div. SL Romulans, home v MM Toreadors; tough match 4-10, shots 94-120. Winners: Mary & Tom Fromson, Kevin Hull 21-13, Dennis Jackson, Keith Blood, Harry Epsom 23-14.
Winter League: Wednesday 22nd home v Benitachell, so close to a clean sweep; points 10-2, shots 98-67. Winners: Pam Lockett, Jo Pering, June & Keith Jones 19-13, Shirley Verity, Ray Clarke, Jules Pering, Russell Marks 19-14, Ann Holland, Keith Phillips, Neil Morrison, Sabrina Marks 26-9, Irene Everett, Lynne Morris, Peter McEneany Tom Hill 16-12.
FED 4's League Thursday 23rd a battle of Blues v Reds, which fortunately the Blues won! Div A SL Ospreys, home v SM Cherokees, a good result; 53shots-45, pts6-2. Winners: Sheila Cammack, Jo Pering, June & Keith Jones 20-12, Pam Lockett, Lynne Morris, Ray Pollock, Tom Hill 22-14. Div B SL Condors; good points home v SM Mohawks, 6-2, shots 54-44. Winners: Allen Bowen, Bill Webb, Barry Edwards, Brian Pocock 20-12, Mags Haines, Ros Holmes, Margaret Morrison, Neil Morrison 18-13. Div C SL Bazas, a great win away v top of the league EI Shamrocks 8-0, 61 shots-44. Winners: Doug Beattie, Margaret Stephens, Fay Beattie, Drew Russell 25-15, Pat Malden, Pat Bird, Graham Bird, John Malden 19-14, Dennis & Chris Jackson, Dave Blackie, Scott Malden 17-15.
Friday 24th LLB Southern League, SL Lions home v GL Oaks, useful points 10-4, shots 100-75. Winners: Ann Holland, Pam Lockett, Giuseppe Galelli 24-10, Kath Reid, Keith Phillips, Scott Malden 25-14, Bob White, Ray Pollock, Phil Morrachan 19-12. SL Tigers, home v Q Swallows hard fought 6pts-8, shots 96-108. Winners: Margaret & Barry Roseveare, Derrick Cooper 27-13, Marina Beardsall, Bill Webb, Neil Morrison 20-12, Irene Everett, Dave Tilley, Vic Slater 15-12. SL Pumas, a tough match away v HO Royals, 0pts-14, 62 shots-136.
For information on San Luis Bowls Club check: www.sanluisbowls.byethost7.com
Sheila Cammack.
SAN MIGUEL BOWLS CLUB
The TV cameras and Guardian newspaper will be at San Miguel Bowls Club on Thursday 2nd March during club morning. They want to get opinions of ex pats over Brexit. Please see notice board.
Another mixed bag of results this week. In the SABA league, the Comets played La Marina Pathfinders winning 10 points to 4. Well done to Stan North, Jim Jarvie, Jack Jackson 32-7; Sheila Errington, Peter Ross, Brian Errington 20-9; Bill Mosely, Frank Scotthern, Bob Donnelly 28-10; Bill Reeves, Carl Eagle, Bill Brownlee 19-14. Great shots difference 125 for, 80 against.
The Meteors were away to Greenland Maples, winning 8-4. Close shot difference 92 for, 86 against. Val & Chris Collier, Stuart Denholm 19-13; Noel Davis, Dave & Lynn Greenland 18-7: Margaret Patterson, Brian Miller, Cliff Plaisted 19-16.
The Pulsars were at home against Vistabella Drivers winning 8-6. Jan Farmer, Peter Rees, John Raby 29-6; Anita Brown, Sheila Booth, Gary Raby 15-11; Pete Masters, Brenda Rees, Eddie Cowan 16-12; Shots for 100, against 86.
The Winter League only managed 2 points against La Marina. Well done to Cliff Plaisted, Val & Chris Collier, Stuart Denholm 21-11. Shots for 72, against 96.
In the Fed Fours all teams struggled this week for points. The Mohawks got 2 points, winning team was Sheila Errington, Sheila Booth, Alan Booth, Brian Errington 19-16. 44 shots for – 54 against.
The Cherokees also got 2 points, winning team Noel Davis, Gail Willshire, Chris Collier, Fred Willshire 19-11. Shots for 45, against 53.
Another 2 point win for the Apaches!! Jan Allen, Brenda Rees, John Marshall, John Raby 21-19, Shots for 38, against 65.
Brilliant result for the Cougars in the Southern League, winning 13points to 1 against Country Bowls Geckos. Bob Nesbitt, Bob Donnelly, Bill Brownlee 24-16; Bob Hanton, Peter Ross, Barbara Scotthern 26-11; Bill Moseley, Frank Scotthern, Jack Jackson 25-12; Meg Brownlee, Ann Eagle, Mike Bayfield 24-19; Sheila Errington, David Champion, Brian Errington 25-14; Bill Reeves, Sandy Hannon, Carl Eagle 16 across. Shots for 140, against 88.
The Cougars were away to Quesada Swifts winning 8 points to 6. Well done to Pat McEwan, Alan Booth, Dave McEwan 17-8; Jan Farmer, Ron Nairey, Paul Thomas 26-12; Anita Brown, Tom Dalgleish, John Marshall 26-15. 113 shots for, 101 against.
Another date for diary OPEN FORUM Thursday 9th March 0930 for 1000. Come along, have your say, bring ideas. Please note, the green will be closed until the meeting ends.
Club mornings are Tuesdays, Thursdays and Sundays 0945 for 1015.
The WASPS meet on Wednesday afternoons at 1.30. 5 euros for an afternoons friendly bowling, includes shoes, woods and free tuition if required.
For further information on San Miguel Bowls Club, please contact the President Eileen Potts, telephone 966730376, or Secretary Pat McEwan telephone 966714257.
VISTABELLA BOWLS. WITH LYNNE BISHOP
Off to a good start this week with the Enterprise Albatrosses away to La Marina Explorers, Four wins & a draw. T French, C Watkins & B Pain 21-9. S Kirk, N Burrows & K Cuthbert 18-9. L Bishop, S Broadhurst & J Bowman 19-14. L Watkins, S Burrows & M Furness 16-15. O Ratcliffe, B Brown & A Brown 15-15. Shots, VB 99(11) -82(3) LM.
Drivers away to San Miguel Pulsars had three wins, D Chaplin, B Ewart & P Whitehall 20-10. F Barclay, L Barber & G Thorpe 19-14. S Whitehall, M Foulcer & B Norris 18-16. Shots, 86(6) – 100(8) SM.
Voyager league Eagles home to Mazarrón Mariners had four winning Rinks, R Smith, P Cadwell & A Kendall 20-10. M Irwin, R Hudson & P Tomkins 21-12. M Blythe, K Rennison & R Pownall 20-17. D Hudson, S Cox & J Bagwell 17-16. Shots, VB 106(10)- 102(4) M.
Winter League. Another good win, this time at La Siesta…pay back time. O Ratcliffe, J Bowman, C Thorpe & B Pain 25-14. J Chaplin, M Foulcer, B Norris & E Bishop 21-13. S Burrows, B Brown, M Regan & G Thorpe 17-11. L Bishop, P Tomkins, A Brown & I Kenyon 19-18. VB 97(10)- 81(2) LS…nice one!
Fed 4's. Vikings were away to San Miguel Apaches, them Indians don't scare us! A great win of…VB 65(6) – 38(2) SM. Well done.
Southern league div A Lanzadores at home v La Marina Sharks. Two wins & a drawn game. O Ratcliffe, D Howard & K Cuthbert 20-19. L Watkins, B Brown & M Furness 16-15. J Chaplin, S Broadhurst & I Kenyon 17-17. VB 87(5) -123(9) LM.
Picadores also at home v Mazarrón Miners, four wins from D Gunning, J Neve & D Jenkins 35-10. S Kirk, T French & M Foulcer 21-18. D Leggatt, B Pointon & C Thorpe 15-13. F Barclay, B Ewart & G Thorpe 18-17. VB 114(10) – 97(4) M.
Div C Conquistadors away to El Rancho Raiders managed two wins on this difficult rink, well doe to R Savage, K Savage & P Tomkins 23-16 and D Hudson, A Kendall & J Harwood 18-13.
VB 79(4) – 89(10) E R.
Sponsored by Venture Fleet, Autos Direct, Rivingtons Restaurant & TV Choice