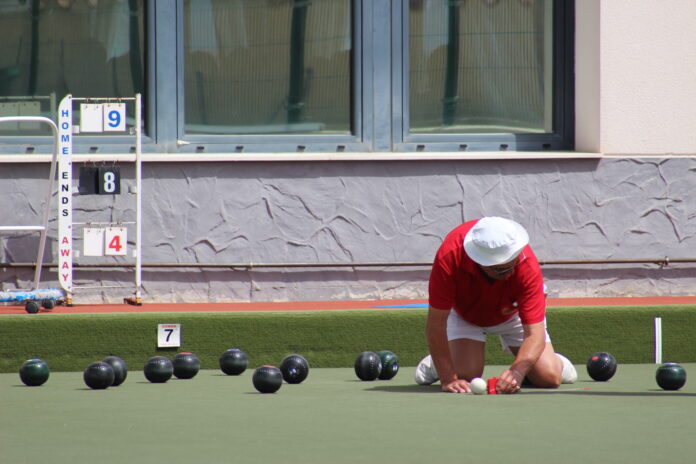 SPONSORED BY SPANISH LIFE PROPERTIES
Over the last 4 weeks Monday evenings have been the Quesada v San Luis friendlies. These proved to very competitive and enjoyable despite the heat.
Week 1 – was 5 points to 9 but with shots equal. George Carnell, Peter Rees & Fred Roberts 19-6 and John Cleal, Richard Lewin & Suzi Cooper 10-6.
Week 2 – it was 10 points to 6 points. George Kershaw, Peter Rees, Michael Sumner 18-11, Carl Evans, Violet Campbell, Fred Roberts 16-5, Tina Brinton, Peter Bradbury, Brenda Rees 11-6, Sandra Heath, Dave Collings, Andy Reid 19-5
Week 3 – 3 points to 11. Tina Brinton(replaced by Ann Linley), Dave Collings & Steve Hibberd 14-8, John Cleal, Richard Lewin, Mark France 7-7
At this stage we were 18-26 points down & -19 shots.
Week 4 and the team came good. Winning 13-3 to take the series 31 to 29 and plus 28 shots. John Cleal, Carl Evans, Andy Reid 16-3, Sandra Heath, Dave Collings, Steve Hibberd 21-6, George Carnell, Allen Bowen, Mark France 15-7, Jackie Hughes, Violet Campbell, Michsel Sumner 12-11 (scoring 4 shots on the final end), Terry Morgan, Claire Dye, Suzi Cooper 13-11 (scoring 3 shots on the final end) and Max Holmes, Richard Lewin & Peter Bradbury 9-9 winning the final end for the draw.
Meanwhile on Wednesday evenings a stalwart few have been playing the Come & Go league sponsored by Spanish Life Properties. There are currently 7 players who have played the minimum 5 qualifying  games. John Cleal, Dave Collings, Richard Lewin, Terry Morgan, Andy Reid, Michael Sumner & Pixie Turner. Other players can joi them next week. Could be an exciting finish.
Dates for your diaries – 9th September – Open Forum, 27th September – President v Captain challenge.