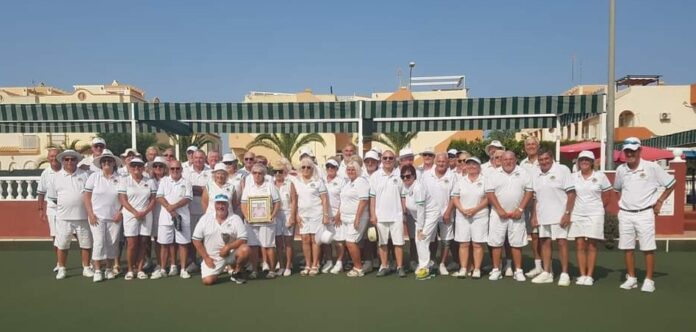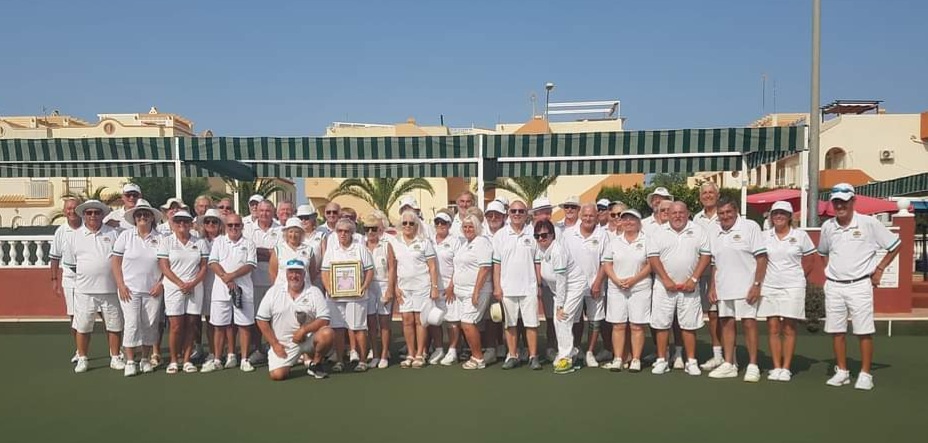 The Isle had the Brian Taylor Memorial Trophy Game on Wednesday in memory of Brian who was a very popular member of the club and who recently passed away.
The event was held as a fundraiser for The Stroke Association Spain and Alan was there on their behalf of the charity to receive 500 Euros, which was raised through donations and the raffle. As he was presented with the money, he gave a massive thanks to everyone involved.
Well done all of bowlers who took part and filled all 8 rinks
It was followed by over 60 Fish and Chips meals and a few beers to remember the gentleman he was.
The Club presentation Day also took place with the following awards handed out by Seamus Moran Pairs:                Martin Oakley & Mick Ellis
Ladies 2 Woods: Jill Holmyard
Men's 2 Woods: Martin Oakley, Luke Burke, Norman Prior
Mixed Rinks: D Jones, M Veale, Noel Davis, Mary Dyer
Mixed Trips: A M Gerrard, Drew Gerrard, Colin Lindgren
Mixed Pairs: S Marks, R Marks
Ladies Pairs: S Marks & M Dyer
Men's Pairs: J Pering & R Marks
Ladies 4 Woods: M Dyer
Men's 4 Woods: D Gerrard
Champion of Champion: S Marks & M Dyer
SAPS is on Sat at 9.15
ELWYN MORRIS