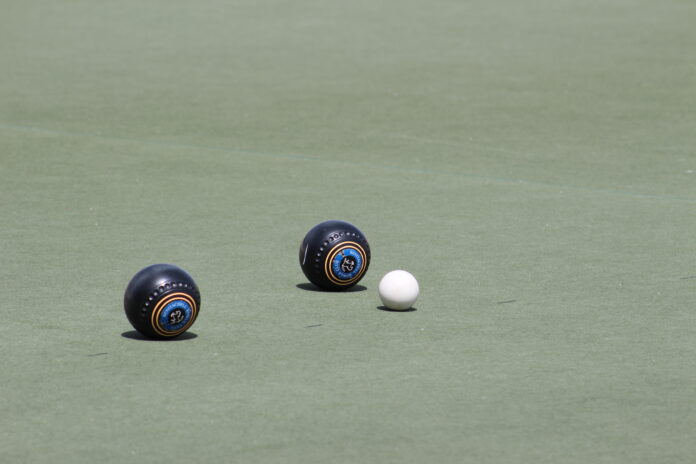 In an action packed rain free week, the boys and girls in QBC certainly made use of the good weather.  Top tier Pearls, travelled to La Siesta last Monday, where these 3 winning rinks helped secure an 8-4 victory – M France, G Phillips, Jason P 19-10. B Carnell, C Dye, F Roberts 33-10. B Trinder, V Campbell, M Ward 20-13.  Diamonds were also away, an 8am departure to Country Bowls awaited them.  They too recorded a good 8-4 triumph over Seahawks, thanks to these 3 rinks and overall shots of ONE – G Kershaw, S Hibberd, P Farrell 24-16. A Bowen, B Elliott, S Cooper 21-13. K Gordon, D Collings, T Voisey 14-12.  Rubies were at home, where they had a superb 12-0 triumph.
On Wednesday, Swans visited La Siesta for a postponed southern league match.  Winning on 3 rinks against Golds, were these blue shirted warriors – L Armstrong, P Bottle, T Voisey 24-13. A Benson, A Linley, B Armstrong 17-10. A Bowen, B Elliott, S Cooper 22-15.
Finally, on Friday, Swallows won handsomely at Greenlands against Oaks.  Here's the winning rinks who contributed to an 8-4 victory – G Carnell, V Campbell, F Roberts 24-17. T Morgan, C Dye, M Ward 25-13. C Brazier, M France, Jason P 29-9.  Both of our 2nd div teams were at home that day.  In the morning, Swifts lost 4-10 against Vistabella Picadors, with these 2 rinks doing the biz – C Skinner, S Jakeman, T Lale 18-16. S Johnston, B Miller, A Reid 23-15.  Following them, Swans not only won on 3 rinks, but secured overall shots, to gain an 8-4 victory over El Rancho Mustangs.  Well done – A Bowen, B Elliott, B Armstrong 24-12. H Olsen  P & B Rees 23-6. C Bowles, D Gould, K Bowles 16-11.