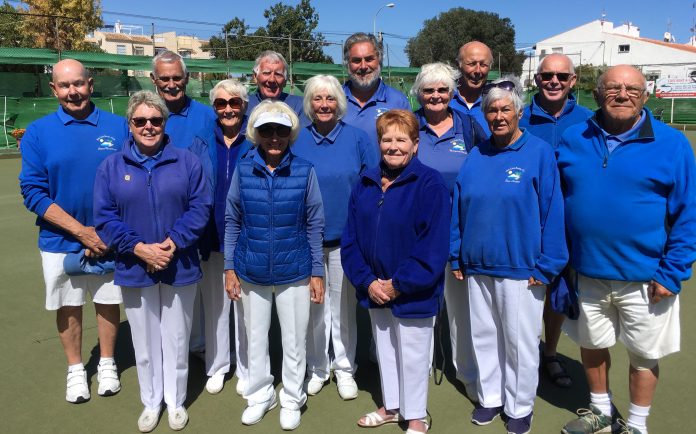 The winter season is almost finished but no time to relax as next week sees the start of the summer leagues!
SA League, Enterprise Division Monday 25th Klingons home v MM Matadors, 7pts-5, 87shots-66. Winners: Colin Jackson, June & Keith Jones 14-14, William Holtham, Sabrina & Russell Marks 34-8, Bob White, Peter McEneany, Ian Kenyon 19-11. SL KLINGONS are A Division WINNERS.

Trekkers, away v LM Explorers, shots 84-76, 6pts-6. Winners: Kevin McKenna, Mags Haines, Peter Fuller 22-10, Judy Carroll, Jo & Jules Pering 18-12. Vulcans home v EI Saturns, 8-4, shots 96-92. Winners: Pat Tilley, Chris Jackson, Bob Bromley 22-19, Derek Barker Steve Rossiter, Sue Ross 22-20, Dennis Jackson, Cas Blay, Phil Hasler 26-8. Romulans away v CB Flamingoes, 4 points-8, 74shots-114. Winners: Chris Phillips, Allan Lever, Ralph Jones 22-19, Chris Lythe, Pat Barnes, Tom Fromson 21-13.
Wednesday 27th Winter League: home v El Cid, an excellent result after some incredible "houdini" finishes 11-1, 108shots-70. Winners: Pam Lockett, June Jones, Peter McEneany, Keith Jones 26-12, Kath Reid, Giuseppe Galelli, Neil Morrison, Ian Kenyon 20-14, Jan Pocock, Bill Webb, Sabrina & Russell Marks 14-13, Ros Holmes, Ray Pollock, Jo & Jules Pering 18-18, Ann Holland, Keith Phillips, Ray Clarke, Scott Malden 30-13. Another great result for our Berleen team: Shirley Verity, Margaret Morrison, Barry Edwards, Dave Blackie 31-4. Two matches to go with points to play for.

On Tuesday 26th we held our end of season dinner at Casa Ventura. We enjoyed good food, good company and entertainment and said goodbye to some of our members returning to UK for the summer. We also celebrated the achievements of our club champions & finalists who were presented with their trophies.
Club Champions:
Men's Singles: Colin Jackson, Ladies Singles: Irene Everett.
Men's Pairs: Robert Hicks & Lyndon Johnson. Ladies Pairs: Kath Reid & Ann Holland.
Mixed Pairs: Helen Hammond & Scott Malden.
Mixed Triples: Alan Bowen, Suzi Cooper & Scott Malden.
Mixed Rinks: Pat Bird, Chris Phillips, Graham Bird, & Keith Phillips.
Drawn 2 wood Pairs: Robert Hicks & Neil Morrison.
We are a competitive but friendly club; you're welcome to join in "Vic's hamper" on Saturday & some Tuesday mornings. For more information & calendar, check SLBC website at: www.sanluisbowls.byethost7.com We welcome new & experienced bowlers, come along & see us, or for more help contact June Jones, Club Captain: 691903773.
Sheila Cammack