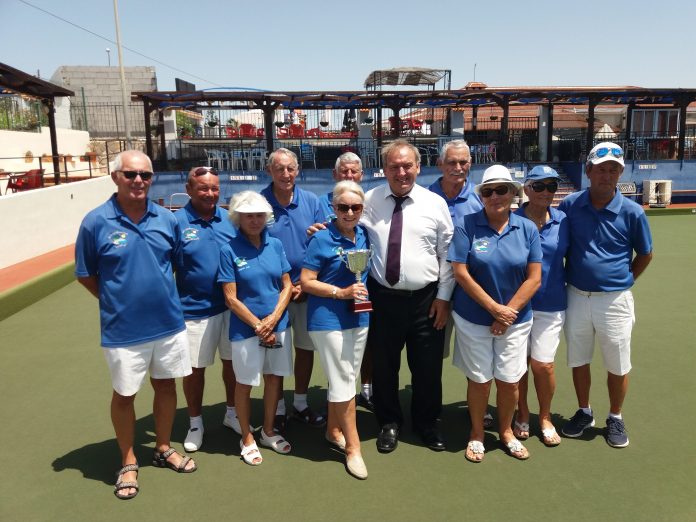 The VC Leagues are complete with SL Falcons Div A Champions. The South Alicante leagues have just one match to go with SL Wellingtons and Quesada Blenheims vying for top spot.
South Alicante Summer League: Monday 25th June SL Wellingtons home v Quesada Lancasters, had a close fought battle, shots 116-96, points 8-6. Winners: Kath Reid, Ann Holland, Ian Kenyon 23-12, Pam Lockett, June & Keith Jones 28-10, Steve Simmons, Ray Pollock, Scott Malden 14-13, The Wellingtons are at the top of Spitfire league with 81pts/ + 213 shots, and Quesada Blenheims on 81pts/ +164 shots.
SL Hercules had a frustrating result away v league leaders MM Torro, 2-12, shots 75-115. Winners: Dennis Jackson, Ray Watmough, Ralph Jones 19-16. After a strong fight back, Hercules currently 3rd in Harrier league.
Wednesday 27th June VCL: SL Falcons away v Quesada Lions, a great result, 9-3, shots 76-50. Winners: Singles – Kath Reid 21-1, Ian Kenyon 21-17, Pairs – Steve Simmons, Russ Marks 11-11, Trips – Ann Holland, June & Keith Jones 17-9. Congratulations to SL Falcons, Div A Champions.
SL Hawks home v Emerald Isle Earls had a tough match; pts 2-10, shots 65-96. Pairs; Ralph Jones & Charlie Marigold, put some great shots together and were winning for most of the game just losing out in the end 14-18. Our Super Rinks; Kath Waywell, Ken Dullaway, Ian Ross & Brenda Brown kept their nerve to take another great win, 18-11. Although we didn't get the result we wanted or needed, thanks to all our HAWKS who worked hard for the team throughout the season, finishing in 3rd place. Congratulations; Quesada Tigers Div C winners.
Thursday evening Aussie Pairs: "Kangaroo League" Current positions after 4 games: 1st Wallaroo (capt. Russ M) 9 pts + 32 shots, 2nd Kangaroo (capt. Scott M) 8 pts + 21 shots, 3rd Platypus (capt. Keith J) 8 pts + 8 shots, 4th Kowari (capt. Roy C) 6 pts + 19 shots, 5th Wombat (capt. Ian K) 10 pts +6 shots.
SAD NEWS: we were sorry to hear this week of the death of Ron Briden; our thoughts are with Yvonne, family, friends & El Cid BC. Also the death of Ted Eldred, our thoughts are with Barbara, family, friends & Emerald Isle BC.
For results etc. Club website: www.sanluisbowls.byethost7.com
For general information about San Luis Club, contact June Jones, Captain: 691903773.
The photo shows members of San Luis FALCONS team, WINNERS of the VCLeague A Div. The Falcons remained unbeaten throughout the VCL campaign, thanks to all the players involved and of course the supporters.
The Trophy was presented by Mike Lewis from De Vere the sponsor of the VCL.