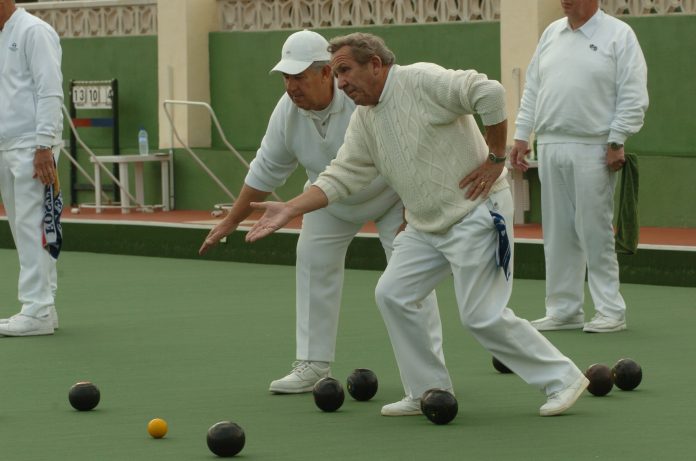 San Miguel Bowls Club – week ending 6th July
By Gail Willshire
The Moors finished the league with a flourish this week, winning 14:0 away to Horadada Hawks, 148 points to 74. This result meant the team finished the season unbeaten, 32 points ahead of the nearest rivals and with a massive shot difference of 378. The results were as follows: Lynn Greenland, Linda Plaisted & Gary Raby 17:14; Jan Allen, Stuart Hemmings & Dave Greenland 26:12; Gail Willshire, Brian Allen & Fred Willshire 27:15; Tony Sansom, Don Whitney & Mary Dyer 35:6; Bob Nesbitt, Cliff Plaisted & Stuart Denholm 21:10 and Sue Milner, Lee Sinclair & Steve Cantley 22:17.
The Christians faced the squad at the top of league, San Luis Wellingtons, hoping to get enough points to avoid relegation. Pat McEwan, Dave Champion & Dave McEwan managed a draw 16:16 against one of the most experenced trips on the Costa Blanca, and were holding the game until the opposition skip drew in with his last wood. Sheila Errington, Sandie Hannah & Brian Errington also managed a draw 15:15 against another very experienced team. The game was nip and tuck, 15:14 going into the final end when the opposition skip again came in for shot with his last wood. Ian hope, Alan Dobie & Mike Douglas finished with another draw 16:16, after having been 10:4 down after 9 ends but picking up a 5 on the 10th, bringing them back into the game. 3 points meant they had to rely on other results to see what would befall them, but this was just enough to keep them safe. San Miguel look forward to having two teams in the top division again next year.
The Wasps sessions have come to an end for the summer but will start again on Wednesday 5th September 1:30 for 2:00. €5 for an afternoon's bowling with shoes and woods available to borrow.
For further information on San Miguel Bowls Club please contact the President Stuart Hemmings on 965720461, or the Secretary Gail Willshire on 965020492.
Vistabella Bowls Report With Lynne Bishop
The final game of the South Alicante Summer league for the GREENWAYS was played on Monday at home against the Quesada Blenheims, the Blenheims stood a chance of winning the league but the Greenways team gave them a good fight for points, both sides had three wins but the overall shots swung in favour of the Greenways. Captain Arthur Brown & vice Maggie Furness had a tough task of keeping over forty available players happy, they did incredibly well and the Greenways eventually finished fourth in the league..hopefully next year we will be able to submit two teams. Winning the points on this occasion were Mike Irwin, Arthur Brown & Peter Whitehall 21-9. Lynne Bishop, Mike Regan & Pat Rafferty 21-10 and Del Gunning, Charlie Watkins & Eric Bishop 20-10. Shots, VB 104(8) – 99(6) Quesada.
Congratulations to San Luis the 2018 league Champions..they won every game except for one…the one we won!
Thank you to all our Team Captains & Selectors for their hard work..a daunting task at times.
Sue Wilson organised a Saturday morning Competition which ran over eight weeks and was won by Mike Irwin, Mike was neck and neck with his closest contender Frank Barclay, it was so close it was down to a measure on a ditched wood that went in favour of Mike..Congratulations Mike and commiserations to Frank. Thank you Sue for running this.
SABA KNOCKOUT. Both Lin Watkins & Maggie Furness have earned themselves a place in the semi finals of the Ladies Singles when they will be playing each other, good luck ladies…one of you will be in the final representing Vistabella! Also Lin & Charlie Watkins are through to the semi final of the mixed pairs. Good luck to all the Vistabella competitors in their next rounds, Arthur Brown & Martin Foulcer. Del Gunning & Gary Thorpe in the men's pairs. Sandra Burrows & Maggie Furness in the Ladies pairs and Stuart Allman & Maggie Furness in the mixed pairs.
That's me now signing off for the summer…Hasta luego!
COUNTRY BOWLS by Geoff Paylor
The Country Bowls ' Badger's' travelled to San Luis on Monday 5th July for the last match of the summer season, and what a match, could it have been any closer with both teams going for second spot.? The morning was very hot as was some of the bowling. The 'Badger's' played well against a very strong team from San Luis with Brenda Jiggins, John Hassell and John Mallet winning with an amazing score of 36 – 2. , Joel Fernandez, Niel West and Phil Warrington with a score of 26 – 14. . 4 points in the bag. The team of Geoff Eggleton, Graham Richardson and Geoff Paylor met a very good trio and a skipper in good form losing 15 – 14. Ben Noke, Derek Jiggins and Andy Bryce played a very close game losing with a score of 12 – 14 on the last end. Craig Dyson in his first role as skip along with Dot Davies and Dave belton, and also Lynne Bryce in her first role as skip with Dean Webb and Dave Smith fought hard but were overcome in the end by the teams from San Luis.. The shot difference near the end was to our advantage and I started to believe we could grab 2nd spot in the league but the final couple of ends turned against us and we lost the shots 102 – 103 and settle for 3rd place which is a fantastic result for Country Bowls.
As the out going skipper I would like to thank everyone but especially Andy Bryce, Ben Noke and Phil Warrington without whom we might not have finished the season.
Thank you to you all.
And a final note from Country Bowls committee to say a big thank you to Geoff Paylor for organising the teams. Thank you Geoff for your hard work.
For anymore information on Country Bowls please visit the website www.countrybowlsmurcia.com email grahamandjo7@gmail.com or ring 868183703
Emerald Isle Bowls Club by Elwyn Morris
Monday the Victors travelled to Quesada Lancasters and had a great 10-4, aggregate 104-103 win. The winning trips were: S Kavanagh E Morris B Kavanagh 24-11 M Riley Parsons K Jolliffe 20-19, M Whitelock M Veale G Odell 17-16 C Thomas G Shoots M Odell 13-12
The Vulcans played La Siesta Wasps at home and the visitors took the game 8-6, aggregate 99-122, winning trips were A Brown S Watson Close 24-11 B Doran L Freeman J Mullarkey 25-13, T Capewell C Ayling P Willicott 24-16
Horadada Bowls Club by Irene Graham
On Monday of this week we played the last match of the Summer League Hurricane Division at home to San Miguel Moors. To say it was not a good result for us is a bit tame as we lost on all six rinks and gained zero points. However, in saying that, San Miguel put out their best players and we were up against it right from the start. San Miguel played very well and well done to them to top the league. The final shots were 74 for and 148 against. Horadada finished up second bottom of the table with 57 points. If only one team go down then this will be a good finishing result for us given the size of our club. Well done to all the members who participated in the team and think positive for next season. Thanks goes to our Team Captain Bill Stanaway for his efforts on the team selection. It is never an easy job.
After the match our spirits were raised with a bit of lunch and a drink at the Asia Restaurant in Pilar de la Horadada. A good laugh and a natter soon chased away the blues.
Horadada offers a warm welcome to new or experienced bowlers, and provides the necessary equipment. Our roll-up days for this friendly club are Tuesday, Thursday and Sunday mornings. Please contact Fred Trigwell on 659139129 for more information.
Quesada Bowls Club Report by Dee Stephenson
It's been a nervous but exciting week for Quesada with the last matches of the season deciding the winners and losers!
In the VCL league QBC Tigers finished the season with a fantastic result winning the Division C league by 11 points and confirming their promotion to Division B next season.
The Lions were hot on the heels of San Luis Falcons throughout the season but couldn't quite catch them and finished second in Division A of the VCL league. Great performances from the whole team in all of their games.
The newly formed Cheetahs were QBC's third team in the VCL league. Although finishing in last place in Division C, they put up a creditable performance against other experienced teams whilst managing the additional challenges of a very small squad. The camaraderie and support throughout the team has been a joy and this tenacious and determined team will be back next season to fight again!
In the South Alicante Summer League, the Lancasters had a nail-biting match against the Emerald Isle Victors who won 10-4. But the Lancasters came extremely close to reversing the score and remaining in the division as 3 rinks went to the wire, only losing by one shot, including missing the overall shots by only one. Well done to the two winning rinks: Mel Highland, Peter Farrell, Peter Bradbury, and Colin Highland, Angie Goddard and Steve Gray.
The Blenheims also suffered a last minute disappointment following a very tough match against Vistabella Greenways. They needed 11 points from the match to overtake San Luis Wellingtons at the top of the league but it wasn't to be. Vistabella won the match 8-6 with shots 104-99 which means The Blenheims finished the season in second place.
Overall its been a very competitive season, with strong performances and undoubted commitment and tenacity from all of the Quesada members and players. Thanks to the Captains and selectors of the teams for their hard work and to all of the members who have supported as reserves and have given their time as Markers.
Quesada Bowls Club is sponsored by Spanish Life Properties https://spanishlifepropertiessl.com/
San Luis Bowls Club Report 06.07.18.
The South Alicante leagues have finally been completed; SL Wellingtons and Quesada Blenheims were fighting for top spot but SL Wellingtons finish CHAMPIONS of SPITFIRE DIVISION.
South Alicante Summer League: Monday 2nd July SL Wellingtons away v San Miguel Christians, had a really close battle with 3 wins and 3 drawn games! shots 104-86, points 11-3. Well done to all the team: Bob White, Derrick Cooper, Ian Kenyon 18-13, Pam Lockett, June & Keith Jones 16-16, Steve Simmons, Ray Pollock, Scott Malden 24-12, Jan Pocock, Sue Cooper, Brian Pocock 16-16, Irene Everett, William Holtham, Vic Slater 15-14, Margaret Morrison, Sabrina & Russell Marks 15-15. SL Wellingtons finished top with 92 points, and Quesada Blenheims 2nd on 87 points.
SL Hercules were contesting 2nd place in the Harrier Division with Country Bowls Badgers and had an excellent but close result home v Country Bowls Badgers, 10-4, shots 103-102. Winners: Dennis Jackson, Ray Watmough, Ralph Jones 14-12, Ros Holmes, Mags Haines, Barry Edwards 15-14, Audrey Ford, Mary Fromson, Charlie Marigold 23-11, Kath Waywell, Mario Cavilla, Bob Bromley 35-3. After a strong fight back, SL Hercules take the runner-up spot with 65 points, behind winners Monte Mar Torro on 71 but ahead of CB Badgers on 61! well done to everyone who played for Hercules.
Thursday evening Aussie Pairs: "Kangaroo League" Current positions after 6 games: 1st Wallaroo (capt. Russ M) 9 pts + 24 shots, 2nd Kowari (capt. Roy C) 8 pts + 27 shots, 3rd Wombat (capt. Ian K) 8 pts + 19 shots, 4th Kangaroo (capt. Scott M) 8 pts + 12 shots, 5th Possum (capt. Sab M) 8 pts.+ 2 shots 6th Platypus (capt. Keith J) 8 pts -2 shots.
NEW MEMBERS:
After a successful 2017/18 season, San Luis BC is looking to enter 4 teams again in both Monday & Friday Leagues for the 2018/19 winter season. We are always looking for new members especially those who are newer to bowls and want to try to start playing, or progress, in the leagues. Ideally anyone who wishes to join San Luis should give their notice of intent BY the end of July as at the beginning of August we will be forming our squads and any late joiners will play where needed.
For results etc. Club website: www.sanluisbowls.byethost7.com
For general information about San Luis Club, contact June Jones, Captain: 691903773.
Sheila Cammack