Congratulations to Heather Meston and Dave Webb for passing the Markers Course at Quesada.
The mixed pairs open concluded on Sunday, the finalist were John and Caroline Smyth who shared the spoils with Mel Highland and Pete Morgan, they well deserved to reach the final and provided a really close and exciting finish
The semi- finalist were Martin and Mo Foulcer. The prizes were presented By Club President Barry Collins and the New Owners Pedro and Gustav who kindly donated a bottle of Moet Champagne to the winners and outgoing owner Hayley.
In the Hurricane Division The Gladiators were at home to Emerald Isle Vulcans, although the weather was very hot and heavy the match proceeded in good humour. The final scores were – Total shots for – 111.  total shots against – 104.  Points for – 10. points against – 4. Winning rinks were – Dave Field, Phil Lockley, skip Dave Webb. – 15 shots to 11.  Heather Meston, Mary Lockley,skip Barry Collins. – 19 shots to 15.  Jim Mclean, Val Duchart, skip John Obrien. – 32 shots to 10.  Janet Bliss, Ronnie Stansfield, skip Tony Hodges. – 17 shots to 15.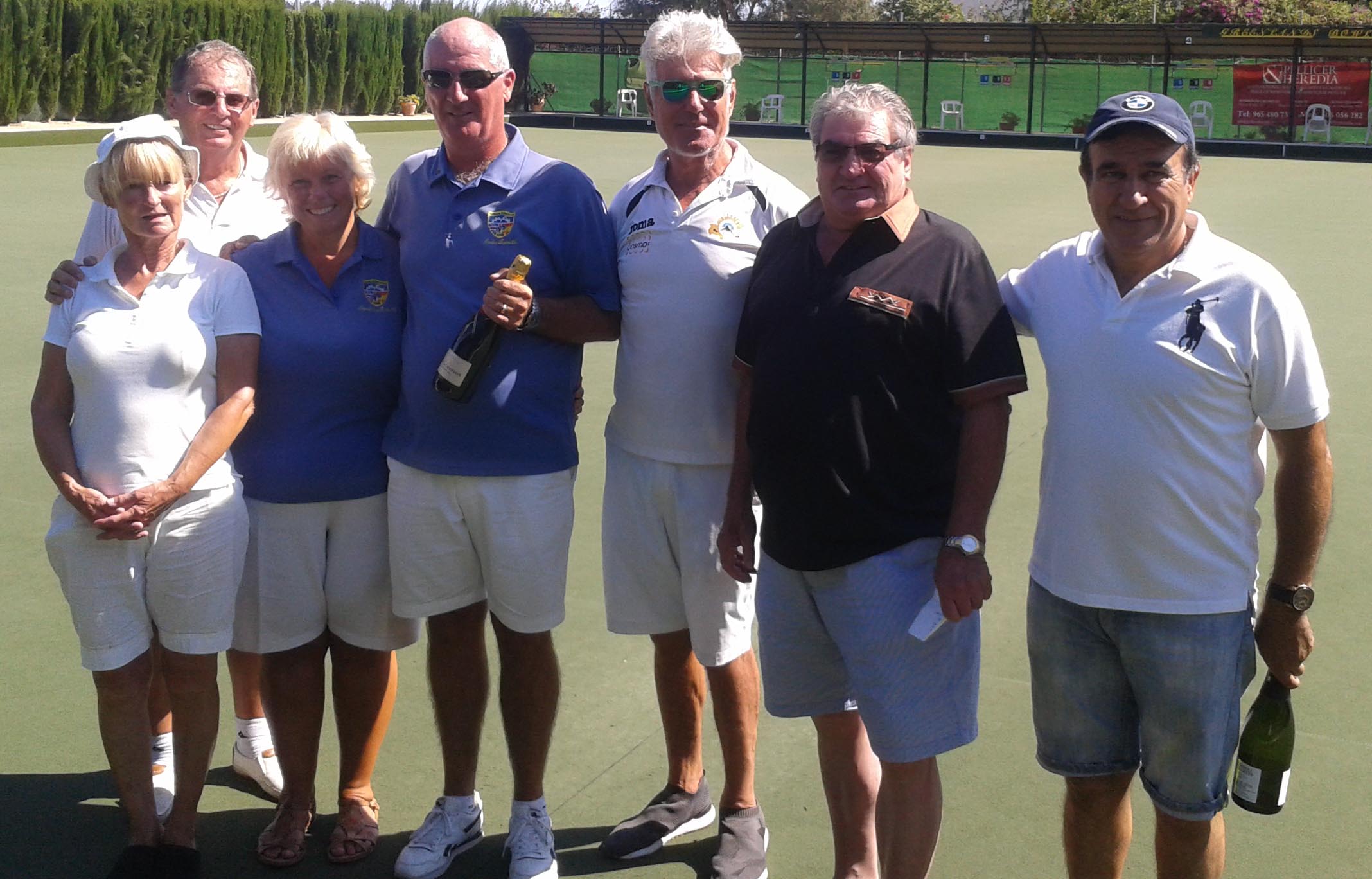 In the VCL League the Jasmines continued their good form with a fine result against Monte Mar Lords. Final scores were – Total shots for – 93. total shots against – 62. Points For – 10. Points against – 2. Winning rinks were – ladies singles, Mary Lockley – 21 shots to 7. Mens Singles, Mel Brown – 21 shots to 11.  Pairs Dave Thompson and Dave Webb – 17 shots to 12. Rinks, Jean Thompson, Janet Webb, Dave Dudding, Barry Collins – 20 shots to 12.
To find more information relating to joining our Bowls club please go to our web site…………….greenlands-bowls.wixsite.com