Suzi Cooper writes …… This years' event was run from 16th to 22nd April with matches being played at Quesada for all days and at San Luis for the first 3 days. Although the weather stayed fine most days were windy or even very windy.
By Saturday afternoon we were able to play the first 2 finals which were the Mixed Pairs and the Ladies Pairs.
The Mixed Pairs was played between Pat McEwan & Steve Cantley of San Miguel and David Blackie & Jean Cooper of La Siesta. Despite having played great bowls upto the final David & Jean never got into their stride allowing Pat & Steve to win after just 14 ends.
The Ladies Pairs between Lynne Eldon & Chris Evans of Javea Green and Melanie Highland & Jacqui Johnston of Quesada. After 8 ends the Javea side were 8-1 up and after 12 ends they were 1-3 up. From then on they failed to score another shot with the Quesada pair taking the match 13-11.
On Sunday morning it was the turn of both Mixed Rinks & Mixed Triples. The rinks final was played between San Luis, Colin Jackson, Sabrina Marks, Keith Jones & Russell Marks and Benitachell, Rod Warnes, Linda Richards, Lynda Warnes & Jeff Richards. The Benitachell side never showed their form from previous matches with San Luis taking the hours 21-9 after 17 ends.
The Mixed Triples was another North/South battle with Javea Green, Jan Phillips, Velia Wood & Alana Phillips playing against San Miguel, Val Collier, Chris Collier & Stuart Denholm. After 13 ends the Javea team led by 14-6 only to drop 2 successive 4's making the score 14-14. The Javea team then picked up 4 shots and despite dropping a single on end 17 became champions by 19-15.
Onto the afternoon matches and the turn of the Mens Pairs. San Luis, Keith Jones & Russell Marks playing San Miguel, Brian Miller & Steve Cantley. The San Luis pair got off to a great start to lead 9-2 only for San Miguel to pull back to 9 all. It was then a trading of ends until San Miguel picked up a 3 on end 16. San Luis picked up a single on end 17 leaving them needing 2 shots to tie the game.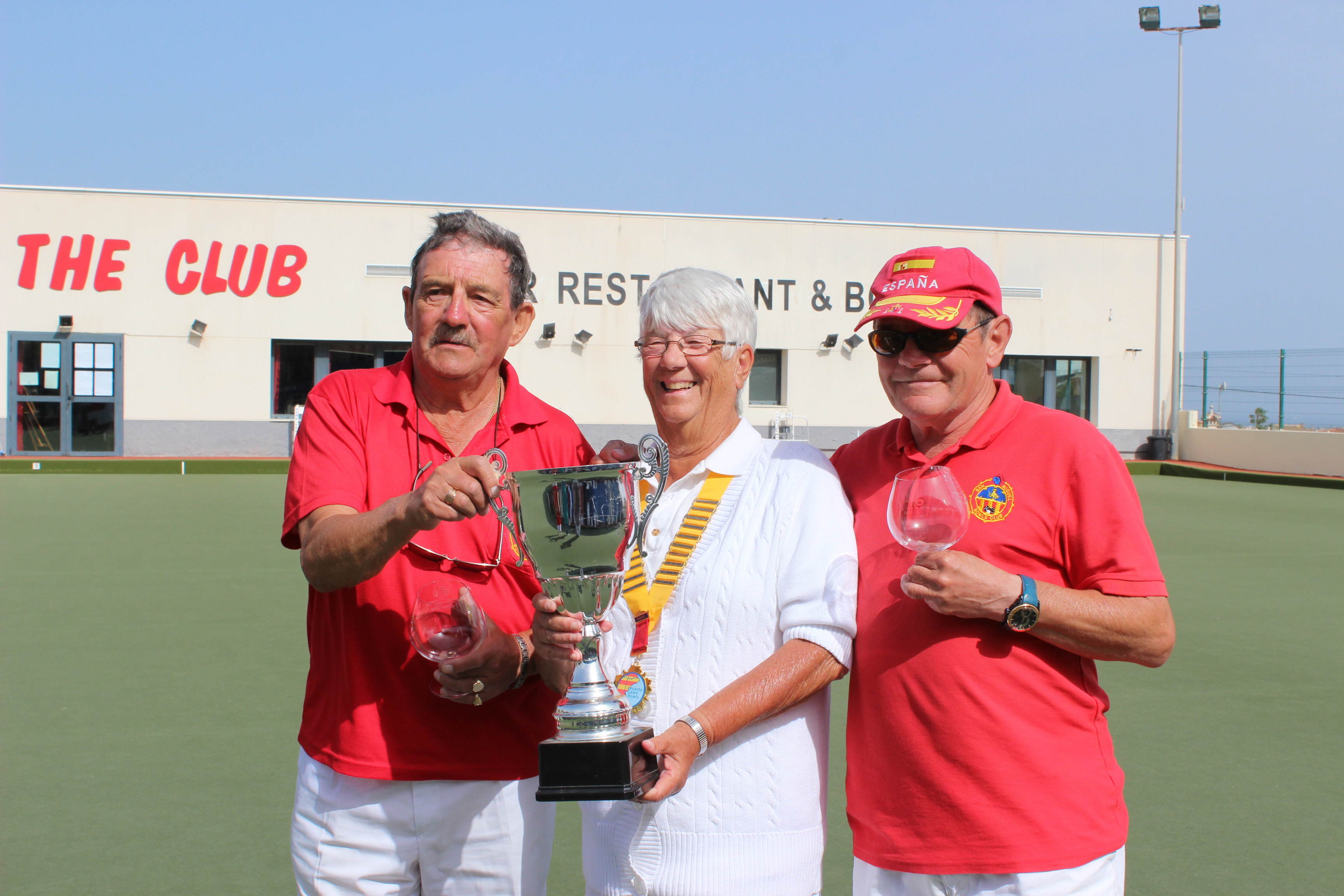 With just 3 bowls left to play the San Luis pair held 5 only for Steve to play the perfect bowl & sit the shot bowl. Russell played his last bowl & although he got shot wood he just missed the touch to give them the shots needed & San Miguel won by a single shot.
The Ladies Singles was Benitachell, Christine Mawson against San Miguel, Mary Dyer. Mary continued her steady form shown in previous matches & took the title 21-12.
The Mens Singles was a real nailbiter. El Rancho, Richard Lee playing San Luis, Mal Hughes. After 9 ends it was 6 apiece the Richard picked up 7 shots over the next 3 ends to lead 13-6. Mal was then playing catch up and after 24 ends it was 19 shots each. Richard scored a single on the next end and after a measure got the 1 he needed on the 26th end to take the title.
Afterwards Jean Cooper thanked both greens for giving up their time. All the participants, markers & umpires then went on to thank the coordinators at the venues, Caroline Smyth at Quesada & June Jones & Suzi Cooper at San Luis. She then thanked Suzi Cooper for the organisation of the event.