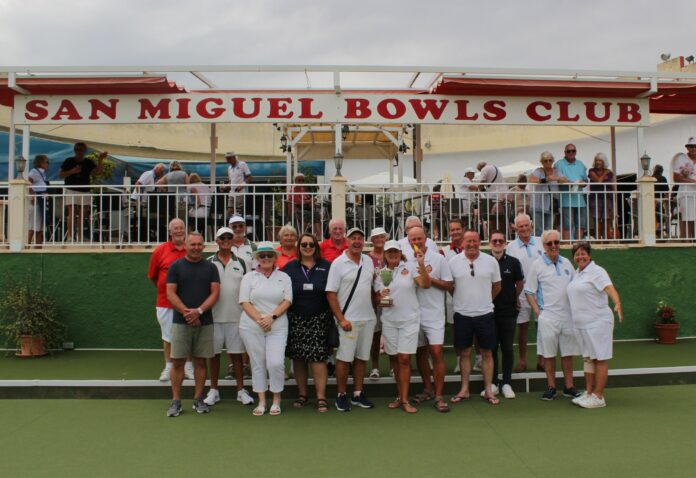 Last weekend saw San Miguel host their first open competition for some years, with 24 teams in attendance. Participants came from local clubs, but we were pleased to welcome teams from La Manga and even Scotland!
The day went really well, despite it being the hottest April day on record! The competition could not have taken place without our sponsors – Avalon, Cheers Bar, Currencies Direct and My Lawyer In Spain – and we thank them for helping us make it such a success. We would also like to thank the Little Pods charity craft fair who came along to support the event.
The eventual winners were a mixed club team, Alan Bannister of Vistabella and Janet & Steve Parr from San Miguel. In second place was Ron Nairey, Mary Whitelock and Anita Brown from San Miguel and third place went to the Vistabella team of Alice & Derek Howe and Steve Baxter. A team from La Manga, Peter & Shirley Cheeseman and Michael Warwick found themselves holding up the table, receiving their entry fee back and the lucky dip prize went to the Country Bowls team of Kevin & Jayne Storey and Derek Lewis.
A massive thankyou has to go to everyone who helped organise the event, especially those who ran the BBQ on the day, the ladies who organised the cake stall and those who helped with raising money for club funds. Thanks also to Jean Cooper for being our umpire of the day and, of course, the Leader for taking the photos.
We hope to see everyone there again next year!
Gail Willshire