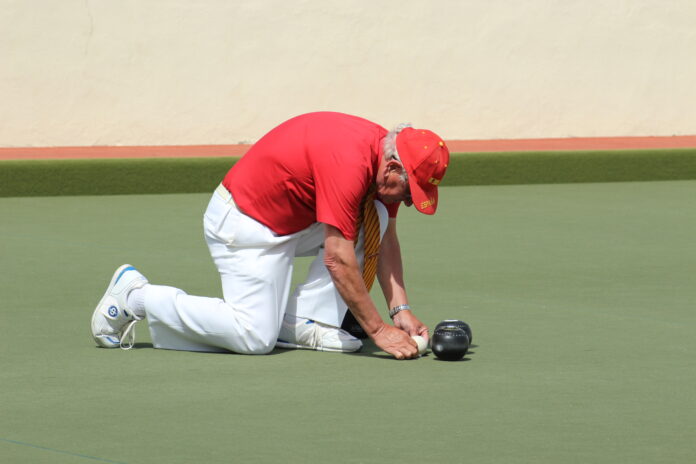 On Monday San Miguel Orcas were away to La Marin Explorers losing 2 – 10, 80-96. The winning triple were Bob Hanton, Pete Masters and Frank Scotthern 25-13.
On Wednesday San Miguel were home to Greenland Warriors in the final game of the Winter League, winning 6 – 2, 69-39. The best winning rink were Margaret Patterson, Raymond Farmer, Hank Van Essen and Gail Willshire 32-11.
On Friday all three teams were in action for the final game of the season, San Miguel Comanches were home to Emerald Isle Outlaws winning 10 – 2, 90-61. The best winning triple were Pat Staden, Gunnie Sigurdard and Alan Harris 20 – 6.
San Miguel Apaches were away to County Bowls Geckos, losing 2 – 10, 53-88. Best winning triple were Pat McEwan, Gail Willshire and Fred Willshire 15 – 13. Due to the severe windy conditions this game was not completed
On Friday afternoon San Miguel Navajos were home to Emerald Isle Claymores, where they had a resounding 12 – 0 win, 111-43.  Their winning triple were Meg Brownlee, Tom Dalgleish and Eddie Cowan 26 – 5. This result made the Navajos Southern League, Division B Champions, Well done to Bob Donnelly and his team.
A reminder that the Wasps sessions take place Wednesdays 1.30pm for 2.00pm – €5 for an afternoon's bowling with shoes and bowls available to borrow. Due to the popularity of the Wasps, first time bowlers are asked to attend an initial coaching session on Tuesday afternoons, starting at 1.45pm, by appointment ONLY. To book, please call Dave or Lynn Greenland on +34 667 207 508.
We welcome all bowlers who would like to join San Miguel B.C. as we are a unique club we only pay owner fees and a club fee and NO LEAGUE RINK FEES.
For further information on San Miguel B.C please contact club secretary Barry Jones on 602 504 905 or club president Alan Campbell on 606 676 118