EL RANCHO BOWLS CLUB
With the start of the SAL this week, we warmed up with a match against the touring team from Antrim Lawn Bowls Club, who we entertain each year at this time, as do several other clubs. We always have great fun, they being an extremely social group; we played 4 rinks of fours and had a great mornings bowls, with both teams taking 2 rinks, though the score hardly matters.
On Friday we played our opening league match at La Siesta against the Hornets, they are also a great fun team to play and it was a close match, all round. In the end the Hornets took advantage of the home mat and took the rinks by 4 to 2, though most could easily have gone either way, but we did have a splendid morning, in great company, what more can one ask. Marion Haynes, Dave Haynes and David Whitworth 14-19.
Diane Yates, Gary Dunstone and Jim Gracie 13-20. Pam Harris, Irene Thomson and Malc Elmore 18-15. Emma Walsh, Jim Taylor and Eddie Thomson 19-15. Tricia Elsam, June Whitworth and Richard Lee 12-19. Edward Elsam, Malc Sykes and Carolyn Harris 16-19. For membership details contact Brian Taylor on 965077093 or at briantaylor_es@yahoo.co.uk or Carolyn Harris on 966774316 or at elranchobowls.secretary@gmail.com
EMERALD ISLE BOWLS CLUB
Wed saw the Emerald Isle travel up to BBC in the Winter League, and home advantage won the day with a 10-2 home win aggregate100-61, winners for EI M Highland P Kelly M Thomas S Westall 17-11. The home team won the Berleen as well by 19-12
Thursday the Earls played at Quesada and got beaten 10-4, aggregate 118-75. Winners for EI Trips M Jeffs R Adams B Allen 17-14, rinks J Jarvis D Martin E Shepherd P Cresswell 20-16
Friday the Victors played at home against La Siesta Wasps and slipped to a defeat by 6-8 aggregate of 105–88 winning trips for EI were M Highland M Veale D Birkett 24-5 and P Heaney A Burns D Gerrard 24-7
Friday saw the departure from the Emerald Isle of two of our members returning to Geordie land, namely Frank Close and Yvonne Mallerburn. No doubt the pair will be missed in the club and around the bowls circuit.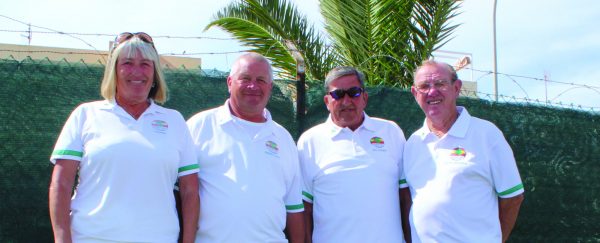 Frank in his stay at EI established himself as one of the top bowlers in Spain, winning several titles, and many in house competitions. Yvonne started her bowling career in EI and became a very capable bowler.
The Emerald Isle wish them both all the best in the future and hopefully they will return to visit us on numerous occasions
Personally I will miss the sessions we had not always on the green!
ELWYN MORRIS
LA SIESTA BOWLS CLUB BY ROD EDGERTON
La Siesta commenced their VCL campaign with an 8-6 away win against Greenlands Jasmin. Irene Mangan our recently crowned Ladies Singles champion kept up her impressive form with a 21-16 win against Sue Brown whilst the other winners were Dawn Taylor and Pat Harman in the Pairs by 25-10, Joy and Brian Gardiner with Jean Cooper in the Triples winning 19-11 and our Rinks four of Dave Davies, Trish Riley, Harold Charleton and Mike Edwards winning 20-10. With a narrow loss on the overall shots by 93 -102 La Siesta picked up 8 points to their opponents 6.
The Winter League season ended with 3 matches to report on. Against Benitachell at home La Siesta lost 10-2 with the winning rink being that of Trish and Pat Reilly with Florence and Mike Edwards by a score of 17-11.The match result the overall shots difference was 57 to 99.Against San Luis away a similar result with a 10-2 defeat the winning rink being Dawn and John Taylor with Irene Laverick and Pat Harman by 22-7.
The overall match shots being 62-95. The final match of the season at home to El Cid was an 8-4 loss with the winning rinks being Trish and Pat Reilly with Florence and Mike Edwards by 22-18 and an excellent win by Dawn and John Taylor with Pat and Brian Harman by 21-11.The overall shots difference in the match being 82-94. The Winter League team endured a difficult season but thanks goes to all those that took part especially those that came in often at short notice and to captain Pat Harman for managing to always ensure that La Siesta had a full team for every match.
Trophy Presentation night took place at one of our sponsors Carmens Restaurant and there was a good turnout on the evening. Etched glasses were given as mementoes to the winners and runners up and were beautifully etched with our club logo by Bespoke who are based at Zoco Market.
Good start for both our teams in the South Alicante Summer Leagues. The Wasps in the Spitfire Division travelled to Emerald Isle and came away with an 8 points to 6 victory. Dawn and John Taylor and Harold Charleton were never in any danger winning 20-13 whilst Jo Elkin with George Richardson and Brian Fraser won 19-10.Ramsay Sinclair, Irene Mangan and and Alex Morrice went into last end all square and managed to pick up 2 on the final end to claim victory. Joy Gardiner with Bill and Sue Jordan needed to have 2nd wood on the last end to win this extremely close game and this is just what they did by 15-14.Thank you to Dave Laverick, who came as our travelling sub. The overall shots were lost by 105 to 88.
In the Harrier Division the Hornets entertained El Rancho and had a 10-4 win by 107 shots to 92. Winning rinks were Dennis Andrew, Tony Campbell & John Clarke 20 – 13 Hilary Clarke, Trica Reilly & Vic Mohmet 19 – 12 Ken Stringfellow, Jack Burrell & Rab Logan 19 -14, Wendy Ralph, Penny Porter & Pat Reilly 19 – 16.
MONTE MAR BOWLS AND SOCIAL CLUB
Sponsored by The Belfry, The Pub, Bowling Abroad and Avalon
WINTER LEAGUE – Wednesday April 5th. Monte Mar v San Miguel
Winning on only one rink well done to Ronnie Cairns, Harry Dobson, Jan Gatward, and skip Dave Melville. Shots Monte Mar 56 – 94 San Miguel. Points Monte Mar 2 – 10 San Miguel.
SUMMER LEAUGE TRIPS – Friday April 7th – Monte Mar v Quesada
Playing at Quesada in lovely sunshine Monte Mar had a good win. Drawing on three rinks well done to Rita Towle, Les Bounds and skip Danny King. Keith Simpson, Joe Ridley and skip Dianne Ridley. Sheila Roberts, Chris Harding and skip Bill Young. Shots Monte Mar 109 – 87 Quesada. Points Monte Mar 8 – 6 Quesada.
For further information about Monte Mar Bowls and Social Club check out our website www.montemarbowls.com or email us at info@montemarbowls.com. We are also on Facebook.
LA MARINA REPORT BY BARRY LATHAM
Saturday we played the Dot Careless Group from Cambridgeshire and a great crowd they were. Lots of fun was had and some good bowling as well. Like many touring teams they struggled to come to terms with the carpet as they are nothing like their grass or indoor carpets and a strong wind didn't help either side. Nevertheless we managed to win on all rinks which was a nice way to end the Touring Team season. Many thanks to Terry Perchard for organising them and hopefully we can a have good share next year.
For the last Winter League game we travelled to Bonalba with great hope finishing the season with a win. Oh dear we were well and truly beaten 11-1. Everyone had some sort of excuse, all the usual ones, couldn't find the weight, couldn't find the line, the Skip kept bringing me the wrong hand, I wish I hadn't drunk so much last night. Let's face it most of us were pretty useless except Shirley Hadaway and Co who fought to a great draw. The Co being Phil Pape, Angie Butler and Ann Stone. It wouldn't be very nice to pick out our Champion of Wrong Biases but she did do it again playing with Shirley didn't you Enna. Once again the Berleen did well and won 19-9 captained by the legendary Alex Whyte with a slightly different four this week of Jim Freeman, Roger Stacey and Margaret McLaughlin.
Thanks for a good season, for backing our Captain, Dave Hadaway, to all the folk who played in the team and to all those who turned out when the team was short. Last one and less than 300 words.
SAN MIGUEL BOWLS CLUB
At this weeks AGM, there were numerous changes in the committee. New Committee are: – President, Rosamond Stockell; Vice President Jim Jarvie: Club Captain, Janet Thomas: Vice Captain, Gary Raby; Treasurer, Jan Allen: Secretary, Pat McEwan; Match Secretary, Ken Hope; Social Secretary, Paul Thomas.
The Winter League had a good result against Monte Mar winning 10 points to 2. Great bowling by Alan Patterson, Brian Miller, Brian Allen, Lin Miller 13-12; Cliff Plaisted, Val & Chris Collier, Stuart Denholm 20-15; Tony Sansom, Reg Cooper, Mary Dyer, Fred Willshire 26-10; Gail Willshire, Mike Rogers, Lee Sinclair, Steve Cantley 23-6; Hard lines to Jan, Don, Dave & Lyn losing by 1 shot. Shots for 94, against 56.
The first game of the season in the Southern league saw SM Christians play SM Moors. The points were shared 7 each. Winning teams were Dave Champion, Alan Dobie, Eddie Cowan 18-13(Moors); Ken Hope, Noel Davis, Steve Cantley 15-13 (Christians); Pat & Dave McEwan, Gary Raby 19-18 (Christians) Anita Brown, Tom Dalgleish, John Marshall 19-18 (Christians) Stan North, Eileen Potts, Ros Stockell 22-12 (Moors) Sue Milner, Brian Allen, Paul Thomas (Christians) drew against Cliff & Linda Plaisted, Barbara Scotthern 23 across.
Shots 101 to the Christians, 112 to the Moors.
The Champion of Champions start on the 17th April, the schedule for San Miguel players are: Mens Singles, Fred Willshire, Monday 17th at 1230 at Greenlands. Ladies Pairs, Gail Willshire, Lyn Greenland Monday 17th 1030 at San Luis; Mens Pairs, Tom Dalgleish, John Marshall Tuesday 18th 1430 San Luis. Mixed Trips, Reg Cooper, Brian & Lyn Miller Tuesday 18th 1430 at Greenlands; Mixed Rinks Margaret & Allan Patterson, Linda & Cliff Plaisted Wednesday 19th 1030 Greenlands. Come along and support our players, they do appreciate it.
For further information on San Miguel Bowls Club, please contact the President, Rosamond Stockell telephone 965329778 or Secretary, Pat McEwan, telephone 966714257.
VISTABELLA REPORT WITH LYNNE BISHOP.
The Winter League team were at home for the penultimate match v San Luis. They had three winning rinks with the long game being nip & tuck, eventually going our way. Winning teams were Sandra Burrows, Barbara Brown, Mike Regan & Gary Thorpe 27-13. Jenny Bowman, Martin Foulcer, Barry Norris & Eric Bishop 18-13 and Olwyn Ratcliffe, Stuart Allman, Brian Dunne & Ian Kenyon 17-13. VB 80(8) – 78(4) SL. San Luis won the Berleen. Sitting nicely but not comfortably at the top of the league table with the ultimate match next week at San Miguel, everything to play for, its a very close fight between three clubs and its not going to be easy, we can only try our best!
The south Alicante summer league began on Friday with the enterprise Fairways travelling to San Luis and coming away with a much deserved win. Olwyn Ratcliffe, Stuart Allman & Brian Dunne 20-14. Lin Watkins, Sandra Burrows & Maggie Furness 19-13. Barbara and Arthur Brown & Bill Pain 23-20, picking up a seven on the last end helps to make the opposition pig sick! Mo Foulcer, Geoff Paylor & Ian Kenyon drew 14-14. VB 104(9) – 100(5) SL. Beryl Regan & Dane Howard also won the friendly.
The Hurricane league Greeners played Greenlands Gladiators and had a superb home win. Mike Irwin, Jeff Neve & Pat Rafferty 37-7. Del Gunning, Bert Ewart & Pete Cadwell 23-12. Ron Smith, Dave Chaplin & Peter Whitehall 23-13. Frank Barclay, Les Barber & Bill Corbishley 17-12. Sheila and Mike Cox & Dave Jenkins 20-15. VB 133(12) – 73(2) G.
Well done both teams, a good start.
Sponsored by Venture fleet, Rivingtons Restaurant, One-way services & TV Choice.