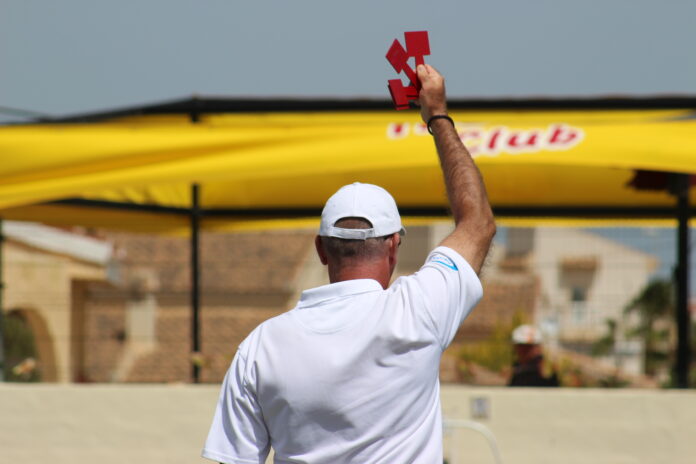 In the South Alicante league, Pearls played host to Vistabella Albatrosses, recording a very useful 8-4 victory.  Well done – G Phillips, M France, Jason P 21-16. C Brazier, T Morgan, P Morgan 30-9. M Highland, C Dye, C Highland 16-9.
Although it was Diamonds week to have a bye, Rubies also had an home match, following on from Pearls.  Opponents Emerald Isle Moonrakers, won on 2 rinks, but Rubies not only won on 3, they also secured overall shots.  Here's the winning rinks in their 8-4 victory – I Everett, V Slater, P Bradbury 25-10. T Brinton, F Houbrecht, B Armstrong 35-9. S Johnston, B & L Miller 19-17.
Swallows flew across to Emerald Isles, where they met Cavaliers in Friday's Southern league match.  These 3 point scoring rinks, ensured that a scoreline of 7-5 was possible – G Carnell, V Campbell, F Roberts 21-18.  C Brazier, M France, Jason P 16-10. M & C Highland, P Morgan 17-17.
Swans also had an away match, a short trip down the AP7, where they did battle with Vistabella Picadors.  An excellent 10-2 results was achieved, courtesy of these 4 rinks – S Hibberd, A Linley, B Armstrong 34-15. A Bowen, B Elliott, S Cooper 20-9. C Bowles, D Gould, K Bowles 22-16. H Olsen, P Farrell, A Benson 18-13.
Also in the 2nd div, equally flying high (sic) are Swifts, who hosted La Siesta Blues.  These 3 winning rinks were responsible for an impressive 8-4 result, although they slip off the top, to be replaced by Swans – C Skinner, S Jakeman, G Skinner 23-12. S Johnston, B & L Miller 24-12. K Gordon, D Collings, A Reid 18-15.