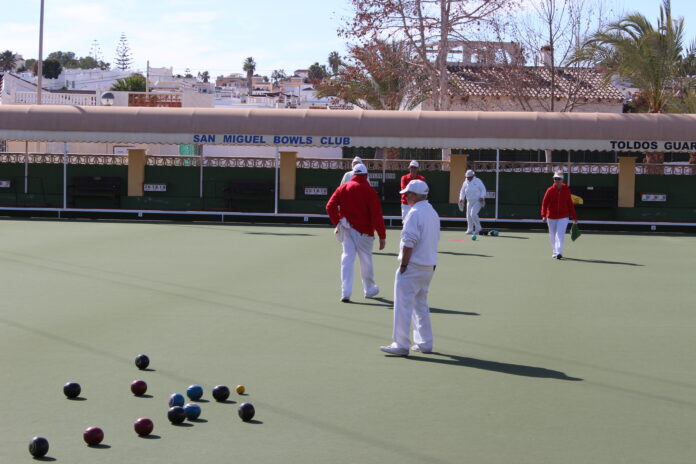 On Saturday 26th November we played our next round of the PREMIER 20 KNOCKOUT COMPETITION, home and away v San Miguel. As with the previous round it was hard fought by both teams at both venues and shots were oh SO close, with just 1 shot in it!
Home   San Luis 4pts – 4, 55 shots – 87. Away   San Luis 6pts – 2, 85 shots – 52.
Total: San Luis 10 points, 140 shots.   San Miguel 6 points, 139 shots.
Our super winners at home: Singles Kath Reid 21-19, Pairs John Dowell, Scott Malden 16-15. The winners away: Singles Bill Webb 21-15, Pairs June & Keith Jones 26-8, Triples Giuseppe Galelli, Pat Reilly, Ian Kenyon 23- 12.
During the rest of the week the weather has gradually changed from cool nights to windy days and now cool, windy & wet days!
South Alicante League, Enterprise Div. (A) – Monday 28th November; Klingons were away at Country Bowls against a strong Flamingos team. Unfortunately there was also a very strong wind blowing across the green, which caused quite a few problems for many of us. Well done to the teams that negotiated the green more successfully: Brenda Brown, Neil Morrison, Scott Malden 21-17, Kath Reid, June Jones, Ian Kenyon 16-16. Thanks to team members who stepped in at short notice when some of our players had to drop out due to illness.
Voyager Div. (C) – Trekkers had a really great result, home v Vistabella Eagles winning 10 points-2, 119 shots -61. Well done to: Tricia Reilly, Derrick Cooper, Pat Reilly 31-8, Chris Phillips, Dee Hoey, Keith Phillips 20-14, Dave Notely, Bill Webb, Dave Webb 19-8, Janet Webb, Ralph Jones, Bob Bromley 35-10.
Southern League (Div A) Lions on Friday 2nd December, should have played at San Miguel v Apaches but due to the on & off heavy rain, the match was cancelled, Southern League (Div C) Tigers: had an extremely fortunate BYE.
If you're interested in finding out more about San Luis BC or bowling in general, come along to
Oasis SL, talk to members; we're a friendly bunch! watch on Monday or Friday match days, or take part in the chicken drive on Saturdays (now changed for winter to 10:00/10:30) or contact Club Captain June Jones for more information: keithjones81@hotmail.com
Sheila Cammack