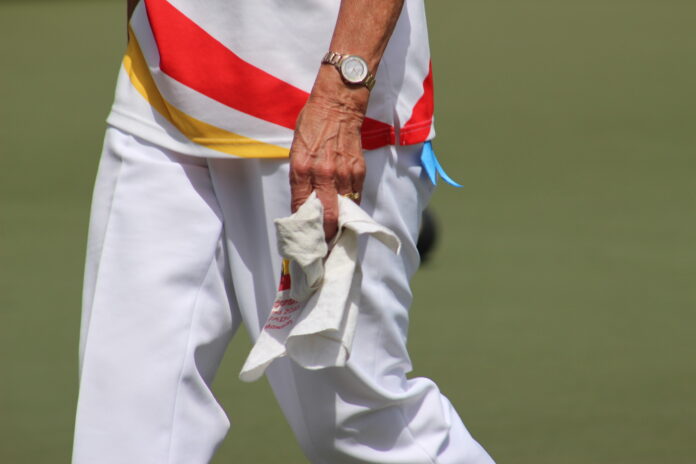 The last of Swans rearranged matches was played last Sunday, over at La Siesta against Blues.  Courtesy of these 3 winning rinks, those majestic white creatures glided to an 8-4 scoreline – C Bowles, D Gould, P Farrell 17-16. S Hibberd, A Linley, B Armstrong 21-15. H Olsen, P Bottle, T Voisey 31-2.
Then on Monday, it was back to South Alicante league affairs as normal.  Pearls won their away match against La Marina 8-4, when these 3 rinks secured the points – G Phillips, M France, Jason P 32-4. G Carnell, V Campbell, F Roberts 28-8. B Trinder, P Bevan, M Ward 35-12.  Rubies had a morning home match, in which they beat Greenlands Beach by an impressive 10 points to 2.  Here's the winning sets of trips – L Armstrong, D Riley, B Armstrong 19-10. C Bowles, D Gould, A Reid 29-8. J Moss, T Lale, P Bradbury 26-12. T Brinton, F Houbrecht, J Brinton 22-17. Following Rubies, Diamonds took the stage for their afternoon fixture against Orcas, when they mirrored the morning's scoreline.  Well done – K Gordon, D Collings, T Voisey 23-7. P Bottle, A Linley, K Lowry 18-12. C Skinner, P Farrell, G Skinner 15-12. A Bowen, B Elliott, S Cooper 15-14.
What is it about Friday's?  For the 3rd consecutive Friday, the heavens opened up, putting paid to Swifts trip to Emerald Isles.  But, Swallows home match against La Marina Sharks did go ahead, with the hosts coming out on top 8-4.  Muy bien – B Trinder, C & K Lowry 20-14. G Phillips, P Bevan, C Brazier 14-12. T Morgan, C Dye, Jason P 31-6.  Swans also played their match at La Marina, where they drew with Seagulls 6-6.  Although only these 2 rinks won, overall shots difference was never in doubt – A Bowen, B Elliott, S Cooper 22-17. S Hibberd, A Linley, B Armstrong 28-7.