Sponsored by The Pub,Gran Alacant Insurances,Dialprix and The Belfry.
LADIES v MEN
On Saturday 8th July we held a club competition Ladies v men. A total of twenty four members took part, two of the men (Coleen and Michelle thank you Colin and Mick) played for the ladies as  they were short of players.
We played three rinks of trips and two rinks of pairs over eighteen ends. As it was a very hot day after nine ends we had a refreshment break.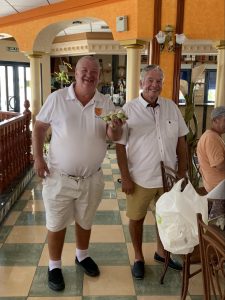 Following the match the results were announced by Match Secretary Cindy Bedford, the Ladies won three rinks and the men two with the ladies winning the overall shots, well done the ladies!!!! After the presentation we all enjoyed lunch and drinks in the Rincon, thank you Bernard and staff for a very enjoyable lunch,
CHICKEN RUN – Sunday 25th July
Twenty four members took part in the monthly chicken run.  As the weather has been very hot it was decided to play sixteen ends with a break after eight end.
Sheila Roberts won the ladies chicken and Mick Soars won the mens, the eggs were won by Lynne Armitage and Phil Goble. Thank you to Cindy and Colin Bedford who donated the chickens and Julia and Ian Hamilton who donated the eggs. The football card was won by Mick Soars with Aston Villa.
IN HOUSE COMPETITIONS
The Monday and Friday competitions are now complete. The winners of the Monday League were Colin Bedford, Paul Dodd, Peter Talatyne and Ian Hamilton well done boys!!! Thank you Cindy for organising another enjoyable competition.
The winners of the Friday League were Tanya Oliver and Chris Harding well done!!!
Thank you to Lynne and Howie who organised the league and the meals after the matches.
There will be further in house competitions in September, all information will be on the notice board.