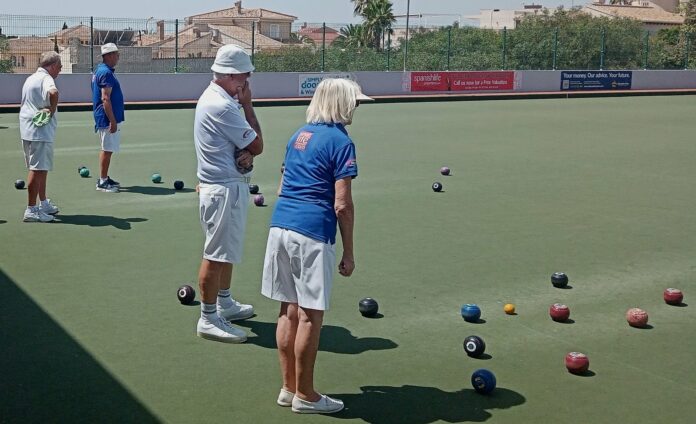 South Alicante summer league – Monday June 19th
Vistabella Fairways playing away to Quesada Lancasters.
Another hot day for bowls, but played in high spirits. (last game of the summer league). As always a pleasure playing our friends at Quesada, a couple of good wins from Denise Howell, Stuart Allman & Brian Dunn 25- 13 plus Brian Gilham, Alan Bannister & Martin Foulcer 33-6. This gave us a scores advantage overall 104 – 88.
So scores shared Vistabella Fairways 6pts & Quesada Lancasters 6pts.
VCL summer league – Wednesday June 21st
Vistabella Saxons v San Miguel Sheriffs
Competitive match as always but as it was the last match of the summer league, there was a lot of humour/ banter going around the rinks. Good wins for our singles matches with Sue Wilson showing her form winning 21 – 13 and Martin Foulcer (Mr reliable) winning 21 – 5. Also our fours, top form this season, winning 25 – 13. Scores Vistabella Saxons 92 San Miguel Sheriffs 72.A good win for Vistabella Saxons 8pts San Miguel Sheriffs 4pts. Well done Saxons in getting 3rd place in the VCL league.
This time of year we usually say goodbye to a few of our bowlers, whether it be going back to UK or moving on to another club. We wish all of them the very best for the future and we welcome any new members coming into our club.
Contact: richardwilley321@gmail.com, Tel: 698 925 932