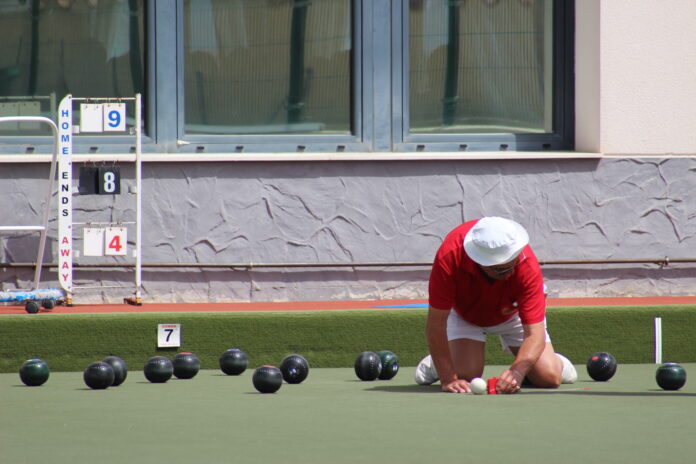 On Monday San Miguel Christians were home to Emerald Isle Victors, winning 9 – 3, 108 shots to 62. The best winning triple were Bob Nesbitt, Gary Newark and Eddie Cowan 30 – 11.
Our other Monday Team San Miguel Moors were away to Quesada Lancaster's  where they lost 8 – 4, 93 shots to 85. The best winning triple were Margaret Patterson, Sandi Hannan and Derek Farmer 30 shots to 14.
On Wednesday San Miguel Deputies were home to Country Bowls Foxes. In the Ladies Singles Pat McEwan won 21 – 18, In the Gents Singles Derek Farmer lost 21 – 11. In the pairs Stan North and Frank Scotthern continue with their winning streak with a 21 – 12 win. In the Triples Tom Dalgleish, Barbara Scotthern and Eddie Cowan won 23 – 17. In the Rinks Jan Farmer, Dave Champion, Bob Donnelly and Alan Campbell won 21 – 19 giving the team a 10 – 2 Win 99 shots to 87.
San Miguel Sheriffs were away to San Luis Falcons, losing 10 – 2, 111 Shots to 58. In the Ladies Singles Anita Brown lost 21 – 10. In the Gents Singles Allan Patterson gained the team their 2 points winning 21 – 11. In the pairs Hank Van Essen and Stuart Hemmings lost 19 – 14, and in the Triples Janet Parr, Mary Whitelock and Ron Nairey lost 29 – 8. In the Rinks Margaret Patterson, Sheila Booth, Dori Svansbergsson and Steve Cantley lost 31 – 5.
A reminder that the Wasps sessions take place Wednesdays 1.30pm for 2.00pm – €5 for an afternoon's bowling with shoes and bowls available to borrow. Due to the popularity of the Wasps, first time bowlers are asked to attend an initial coaching session on Tuesday afternoons, starting at 1.45pm, by appointment ONLY. To book, please call Dave or Lynn Greenland on +34 667 207 508.
We welcome all bowlers who would like to join San Miguel B.C. as we are a unique club  we only pay owner fees and a club fee and NO LEAGUE RINK FEES.
For further information on San Miguel B.C please contact club secretary Barry Jones on 602 504 905 or club president Alan Campbell on 606 676 118