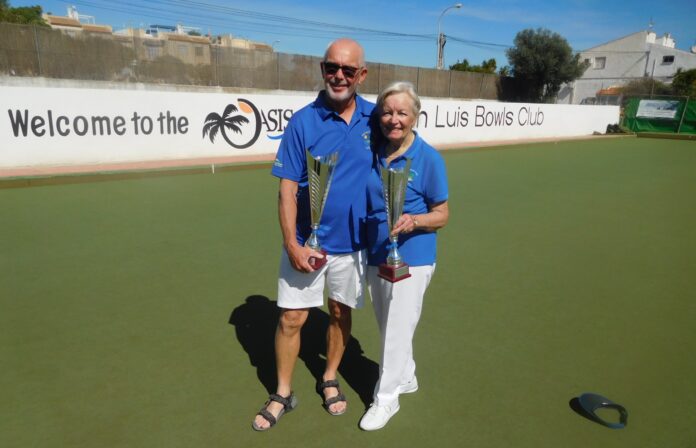 South Alicante League, Enterprise Div. (A); on Monday 6th the Klingons were home to La Marina Pathfinders. It was a close fought game right to the end; with the Klingons taking the shots 88-75, and sharing the points 6-6. Winners: Kath Reid, Caroline Smyth, Ian Kenyon 26-12, Giuseppe Galelli, June Jones, John Smyth 20-11.
Voyager Div. (C) Trekkers had already finished their league matches.
Southern League (Div A) on Friday 10th, a very windy morning, the Lions were away at Vistabella v the Lanzadores. Unfortunately, although the shots were close; 79-88,  it turned out to be a very tough day at the office, just taking 2 points-10. Winning team: Neil & Sandra Burrows & Scott Malden 20-9.
(Div C) the Tigers also had a close battle at home with Country Bowls Panthers on a very blustery morning, with the wind changing direction & speed almost every end to make fools of us all. Shots were 65-92, points 4-8. Winners: Jane Hamill, Cas Blay, Stewart Hamill 19-14, Kevin McKenna, Sheila Cammack & Vic (the magician) Mahomet 17-16.
We finished our Club Championships this week. The Ladies' & Men's Singles Finals were played on Wednesday (8th) between Kath Reid and Sheila Cammack and by Ian Kenyon and Neil Morrison (the current champion). Both games were very competitive with both matches lasting more than 23 ends.
The Men's final was very close all the way through with Ian starting well but Neil winning 5 consecutive ends to lead 13-12 after 13 ends and 17-12 after 17 ends. Ian bowled some very good draw woods to finally win the match 21-20 picking a three up on the 24th end.
The Ladies' singles was equally competitive with Kath winning 8 ends on the trot to reach 14-4 after 11 ends. Sheila fought back to 11-19 but unfortunately couldn't pull back this deficit and Kath picked up the two she needed to run out the eventual winner. A very supportive crowd, bathing in lovely sunshine, enjoyed both matches. Thanks to Sandra & Neil for marking and Keith for organising all the competitions so efficiently. Report: KVJ & SAC.
To find out more about San Luis BC, come along to Oasis San Luis & talk to members; we're a friendly bunch and there's the possibility of finding a new interest and making new friends!
Sheila Cammack