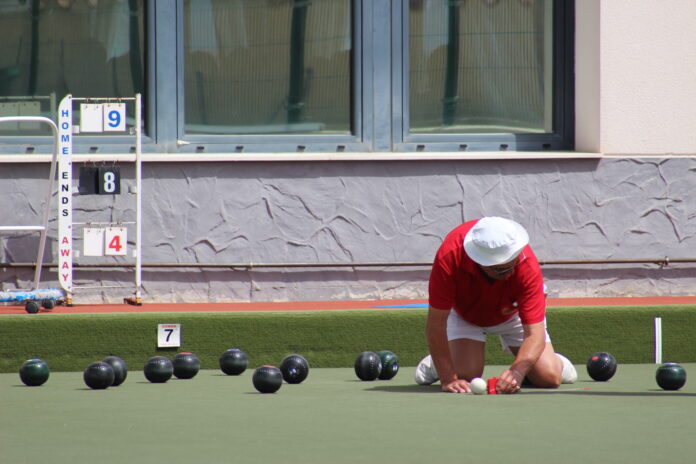 The Elms had a postponed game to play against Monte Mar at Home on 5th January, very close but lost 10-2 overall and 75-90.
The Chestnuts were away to Country Bowls in the SABA and although losing to very strong side they came away with a very good 4 points, which keeps them in second place in the division. Highest winning rink was, B.Tomlin, B.Ewart and Tony Hodge. Scores 4  – 8 and 80-112.
The Maples were at home to La Marina and in a very close game managed to secure a 8-4 and 81-79 victory.
Winter League saw The Warriors Entertain the Gladiators with the scores 6  -2  and 51-43 to the Gladiators.
Friday saw the Cedars host the Oaks with the Oaks running out winners 2-10 and 71-104.  Some of the games were very close, hard fought and enjoyed by all. Winning rink for Cedars was LHier, R.Cordell and J.Hier. Highest winning rink for Oaks  J.Jukes,M.Jukes and D.Morrisson
Three Kings day was celebrated on Sunday 8th January. The Bowls were organised by Pete and Lisa with the usual sausage rolls available during the morning and a supply of chocolates provided by Jill. Kerry took on the roll of chocolatier and did a great job, keeping all well supplied.
After a great morning of bowls we all had a few beers followed by lunch. Thanks to Pete and Lisa for the bowls Jill for organising the chocolates and meal and Enrique and his staff for providing great service of beer and food.
If you enjoy a mix of competitive and fun bowling in a friendly environment at a wonderful venue, why not give one of us a call?
Also coaching available either groups or individual, by fully qualified coaches. Equipment available.
Pete Bonsor (Captain) 711 02 08 46 – Keith Stobbart (President) 693 06 53 55 – John Rosati (Secretary) 688 70 93 62
We have Joe's roll up every Saturday morning 9.30 for 10.00, entry fee 1 euro FANTASTIC PRIZES Non members are welcome and  pay a green fee of 6 euros. This is a great social event each week, food and drink available after.
There is also an adventure golf course available for the Husband or wife and children whilst the partners are playing bowls just book at the bar.
Chris Dewar