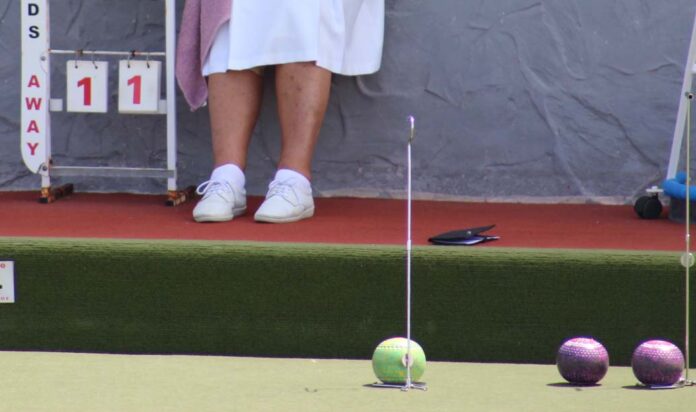 Monday saw The Maples visit a strong Quasada Pearls Team and after a very hard game the result was a 6 all draw Shots 95 pearls 86 Maples. all in all a very close match.
The Chestnuts entertained a strong Vistabella team and in a hard contested game  the result went to Vistabella 4 points to 8 and 62 shots to 72..We still remain in second place in the league..
Tuesday saw the rearranged game for the Chestnuts away to a very strong Vistabella Lanzadores and unfortunately we turned up one rink short. The result was a resounding 0points to 12 to Lanzadores 58 shots to 91. all in all a game to forget. Onwards and upwards.
Winter League the Gladiators had a bye and  the Warriors entertained  San Miguel The Shots were 53 to 59 to San Miguel and the points 2 – 6. a very close game. Our best rink D.Donovan,B.Ewart.P.Houghton and L.Rudge well done.
Friday saw the Oaks travel to La Marina and in a very competitive game came away with a 8 points to 4 and 105 shots to 81 victory well done everyone, best winning rink L.Bonsor,D.Perryman and P.Rhodes.. Green Machine back,
The Cedars hosted a very strong Quasada team and unfortunately went down 2 points to 10 and 61 shots to 112. best rink J.Kocis,D.Howard and S.Watson, well done.
The Elms visited Vistabella and despite having to give one rink away managed to hold them to  4 shots to 8  and 66 shots to 71.. Well done and Looking forward to the New Year.
Next week see us Play the first round of the  Premier Twenty against Bonalba .Result next week..
We held our Christmas Lunch at Portica Mar on Thursday and a great time was had by all. Very big thanks to our Social Secretary Jill COLLINS for once again organising everything and as usual it went like clockwork. THANK YOU JILL XX
MERRY CHRISTMAS TO EVERYONE AND A HAPPY NEW YEAR FROM ALL AT GREENLANDS.
If you enjoy a mix of competitive and funbowling in a friendly environment at a wonderful venue. If you want to share in and contribute to our continued success, If you are interested in joining our Club, why not give one of us a call?
Also coaching available either groups or individual, by fully qualified coaches. Equipment available.
Pete Bonsor (Captain) 711 02 08 46
Keith Stobbart (President) 693 06 53 55
John Rosati (Secretary) 688 70 93 62
Also we have  Joes  roll up every Saturday morning 9.30 for 10.00, entry fee 1 euro FANTASTIC PRIZES ( honest)., non members are welcome and  pay a green fee 0f 6 euros. This is a great social event each week, food and drink available after. Just turn up before 9.45.
There is also an adventure golf course available for the Husband or wife and children whilst the partner,s are playing bowls just book at the bar.
Come and enjoy our fantastic venue it,s a great day out.
Chris. Dewar Match Secretary,