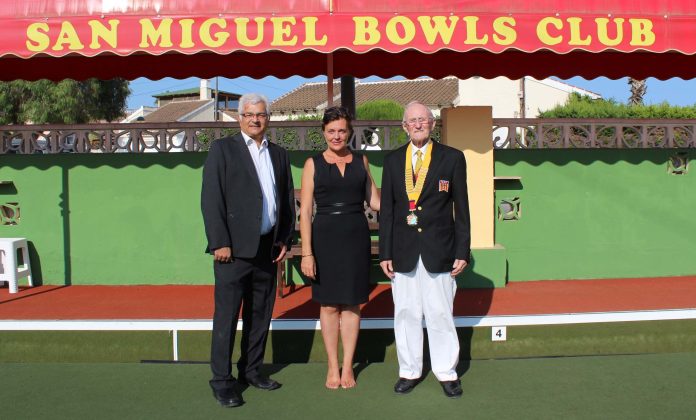 By Suzi Cooper
The 2017 Línea Directa Valencian Lawn Bowling Championship got underway last Tuesday evening with a colourful opening ceremony held at San Miguel Bowls Club.
With many of the clubs represented, the task of formally opening the event fell to the National Director and Valencian Delegate Bob Donnelly after the three venues, Quesada, the Emerald Isle and San Miguel Bowls Club, were handed over to the organising committee by Naresh Bhundia, owner of the San Miguel club.
In his opening address Bob Donnelly was particularly complementary of Línea Directa, who are sponsoring the event for the second year, to the club owners for allowing the use of their facilities and to Suzi Cooper and Ken Hope for their help in putting the competition together.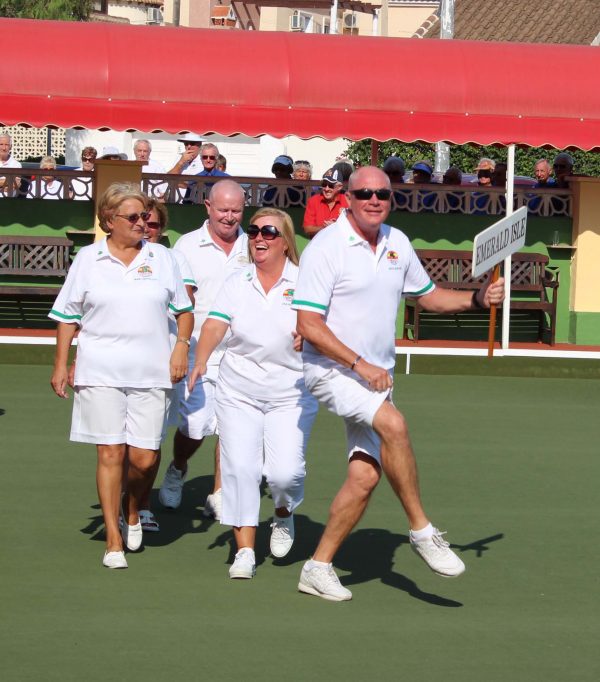 Following the ceremony the competition got off to a fine start on Wednesday morning with the Men's & Ladies Pairs. There were some really close matches in these with a few going into an extra end. With one quarter final to be played in each discipline the semi final of the men's is as follows:-
Dennis Birkett & John Pooley (Emerald Isle) will play Russell Marks & Roy Cordell (San Luis) while Gary Thorpe & Charlie Watkins (Vistabella) will play either Neil Morrison & Keith Jones (San Luis) or Peter Whitehall & Eric Bishop (Vistabella).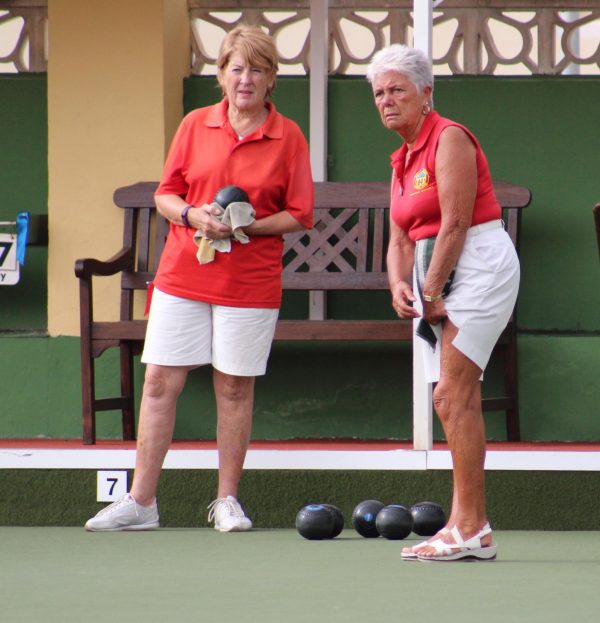 The semi finals of the Ladies:-
Lynn Greenland & Gail Willshire (San Miguel) will play Jenny Bowman & Tanya Oliver (La Siesta). Carol Rudge & Anita Brown (San Miguel) will play either Sheila Errington & Brenda Rees (San Miguel) or AnnMarie Stevenson & Mary Whitelock (Emerald Isle).
The Ladies Singles have now reached the semi final stage where Peta Rhodes (Quesada) will take on Carol Rudge (San Miguel) in one semi. In the other semi Mary Dyer (San Miguel) will play Ann-Marie Stevenson (Emerald Isle).
With more entries the Men's Singles is only down to the last 16 as at Saturday evening, we will know the semi finalists late on Sunday.
On Monday the Mixed Triples start. There are lots of good triples playing but my ones to watch are Ann-Marie Stevenson, Drew Gerrard & Colin Lindgren (Emerald Isle), Noel Davis, Gail & Fred Willshire (San Miguel)- this years National Triples champions. Both these teams are in the same half of the draw so only one will make the final.
The Mixed Fours will start on 27th. On 29th we will have the catch up days with the remaining pairs matches to semi final & the quarter finals of the Triples. Finally we will start with semi finals from 30th with the closing ceremony due to take place on 3rd October.