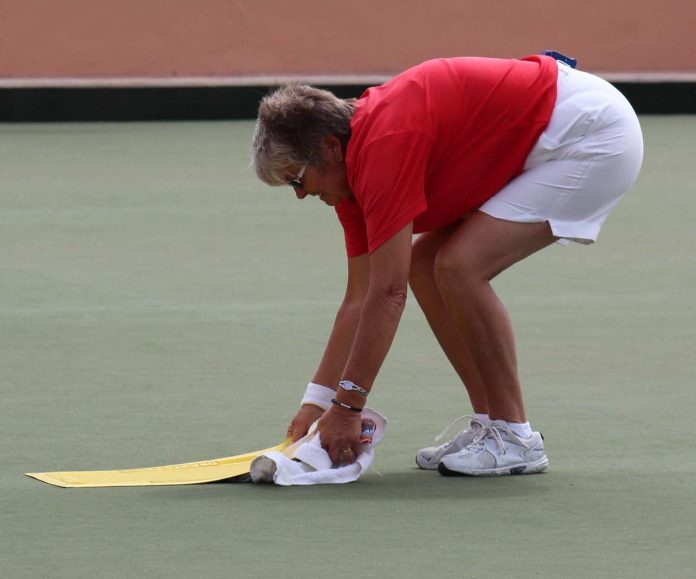 VISTABELLA REPORT BY LYNNE BISHOP
A good Winter league result at MonteMar with wins on four rinks and narrowly missing out on the fifth by one shot. The teams of B Regan, J Bowman, A Brown & B Pain. L Bishop, P Tomkins, I Kenyon & B Dunn. S Burrows, B Brown, M Regan & G Thorpe & L Watkins, T French, C Thorpe & M Furness bought home the points. Shot, 97 (10) – 69 (2) MM. The Berleen team also took a win thanks to S Jenkins, B Ewart, B Norris & D Jenkins.
SAL Enterprise Albatrosses welcomed La Marina Explorers and on this occasion our team finished with a win…the first this season, it just had to happen sooner or later, now the only way us up! Winning teams skipped by B Pain, E Bishop & M Furness. VB 115 (8) – 89 (6) LM.
The Drivers at home v San Miguel Pulsars did even better with five wins, the team of J Chaplin, S Norris & I Kenyon scored a HOTSHOT and a 29-6 win. Other winning teams skipped by C Thorpe. B Norris. P Rafferty & G Thorpe. VB 116 (12) – 81 (2) SM.
Voyager league Eagles travelled to Mazarrón to collect three points, a good win from L Prockter, D Gill & B Prockter 27-10 and a draw from P Tomkins's team, shot difference of VB 88-110 M.
Southern league A. Lanzadores had a home draw v Mazarron Miners, two good wins from L Bishop, C Watkins & K Cuthbert 30-6 and G Paylor, S Allman & E Bishop 25-8, J Bowman's team had a worthy draw. Shots VB 102 (7)- 90 (7) M.
Picadors also at home v San Luis Lions had three wins from D Gunning, M Foulcer & B Pain. D Leggatt, J Neve & B Corbishley and S Jenkins, T French & D Jenkins. Shots VB 84 (6)-106 (8) SL.
Our Academy C team away to the Emerald Isle Outlaws had one win from L Prockter, P Dennis & B Prockter, they also had three drawn rinks! Shots, VB 91 (5)-103 (9) EI.
Sponsored by Auto Direct, TV Choice & Rimmingtons Restaurant.
SAN LUIS BOWLS CLUB REPORT 02.12.16.
It was the worst of starts for the Klingons this week when we were completely out-shined by Quesada Pearls; oops!! South Alicante Winter Triples: Monday 28th November, Enterprise Division SL Klingons away v Quesada Pearls, lost a very tough battle, probably a first: 0-14, 74 shots-113. In contrast, SL Trekkers, at home v Monte Mar Matadors, had an excellent result; points 10-4, shots 116-85. Well done to: Audrey Ford, Dave Tilley, Charlie Marigold 20-16, Mags Haines, Bill Webb, Brian Pocock 18-8, Doug Beattie, Fay Beattie, Peter Fuller 34-5, Irene Everett, Allen Bowen Vic Slater 15-12. Discovery Division SL Romulans, were away v Monte Mar Toreadors, and had a hard morning; 2pts-12, shots 76-127. Winners: Dennis Jackson, Terry Baylis, Geoff Shand 26-12.
Winter League: Wednesday 30th fortunately on a much warmer, drier morning we were home to Finca Guila, and a much better result this week; Shots 90-57, points 10-2. Winners: Ros Holmes, Jo Pering, June & Keith Jones, 21-8, Shirley Verity, Ray Clarke, Ray Pollock, Russell Marks 18-17, Ann Holland, Keith Phillips, Peter McEneany, Sabrina Marks 21-8, Kath Reid, Sheila Cammack, Dave Blackie, Scott Malden 19-11. No Berleen match this week but two of our own teams battled against each other in a "friendly".
Friday 2nd December, LLB Southern League Division A: SL Lions, after some close finishes that went against us, had a useful result away v VB Picadors; 8pts-6, shots 106-84. Winners: Ray Clarke, June & Keith Jones 21-6, Ann Holland, Ray Pollock, Giuseppe Galelli 22-12, Mike & Pam Lockett, Roy Cordell 22-8.
SL Tigers home v LM Sharks had a close game: points 7-7, shots 104-111. Winners: Judy Carroll, Derrick Cooper, Neil Morrison 18-15, Margaret Morrison, Les Bedford, Brian Pocock 19-14, Doug & Fay Beattie, Barry Edwards 15-15, Margaret & Barry Roseveare, Colin Potter 23-18.
SL Pumas home v EI Roundheads had a great result; shots 133-76, points 13-1. Well done to: Kevin Hull, Margaret Clarke, Ken Dullaway 19-11, Roy Brooks, Bob Bromley, Phil Hasler 24-12 Chris Jackson, Derek Smith, Babs Shand 19-18, Dennis Jackson, Danny McErlean, Robin Harker 14-14, Kath Waywell, Chris Phillips, Ray Watmough 21-11, Margaret Stephens, Terry Baylis, Geoff Shand 36-10.
All bowlers are welcome to join the chicken drives on Wednesday & Sunday afternoons or Saturday morning; for more information please check the club website: www.sanluisbowls.byethost7.com
Sheila Cammack.
MONTE MAR BOWLS AND SOCIAL CLUB
Sponsored by The Belfry, The Pub, Bowling Abroad and Avalon
Monday 28th November.
Monte Mar Toreadors v San Luis Romulans
A great start to the week for the Toreadors with a convincing win against the Romulans. Winning on five rinks, to many winning rinks to mention all the names so a big Well Done to all.
Shots Toreadors 127 – 76 Romulans. Points Toreadors 12 – 2 Romulans.
Monte Mar Matadors v San Luis Trekkers.
Winning on two rinks well done to, Rowena Good, Sue Kemp, Skip Brian Zelin 19 – 14. Keith Simpson, Mike Farrelly, Skip Dianne Ridley 25 – 15.
Shots Matadors 85 – 116 Trekkers. Points Matadors 4 – 10 Trekkers.
Wednesday 30th November Winter League.
Monte Mar v Vistabella.
A tough match against Vistabella, Monte Mar only won one rink.
Shots Monte Mar 68 – 98 Vistabella. Points Monte Mar 2 – 10 Vistabella.
Friday December 2nd
Monte Mar Toreadors v La Siesta Golds.
A very good result for the Toreadors playing at home against La Siesta Golds. Well done to our winning teams of Sheila Roberts, Pauline Woodfine and Skip Barrie Woodfine. Sue Bounds, John Hunt and Skip Les Bounds. Rita Towle, Bill Webster and Skip Joan Harding.
Shots Toreadors 134 – 85 La Siesta. Points Toreadors 10 – 4 La Siesta.
For further information about Monte Mar Bowls and Social Club check out our website www.montemarbowls.com or email us at info@montemarbowls.com. We are also on Facebook.
LA SIESTA BOWLS CLUB BY ROD EDGERTON
With no match for the Pioneers this week it was up to the Apollos alone to get the week off to a good start and they duly obliged with a fine away win against third place Emerald Isle Neptunes ensuring La Siesta stay in top spot. Best win came for Dawn & John Taylor with Harold Charleton 21 -10 closely followed by Irene Laverick, Brian Gardiner and Brian Harman 21-17,Joy Gardiner with Bill & Sue Jordan 18-16 and Sue & Vic Mahomet with Ramsay Sinclair 15-13.
Overall score, a very close, 103-97 with 10 points to La Siesta and 4 to the Neptunes.
Wednesday saw our Winter League Team travel to Bonalba. On a carpet on which heavy overnight rain had made the conditions tricky and heavy both sides had difficulties but it was the home side that triumphed winning on 3 of the 5 rinks.
Just after finishing the match a torrential downpour left the rink looking like a boating lake. Our winning rink was Barbara & Jack Cooper with Jim Hudson and Pat Reilly 27-12 whilst Joy Gardiner, Val Dalton, Bill and Sue Jordan drew 13-13. the overall score 98-77 to Bonalba with La Siesta getting 3 points and Bonalba 12.
Not such good news for the Blues and the Golds. The Blues only managed to win a single rink at home to San Miguel Jaguars from the consistent trio of Robert and Ann Heath with John Ball successful by 14-13. The overall result a 116-75 defeat with La Siesta getting just 2 points. Slightly better news for the Golds away to Montemar Toreadors managing to win on two rinks though losing 134-85 and just picking up 4 points. The winning rinks for La Siesta were Dennis Andrew,Ken Stringfellow and John Lincoln 23-16 and Molly Russell, Rod Edgerton and Tony Campbell winning a close encounter, with both sides playing some terrific shots,16-15 due to a gritty performance by coming from behind to triumph.
LA MARINA REPORT BY BARRY LATHAM
Good start to the week with La Marina going to Calpe and bringing away an eighteen shot lead for the second leg in January. First time we have come away with three winning rinks. Roger Stacey, Mike Smith, Carol Smith and Shirley Hadaway 29-8, Moira Taylor, David Taylor, Mike Stone and Don Harrison 18-11 and Anne Stone, Dave McGaw, Dave Hadaway and Maureen Kidd 22-11. Thanks to all those who travelled.
Not so good for our Monday teams. Explorers only just lost to Vistabella Albatrosses. Three rinks all but we lost on shots. Tom Spencer, Mike Smith and Anne Stone; Dave Hadaway, Jim Manning and Hilary Cronk; Alex Whyte, Margaret McLaughlin and Kathy Manning all won.
The Pathfinders lost overall 10-4 on points but only lost by three shots to San Miguel Comets. John Rae, Martin Butler and Jean Tregoing narrowly missed out on a Hot Shot but won. Jim Freeman, John Morgan and Angie Butler also won.
Winter League travelled all the way to Javea only to have it pour with rain. Eventually started about 11.45. Still kept our two point average. And whose rink did it? Yours truly's with such a great wick on the last end that I did not have to bowl my last wood. Well done Pete Parsons, Wendy Latham and Kathy Manning. Unfortunately the Berleen also lost.
La Manga came to us and Dolphins won 14-0 with all rinks winning. Brian Duff, Cliff Rawlinson and Eva Tucker. John Rae, Garth Slater, and Jeff Halfhide. Bill Jones Carol Smith and Jack Chortlon. John Wthers, Mike Smith and Shirley Withers. Martin Butler, Reg Jackson and Lorita Rae. Barry Sadler, Angie Butler and Margaret Sadler. Well done to all.
Seagulls didn't do as well as they went to San Miguel and lost to 10-4 to the Cougars. Colin Armitage, Arthur Cronk and Anne Stone plus Barry and Wendy Latham and Barbara Forshaw were our winning rinks. Don't mention wrong bias to someone on one of the winning rinks.
Last but not least a good result for the Sharks away playing San Luis Tigers. Winning on two rinks and drawing one but getting the overall shots in our favour. John Mallett, Ron Maiden and Maureen Kidd won 26-13. Roy Hart, Peter Parsons and Andy Bartlett won 23-16 and Alan Castle, Phil Pape and Janet Parsons drew 15 all.
GREENLANDS BOWLS CLUB.
Hi Everyone on Monday 28th The Sycamores were at Home to El Rancho Pintos, Final scores were – Total shots for 111. Total shots against – 93. Points for – 10. Points against – 4. Winning rinks were – Joan Hunter, Terry Lawton, skip Mike Edwards. 15 shots to 10 shots. Diane Lawton, Mary Lockley, skip Mike Cassidy. 24 shots to 4.shots, Jean Giddings, Phil Lockley, skip Graham Watt. 29 shots to 6 shots. Helen Langlois, Doreen Watt, skip Kim Hunter. 20 shots to 10 shots,
In the Winter League, Greenlands were for the second time this week away to San Miguel. Final score was – Total shots for 79 Total shots against – 80. Points for – 4 Points against 8. Winning rinks were – Brian Tomlin, Doreen Watt, Florence Edwards, skip Mike Edwards 17 shots to 16 shots. Zoe Wilcock, Jan Oliver, Dave Thompson, skip Jim Wilcock, 22 shots to 11 shots.
On Friday in the Southern League C Division, The Cedars were at Home to El Rancho Raiders. Final score was – Total shots for – 140. Total shots against – 59. Points for – 14, Points against – 0. Winning rinks – Rudy Wattley, Phil Lockley, skip Graham Watt,24 shots to 7. Joan Hunter, Margaret Hirst, skip Mike Cassidy. 21 shots to 6. Doreen Varley, Janet Bliss, skip Mike Edwards. 31 shots to 8. Heather Meston, Mary Lockley, skip Kim Hunter. 22 shots to 8. John OLeary, Jim McClean, skip Florence Edwards, 24 shots to 15. Pat Wray, Charles Langlois, skip John Wray, 18 shots to 15.
In Div A, the Oaks were away to Emerald Isle Cavaliers. Final result was – Total shots for – 101. Total shots against – 111. Points for – 4. Points against – 10. the results didn't reflect the game as th losing rinks were very close indeed so well done everyone. Winning rinks were – David Fryatt, Dave Thompson, Marilyn Fryatt, 21 shots to 16. Brian Tomlin, Dave Duddding, Mel Brown, 22 shots to 15. for all enquires please ring Haley on 966 84 4399.
EMERALD ISLE BOWLS CLUB
The week started with the Titans travelling to Country Bowls Flamingos and they won the game 14-0 with an aggregate of 135-75 biggest winners were Y Mallerburn, P Coffey, F Close 32-6 , J Parkes, L Vincent, P Parkes 22-9
The Neptunes played at home against La Siesta Apollos and slipped to a 4-10 defeat going down on aggregate by 97-103. Winning rinks were A Brown, S Johnson, P Willicott 31-16 and E Morris, B Eldred, J Mullarkey 20 -12
The Moonrakers played away at El Rancho Broncos and came away with a respectable 6 -8 defeat, aggregate being 96-116. Winning rinks were M Jeffs, M Petty, R Ede 23-13 A Ede, R Adams, E Bennett 15 -14 and L Harris, F King, A Burns 17 -16
The Saturns played Quesada Diamonds at a home and slipped to a 6 -8 defeat aggregate of 90 -103. Winning rinks were K Griffiths D Horne T Culpin24 -17, A Gower, J Elliot D Martin 18 -13 and T Capewell, T Kelly, J Loughran 18 -14
Wed the Winter league saw Emerald Isle travel to El Cid in extremely testing weather conditions and they swam to an 8 -4 win aggregate of 66 -61. Winning rinks where P Heaney, S Johnson, D Birkett, I Brewster 23 -8. Y Mallerburn, A Burns, F Close, C Lindgren 14 -7. C Parsons, M Highland, C , P Parkes 15 -13. The Berleen was drawn
Friday saw the Cavaliers play at home against Greenland Oaks and finished up the winners by 10 -4 and an aggregate of 111 -101, the winning rinks were M Highland, R White, A M Stevenson 22 -10, D Rhodes, K Jolliffe, D Gerrard 21 -14, L Vincent, G Odell, M Odell 18 -16 and Y Mallerburn, F Close, C Lindgren 19 -18
The Claymores travelled to Country Bowls Ceckos and won 10 -4 aggregate being 116 -91. Winning rinks where E Morris, B Eldred, J Mullarkey 22 -7. A Brown, S Johnson, P Willicott 26 -13, L Hawkins, A Malcolm, B Smith 19 -7, G Roberts, C Thomas, L Day 15 -12
The Outlaws played Vistabella Conquistadores and they won 9 -5 in a game that had 3 drawn rinks and EI winning rinks where L Burns, G Inwood, R Ede 22 -12..and J Close, M Petty, P Cresswell 18 -8 the aggregate was 103 -91
EL RANCHO BOWLS CLUB.
On monday we started our bowling week with The Broncos playing host to Emerald Isle Moonrakers and had a good game against a strong team, the rinks were shared three all, with two of the losing rinks being so by just the one shot. A good display taking the overall shots 116 to 96, a good 'feel good' game all round, well done and remember whether you win or lose can be down to the draw.
Meanwhile The Pintos were at Greenlands playing The Sycamores; the play was good and on some rinks was much closer than the score might indicate. We came away with 2 rinks, which is a good result against the Sycamores away from home.
Friday found The Mustangs playing host to Quesada Swifts with some cracking matches, The Mustangs taking advantage of the home mat, though the stiff breeze proved to be bit of a leveller. In the end The Mustangs took the rinks by 4 to 2 and the overall shots by a reasonable margin. Merv Armstrong, Keith Cunningham and Geoff Jones 27-15. Barbara Jones, Sheila Cooper and Carolyn Harris 11-23. Jim Taylor, Irene Thomson and Eddie Thomson 25-14. Ann Taylor, Malc Sykes and Jim Gracie 15-24. Maxine Wright, John Skipper and Rod Wright 15-10. Henry Ryder, Jan Bright and Richard Lee 48-6.
Meanwhile The Raiders travelled to Greenlands to play The Cedars, they struggled a little, but we have all been there. Alas they came away without a point, but that is no reflection on their play and spirit, it's all about fun and good company. Ria Dukker, Tricia Elsam and Shirley Edwards 6-21. Roger Tunstall, Malc Elmore and Keith Longshaw 7-24. Marion Haynes, Rob Clark and Dave Haynes 15-24. Bob Easthope, Graham Day and Richard Needham 15-18. Edward Elsam, Ron Edwards and Gary Newson 8-22. Ian McMaster, Ngaio Baldwin and Terry Buswell 8-31. For membership details contact Brian Taylor on 965077093 or at briantaylor_es@yahoo.co.uk or Carolyn Harris on 966774316 or at elranchobowls.secretary@gmail.com