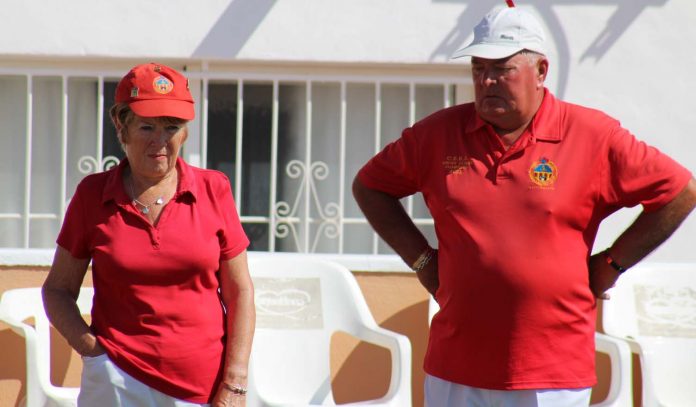 SAN MIGUEL BOWLS CLUB
San Miguel Comets are certainly on a roll, a 14 nil win at San Luis against San Luis Romulans.  Brilliant bowling by the whole team!!  Bill & Joyce Reeves, Bill Brownlee 24-17:  Sheila Cranstoun, Eileen Potts, Ann Eagle 16-12:  Bob Nesbitt, Dave Champion, Barbara Scotthern, 31-13:  Bob Hanton, Peter Ross, Bob Donnelly 30-4: Sheila Errington, Frank Scotthern, Brian Errington 33-10:  Joy Trew, Mike Bayfield, Jack Jackson 20-13.  Shots for 154 – Against 69.  Well Done.
The Pulsars were away to Monte Mar Matadors winning 6 points to 8.  Three games each, but lost the overall shots.  Eileen McLaren, Tom Dalgleish, Eddie Cowan 20-16:  Irene Ward, Keith Green, Brenda Rees 22-11:  Anita Brown, Nancy Campbell, Ron Nairey 17-16.  Shots were 85 to San Miguel – Monte Mar 100.
Javea Green turned up to play Winter League on Wednesday only to find the green flooded and totally unplayable.  Ken Hope and Noel Davis got to work with our new wet and dry hoover, and it proved it was worth every penny we paid for it, when, by 11am the green was cleared and declared fit to play. Well done Ken and Noel.  San Miguel went on to win 8 points to 4, with shots 91 to San Miguel and 67 to Javea.  Cliff Plaisted, Val & Chris Collier, Stuart Denholm 18-14:  Noel Davis, Reg Cooper, Mary Dyer, Fred Willshire 20-12:  Carol Rudge, Dave Greenland, Lee Sinclair, Lynn Greenland 25-9.  Close games by Tony, Margaret, Ian, Steve 16-19 and Brian, Cyril, Stuart, Lin 12-13.
THE NOTICE BOARDS IN THE OFFICE HAVE BEEN RE-ARRANGED – PLEASE CHECK CAREFULLY.
Want to learn to bowl?  Come along on Wednesday afternoons at 1.30pm.  5 euros for bowling, shoes, woods and tuition if required.
For further information on San Miguel Bowls Club, please contact the President, Eileen Potts, telephone  966730376 or Secretary Pat McEwan, telephone 966714257.
LA SIESTA BOWLS CLUB By Rod Edgerton
A good start to the week with both the Apollos and the Pioneers having resounding home wins.
The Apollos triumphed over Greenlands Sycamores by 144-62 gaining 10 points to their opponents 4 whilst the Pioneers completed 14 points to nil victory over El Rancho Broncos by 160 shots to 72.
Highlight in both matches went to the players on Rink 5 with Dawn & John Taylor winning 38-3 for the Apollos and Janet Charman,Val Dalton and John Porter winning 40-7 for the Pioneers.
For the Apollos there were also good wins for Irene Laverick, John Ball and Brian Harman 28-5, Trish Reilly,Ramsey Sinclair and Brian Fraser 26-7,Dave Davies, Pat Reilly and George Richardson 26-9 and also by our Friendly Team of Ann & Robert Heath with Jean Cooper winning 27-9.
With everyone winning for the Pioneers there too many names to mention everyone but well done to our Captain John Lincoln with Wendy Ralph and Tom Heaslewood who won 26-11.
Wednesday's Winter League fixture with Greenland was washed out and will now be played on the 3rd December.
The Blues had an 11points to 3 win against La Marina Dolphin scoring 111 shots to 88.However, the final points score was in doubt on 3 rinks until the final end. Dawn Taylor,Pat Reilly and Harold Charleton winning 20-16 whilst a single shot on the final end from Bill Jordan gave him a win with Beryl Styring and John Ball 14-13. Trish Reilly, Brian Gardiner and Brian Harman managed to get 3 shots on the final end to draw 16 apiece. The biggest winning rink was Sheila Chorley, Vic Mahomet and Irene Mangan with a 31-10 win. The other winning rink was Joy Gardiner, John Taylor and Jean Cooper winning 24-15.
A close encounter between The Golds and Emerald Isle Outlaws finished in a draw 7 points apiece with the shots going to The Outlaws by 5 shots, 98-93.Winning Rinks for La Siesta were Hilary Clarke, Sheila Millward and Tony Dalton 23-16,Wendy & Alan Ralph with Val Dalton 20-13 and Janet & Fred Charman with Rab Logan 20-15. The most exciting match which finished 13-13 with Penny Porter, Gordon Dall and John Clarke snatching a draw with 2 shots on the final end for The Golds.

GREENLANDS BOWLS CLUB
In The Enterprise Division The Maples were at home to Quesada Pearls, Final scores were – Total shots for – 81.  Total shots against – 123.  Points for – 2.  Points against – 12. Winning rinks were – Jo Newall,  Marilyn Fryatt, skip Mike Kelly. 26 shots to 18. in the Discovery Division The Sycamores were away to La Siesta Apollos. final scores were – Total shots for – 62.  Total shots against – 144.  Points for – 4.  Points against – 10. Winning rinks were – Joan Hunter, Terry Lawton, skip Mike Edwards. 20 shots to 16. Jean Giddings, Phil Lockley, skip John OBrian. 18 shots to 1
In the Southern League A division, The Oaks were at home to San Luis Lions, Final score was – Total shots for – 80. Total shots against – 116.  Points for 4.  Points against – 10.  Winning rinks were – Sheila Stead, Jean Thompson, skip Dave Webb. – 21 shots to 16.  Brian Tomlin, Dave Dudding, skip Mel Brown, 16 shots to 14. for all inquires please telephone Haley on – 966844399.
VISTABELLA BOWLS REPORT with Lynne Bishop
SAL Enterprise Albatrosses failed to get to grips with the San Luis green, only winning two points and that was from the team of S Burrows, C Watkins & B Dunn 23-13. Shots, 85 (2) – 118 (12) SL..Disaster!
The Drivers had a very good home result from their game with La Marina Explorers, wins on five rinks for twelve points. Winning teams skipped by Barry Norris 19-10. Dave Jenkins 19-14. Gary Thorpe 17-13. Pat Rafferty 19-15 and Ian Kenyon 17-16. Shot difference was VB 102 (12) – 88 (2) LM.
Voyager league Eagles tackled the Saturns at the Emerald Isle, winning on four rinks. Teams skipped by Penny Tomkins 26-11. Brian Prockter 26-10. Di Hudson 18-14 and Avril Kendall 11-10. Shots, VB 101 (10) -89 (4) EI. keep up the good work.
WINTER league. Torrential overnight rain forced several clubs to cancel their matches, Vistabella made the decision to play on and beat their opposition Benitachell 8-4. L Watkins, T French, C Thorpe & M Furness 26-13. S Burrows, B Brown, M Regan & G Thorpe 19-16. B Regan, J Bowman, A Brown & B Pain 18-15. Shots, VB 90 (8)- 83 (4) BBC.
Southern league A. The Lanzadores travelled to La Marina to play the Sharks, they had two wins from the teams skipped by Arthur Brown 24-9 and Maggie Furness 24-17. Shots, VB 98 (4) – 117 (10) LM.
The Picadors went south to face the Miners at Mazarrón, they came away with three wins and the long game. Winning teams skipped by Bill Pain 25-10, Pat Rafferty 23-13 and Barry Norris 21-13. Shots VB 108 (8) – 91 (6) M.
Southern league C. The Conquistadores were at home playing the El Rancho Raiders and what a whitewash..whoopee! Well done to the whole team, teams skipped by P Bagwell 32-4. B Prockter 23-9. G Gandy 21-12. D Hudson 19-12. J Harwood 19-15. A Kendall 18-14. Shots VB 132 (14) 66 (0) ER. Top of the league!
Sponsored by Autos Direct, TV Choice & Rivingtons Restaurant.
SAN LUIS BOWLS CLUB REPORT By Sheila Cammack.
It was a good start for the Klingons this week but it was "wet Wednesday" that provided many challenges; it was certainly a different type of game.
South Alicante Winter Triples: Monday 21st November, Enterprise Division SL Klingons home v VB Albatrosses an excellent result after a slow start; 12-2, 118 shots-81. Winners: Ray Clarke, Sabrina Marks, Russell Marks 23-18, Pam Lockett, June & Keith Jones 16-13, Shirley Verity, Jo & Jules Pering 22-8,  Bob White, Sheila Cammack, Dave Blackie 17-13, Ann Holland, Ray Pollock, Roy Cordell 27-10. SL Trekkers home v SM Meteors, had a tough match; points 4-10, shots 92-121. Well done to Mags Haines, Bill Webb, Brian Pocock 24-16, Irene Everett, Ian Ross, Vic Slater 17-13. Discovery Division SL Romulans, away v SM Comets, had a tough morning: finishing 0pts-14, shots 69-154.
Winter League: Wednesday 23rd  we were away at La Marina, which should have been renamed la "Piscina". Having travelled through flooded roads then a delay to wait for the rain to slow and the green to be swept, we managed to play through the water and complete 18 ends with many twists and turns before the last bowl came to rest. Shots 84-63, points 6-6. Winners: Shirley Verity, Ray Clarke, Jules Pering, Russell Marks 23-7, Ann Holland, Keith Phillips, Peter McEneany, Sabrina Marks 21-7. Our Berleen team: Pam Lockett, Neil Morrison, Ray Pollock, Vic Slater had a good game, winning, 21-17.
Friday 25th, LLB Southern League Division A: SL Lions had a good result away v GL Oaks; 10pts-4, shots 116-80. Winners: Ray Clarke, June & Keith Jones 19-14, Bob White, Steve Simmons, Scott Malden 25-16, Ann Holland, Ray Pollock, Giuseppe Galelli 27-5, Mike & Pam Lockett, Roy Cordell 15-8. SL Tigers away v Q Swallows had a useful result: 6-8, shots 81-104. Winners: Irene Everett, Allen Bowen, Vic Slater 17-16, Margaret & Barry Roseveare, Colin Potter 13-12, Pat Malden, Marina Beardsall, John Malden 15-11. Pumas home v HO Royals; had a good result; shots 100-96, points 8-6. Well done to: Dennis Jackson, Danny McErlean, Cliff Harris 22-12, Kath Waywell, Kevin Hull, Ray Watmough 22-8, Chris Phillips, Terry Baylis, Geoff Shand 19-17.
All bowlers are welcome to join the chicken drives on Wednesday & Sunday afternoons or Saturday morning; for more information please check the club website: www.sanluisbowls.byethost7.com
EMERALD ISLE BOWLS CLUB
Monday saw the Cavaliers travelling to El Rancho Pintos and come away with a respectable 10-4 loss and the aggregate of 115-88
The Neptunes where at home against Monte Mar Toreadors, and slipped to 6-8 defeat, but took the aggregate 101-94
The Saturns took on Vistabella Eagles at home but slipped to a 10-4 with the aggregate being 101-89
Tuesday the Outlaws travelled to Horadada Royals for the rearranged game and got beaten 10-2 with an aggregate of 57-132
The rearranged Winter League verses Bonalba was played on Thursday and the outcome was a great 10-2 win for EIand aggregate being 94-63. The Berleen also won 19-17, that keeps them pushing at the top of league
Friday took the Cavaliers to Monte Mar to play the Matadors and they came away with an excellent 10-4 win taking the aggregate by 97-93
The Claymores played at home in afternoon against El Rancho Mustangs and the result was a win for home team 10-4with an aggregate of 102-79
The Outlaws travelled to play La Siesta Golds and came away with a fine 7-7 and they edged the aggregate 98-93 as well
Roundheads played at home in the morning against Monte Mar Toreadors and they slipped to a 3-11 defeat, and the aggregate was 79-119
ELWYN MORRIS
Monte Mar Bowls and Social Club
Sponsored by The Belfry, The Pub, Bowling Abroad and Avalon
Monte Mar Toreadors v Emerald Isle Neptune. A  difficult away trip to face second in the league Neptune but a good performance saw the Toreadors secure a narrow win. Not only beating the Neptune but beating the rain forecast for the afternoon.
Well done to the four winning rinks of Sheila Roberts, Howie Williams and Skip Ron Jones. Rita Towle ,Chris Harding, and Skip Joan Harding, Sue Bounds, Les Bounds and Skip Janet Gatward, Cliff Norris Pauline Woodfine and Skip Barrie Woodfine. Points Toreadors 8 – 6 Neptune. Shots 101 – 94. Monte Mar Matadors v San Miguel Pulsars.
Winning on three rinks well done to Geraldine Fisher, Harry Dobson Skip Gordon Fisher 24 – 5. Ronnie Cairns,Joe Ridley,Skip Chris Merry 15 – 9. Keith Simpson, Mike Farrelly,Skip Diane Ridley18 – 12.  Shots Matadors 100 – 85 San Miguel Pulsars. Points Matadors 8 – 6 San Miguel Pulsars.
Friday 25th November . Monte Mar Toreadors v Emerald Isle Roundheads. A good days bowling for the Toreadors with a fine away win on a very sunny winter day.  Too many winners to mention by name, but well done to all the successful teams. Shots Toreadors 119 – 79 Roundheads. Points Toreadors 11 – 3 Roundheads.
Monte Mar Matadors v Emerald Isle Cavaliers. Winning on two rinks well done to Denise Asberry,Val Hignett,Skip Alan Ashberry17 – 1. Keith Simpson,Mike Farrelly,Skip Bill Young 21 – 12. Shots Matadors 93 – 97 Cavaliers. Points matadors 4 – 10 Cavaliers.
For further information about Monte Mar Bowls and Social Club check out our website  www.montemarbowls.com or email us at info@montemarbowls.com. We are also on Facebook.
LA MARINA REPORT by Barry Latham
The Explorers discovered where Vistabella Drivers played but unfortunately didn't find the green to their liking and lost 12-2. Mike Stone, Arthur Cronk and Barbara Forshaw did manage the green well enough to win their game by 9 shots.
All the other rinks had fairly close games so well done. Certainly a very unusual match took place on Monday in the Discovery League when the Pathfinders were supposed to play Country Bowls in the morning or was it in the afternoon?  The Pathfinders only played with 4 rinks and lost 12-2. Our saving grace was John Rae, Martin Butler and Jean Tregoing winning 21-19. The weather played a big part in the Winter League match. At 10.00 am and the green was flooded.  Some brave fellows fought the rain and did a Moses by  parting the waters and soon the rain had stopped and the waters cleared.
La Marina excelled themselves and had a good result against a strong San Luis team. We won three rinks to two but SL got the overall shots. Shirley Hadaway, Dave Taylor, Margaret Sadler and Janet Parsons won so did Barry and Wendy Latham, Peter Parsons and Kathy Manning. Guess who the other one was? Yes, Barry Sadler with his brilliant partners, John Rae, Carol Smith and Mo Taylor.  Berleen had a close game just losing by 4 shots. The Sharks took on the Vistabella Lanzdores winning 10-4. Dave Hadaway, Tom Spencer and Hilary Cronk won so did Dave Lewis, Jim Manning and Margaret McLaughlin.
Not to be out done Roy Hart, Peter Parsons and Andy Bartlett also came out ahead while Alan Castle, Phil Pape and Janet Parsons had the highest winning rink 29-8.Oh dear!! Seagulls went to La Manga and had the wings well and truly clipped. Lost on every rink.
Unfortunately the ladies in particular found the grass very heavy and some of the men found the same. I was brilliant, of course!!!! The Dolphins came up against La Siesta Blues and came away feeling very blue losing 11-3.  John Withers gave us two points with Mike Smith and Shirley Withers giving a helping hand. The other point was from Cliff Rawlinson, Angela Butler and Jeff Halfhide.
EL RANCHO BOWLS CLUB.
Monday found The Pintos playing host to The Titans from Emerald Isle, a team keen to take some points home with them. But the Pintos played well against a strong team and took 4 rinks and the overall shots.
Meanwhile The Broncos were away to La Siesta Pioneers, which can be a little tricky, but we are learning and gathering strength with every match and it is just a game and fun. However we came away without a point, but shouldn't read too much into that, sometimes you are just playing a stronger team.
Friday found The Raiders playing at Vistabella against The Conquistadores and although they came away without a point, they played well and were up against a tough team. Two of the rinks were close and our bowlers are gaining experience and improving their skills with every outing. Fred Dunstone, Tricia Elsam and Shirley Edwards 12-21. Rob Clark, Keith Longshaw and Gary Newson 9-23. Pam Harris, Diane Yates and Brian Harris 12-19. Bob Easthope, Graham Day and Mick Ager 14-18. Gill Bartlett, Gary Dunstone and Malc Elmore 4-32. Ngaio Baldwin, Peter Baldwin and Terry Buswell 15-19.
In the afternoon The Mustangs were at Emerald Isle against The Claymores and came away with 2 rinks and some of the others could have gone either way, it was a good match and taking 2 rinks away from home is a fair result any day. Judy Foley, Keith Cunningham and Geoff Jones 11-19. Barbara Jones, Sheila Cooper and Carolyn Harris 7-31. Jim Taylor, Irene Thomson and Eddie Thomson 20-9. Ann Taylor, Malc Sykes and Jim Gracie 14-18. June Whitworth, Jane Hamill and Stew Hamill 16-10. Henry Ryder, Merv Armstrong and David Whitworth 11-15.  For membership details contact Brian Taylor on 965 07 7093 or  at briantaylor_es@yahoo.co.uk or Carolyn Harris on 966 77 4316 or at elranchobowls.secretary@gmail.com