EL RANCHO BOWLS CLUB.
Monday proved to be a splendid start to the week for The Pintos, as well as the excellent company as always at La Marina, we came away with 3 rinks and a draw against The Pathfinders. The overall shots being taken by The Pathfinders by a very small margin, a good result away from home for The Pintos.
Ok course whether you win or lose a rink is more often than not down to the draw of rink and hence opponents. Emma Walsh, Jan Bright and Merv Armstrong 12-29. Ann Taylor, Irene Thomson and Eddie Thomson 19-11. Pam Harris, Jane Hamill and Stew Hamill 16-16. Barbara Jones, Barry Bright and Brian Harris 10-22. June Whitworth, Sheila Cooper and Carolyn Harris 19-14. Henry Ryder, Malc Sykes and David Whitworth 21-11. The Broncos meanwhile having no league fixture played a friendly.
On friday The Raiders had a bye and The Mustangs were at home to Country Bowls Geckos. The Mustangs took full advantage of the home mat and with their very good play won all the points including a good overall shot difference, hopefully we can retain some of the advantage when we visit The Geckos at Country Bowls. But a job well done by all today!
Judy Foley, Keith Cunningham and Geoff Jones 20-16. Barbara Jones, Sheila Cooper and Carolyn Harris 22-8. Maxine Wright, John Skipper and Rod Wright 39-5. Henry Ryder, Jan Bright and Richard Lee 22-6. June Whitworth, Jane Hamill and Stew Hamill 35-7. Jim Taylor, Merv Armstrong and David Whitworth 29-9. For membership details contact Brian Taylor on 965077093 or  at briantaylor_es@yahoo.co.uk or Carolyn Harris on 966774316 or at elranchobowls.secretary@gmail.com
EMERALD ISLE BOWLS CLUB ELWYN MORRIS
Monday brought the Greenlands Sycamores to the EI to take on the Titans and in a very close game the Titans came out on top with an 8-6 win finishing 3-3 on rinks but with the aggregate going to the Titans
The Neptunes travelled to play San Miguel Comets where they secured a 7-7 draw. The home team took the rinks 3.5 to 2.5 but the aggregate was taken by the Neptunes 99-98.
At home in the afternoon the Moonrakers were beaten by Quesada Diamonds 12-2 with the aggregate 111-85. The Saturns had a bye
Wednesday in the winter league the Emerald Isle took on La Siesta away and came away with an impressive 12-0 victory, the aggregate being 115-57 which takes them to top of the table.
Friday the Cavaliers were at home in afternoon against San Luis Tigers and got a 8-6 win with a aggregate of 109-87
The Claymores played at home in morning against San Miguel Comets and slipped to a 8-6 home defeat, 3-3 on rinks, but aggregate going to the away team by 113-109
The Roundheads played La Siesta Golds and lost 12-2 with the aggregate 121-85
GREENLANDS BOWLS CLUB
In the Enterprise Division The Maples were at home to Vistabella Albatrosses, Final scores were — Total shots for – 102.  Total shots against – 92.  Points for – 10.  points against – 4. Winning rinks were – Janet Webb, Jean Thompson, skip Dave Webb.- 17 shots to 13 shots, David Fryatt, Zoe Wilcock, skip Jim Wilcock. – 18 shots to 11 shots.  David Field, Val Duchart, skip Jim Oliver. – 18 shots to 10 shots. Ann Butterworth, Margaret Dewar, skip David Thompson. – 19 shots to 14 shots.
In the Discovery Division the Sycamores were away to Emerald Isle Titans, final scores were – Total shots for 86.  Total shots against – 97.  Points for – 6.  Points against – 8. Winning rinks were – Heather Meston, Florence Edwards, skip Graham Watt. – 22 shots to 16 shots.  Jean Giddings, Ron Stansfield, skip John O'Brian. 20 shots to 7 shots. Rudy Wattley, Mary Lockley skip Neville Pulfer. – 16 shots to 13.
In the Southern League A division the Oaks were at home to Montemar Matadors. Final scores were – Total shots for – 103.  Total shots against – 110. Points For – 5.  Points against – 9.  Winning rinks were – ran Tomlin, Dave Dudding, skip Mel Brown. – 14 shots to 9.  David Fryatt, Dave Thompson, skip Marilyn Fryatt. – 33 shots to 8. In Division C the Cedars were away to Montemar Toreadors.  Final scores shots for – 100. Total shots against 115.  Points For = 6.  Points against – 8.  Winning rinks were – Phi Lockley, Doreen Watt, skip Graham Watt, 19 shots to 15.  Doreen Varley, Janet Bliss, skip Mike Edwards 25 shots to 8.Pat Wray, Charles Langlois, skip John Wray. 22 shots to 17.
New members are welcome, for all enquiries please contact Haley on 966 84 4399.
LA SIESTA BOWLS CLUB BY ROD EDGERTON
A disappointing start to the 2016-17 Premier 20 competition with a 13-3 loss to Javea Green with only our triples teams picking up points. Joy& Brian Gardiner with Jean Cooper managing a creditable draw 18 shots apiece whilst Wendy Ralph, Jim Hudson and John Ball won by 24-22.
The Apollos returned to winning ways with a 9-5 victory against Montemar and by a points score of 116 -95.Top team was Joy Gardiner with Bill & Sue Jordan winning 32-9 having been behind early in the match whilst similarly Dawn & John Taylor with Harold Charleton behind until the 6th end came through with a 27-16 win. Ann and Robert Heath with John Ball picked up 4 shots on the last 3 ends to gain a creditable draw.
Mixed fortunes for the Pioneers who lost to Mazarron by 130 -79 but picked up 6 points thanks to 3 winning rinks. The best result being from Fred Charman, Tom Heaslewood and John Lincoln with a 16-14victory.Two further rinks managed single shot narrow victories.
Not such good news in the Winter League this week after last week's superb performance. Our opponents Emerald Isle were just too good and won on all rinks thereby taking all points. Well done to them and they must have a fine chance of winning the League this season.
The Blues travelled to La Marina to play the Seagulls and came away with a 10-4 defeat.
A win for the Golds with a 12-2 win against the Emerald Isle Roundheads with the shots being 121 to 85. Top rink was Penny Porter, Rod Edgerton and John Clarke with a 28-5 victory this was well supported with 4 other winning rinks. Well done to Rab Logan, playing his first game as skip, with Fred and Janet Charman winning 21-10 and to Ann Edgerton playing her first league game in 2 years winning with Roy Millward and John Porter15-13.
Finally, sad news to report as Alistair who ran the Wednesday Chicken & Egg has passed away recently R.I.P.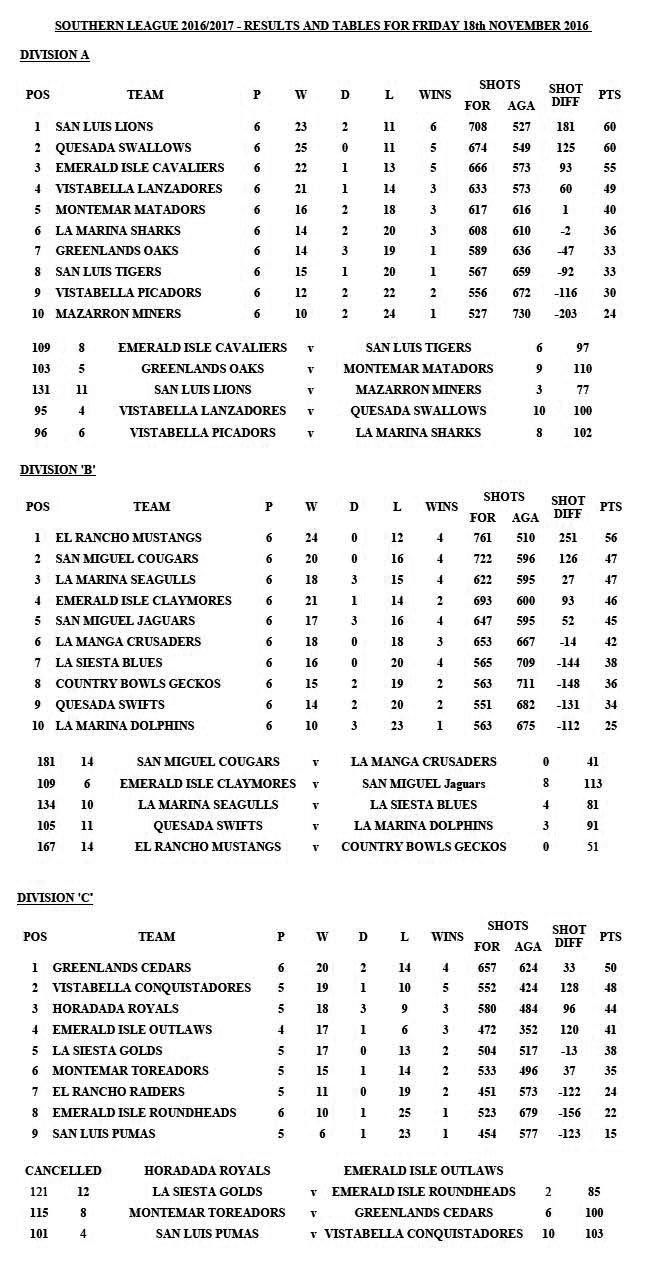 MONTE MAR BOWLS AND SOCIAL CLUB
Sponsored by The Belfry, The Pub, Bowling Abroad and Avalon
Monday November 14th – Monte Mar Toreadors v Siesta Apolios
A good performance by the Toreadors against top of the table Apolios but not good enough. The Toreadors lost a close match points 9 – 5 and by 116 – 95 shots. Well done to our winning rinks of Sheila Roberts, Howie Williams and Skip Ron Jones, Cliff Norris, Pauline Woodfine and Skip Barrie Woodfine, and the drawing rink of Rita Towle, Chris Harding and Skip Joan Harding.
Monte Mar Matadors v La marina Explorers. Winning on two rinks well done to, Sue kemp, June Young Skip Brian Zelin 19 – 16. Ronnie Cairns, David Eades Skip Chris Merry 22 – 10. Shots Matadors 102 – 109 Explorers. Points Matadors 4 – 10 Explorers.
Wednesday November 16th. Today we played the top of the table Javea Green. Some very good bowling from both sides. A very good result for Monte Mar drawing 6 – 6 and also our Berleen winning again. Well done to you all!!!
Friday November 18th Monte Mar Toreadors v Greenlands Cedars
A good winning performance by the Toreadors against second in the league Greenlands Cedars. Well done to the winning rinks of Wendy Sheridan, Pauline Woodfine, Skip Barrie Woodfine, Jan Webster, Howie Williams and Skip Jan Gatward, Sue Bonds, Les Bounds and Skip Ron Jones.
Shots Toreadors 115 – 100 Greenlands Cedars. Points Toreadors 8 – 6 Greenlands
Monte Mar Matadors v Greenlands Oaks Winning on three rinks and drawing on one well done to, Sue Kemp, June Young, Brian Zelin 24 – 19. Denise Ashberry, Val Hignett, Skip Alan Ashberry 27 – 7. Geraldine Fisher, Harry Dobson, Skip Gordon Fisher 23 – 11. Keith Simpson, Mike Farrelly, Skip Bill Young 19 – 19. Points Matadors 9 – 5 Greenlands Oaks. Shots Matadors 110 – 103 Greenlands.
For further information about Monte Mar Bowls and Social Club check out our website  www.montemarbowls.com or email us at info@montemarbowls.com. We are also on Facebook.
SAN LUIS BOWLS CLUB SHEILA CAMMACK
Another strange week of mixed weather; from winter to nearly summer again and equally varied results on the green. South Alicante Winter Triples: Monday 14th November, Enterprise Division SL Klingons away v VB Drivers; a good result on a very miserable, windy and even wet afternoon; points 10-4, 110 shots-98.
Winners: Shirley Verity, Jo & Jules Pering 18-15, Pam Lockett, June & Keith Jones 26-14, Steve Simmons, Sabrina Marks, Russell Marks 18-10, Ann Holland, Ray Pollock, Roy Cordell 20-14. SL Trekkers home v SM Pulsars, had a tough match; points 3-11, shots 96-126. Well done to Mags Haines, Bill Webb, Brian Pocock 16-16, Irene Everett, Derrick Cooper, Colin Potter 28-15. Discovery Division SL Romulans, away v CB Flamingos, fought hard for a win & 2 draws: finishing 4pts-10, shots 78-94. Winners: Derek Barker, Derek Smith, Phil Hasler 22-13, Chris Lythe, Bob Bromley, Bob Shand 16-16, Margaret Stephens, Terry Baylis, Geoff Shand 14-14.
Winter League: Wednesday 16th, a better day at home v Bonalba, with some games going right to the last end (unfortunately against us) 8pts-4, 108 shots-65. Winners: Shirley Verity, Ray Clarke, Jules Pering, Russell Marks 35-12, Irene Everett, Lynne Morris, Peter McEneany, Tom Hill 25-7, Kath Reid, Sheila Cammack, David Blackie, Scott Malden 21-13. Our Berleen team, had a very close game, also just missing out on the last end, 19-20.
Friday 18th, LLB Southern League Division A: SL Lions had a good result at home v Mazarron Miners; after some very close finishes managed 4 wins and a draw for 11pts-3, shots 131-77. Winners: Ray Clarke, June & Keith Jones 29-16, Bob White, Steve Simmons, Scott Malden 12-11, Pat Bird, Sheila Cammack, Graham Bird 17-17, Ann Holland, Ray Pollock, Giuseppe Galelli 27-7, Mike & Pam Lockett, Roy Cordell 32-6. SL Tigers were away v EI Cavaliers and worked hard for useful points 6-8, shots 97-109. Winners: Jan & Brian Pocock, Colin Potter 17-16, Irene Everett, Allen Bowen, Vic Slater 18-15, Mags Haines, Dave Tilley, Charlie Marigold 22-14. Division C: SL Pumas home v VB Conquistadores; came very close on shots 101-103, points 4-10. Well done to: Dennis Jackson, Danny McErlean, Geoff Shand 33-7, Kath Waywell, Chris Phillips, Ray Watmough 19-14.
All bowlers are welcome to join the chicken drives on Wednesday & Sunday afternoons or Saturday morning; for more information please check the club website: www.sanluisbowls.byethost7.com
SAN MIGUEL BOWLS CLUB
In the Southern League, San Miguel Cougars had a brilliant result against La Manga Crusaders beating them 14-0. Fantastic bowling by the whole team, with the overall shots being 181 to San Miguel - 41 to La Manga.  Sheila Errington, Eileen Potts Brian Errington 23-11:  Bob Hanton, Martin Cranstoun, Mike Bayfield 45-5:  Peter Ross, Sheila Cranstoun, Bob Donnelly 34-7:  Jack Jackson, Dave Bradbury, Barbara Scotthern 35-5:  Bob Nesbitt, Dave Champion, Ann Eagle 20-7:  Bill Reeves, Frank Scottern, Carl Eagle 24-6.
The Jaguars were away at Emerald Isle and came away with 8 points.  The shot difference was very close, 113 to San Miguel – 109 to Emerald Isle.  Well done Jan Farmer, Ron Nairey, Paul Thomas 23-15:  Ken Hope, Nancy Campbell, Gary Raby 25-21: Anita Brown, Tom Dalgleish, John Marshall 24-11.
The Winter League managed a draw against El Cid with 6 points each.  Jan Allen, Mick Rogers, Ian Rogers, Steve Cantley 18-17:  Cliff Plaisted, Val & Chris Collier, Stuart Denholm 25-17: Noel Davis, Gail Willshire, Mary Dyer, Fred Willshire 26-10:   Shots 87 to San Miguel, 92 to El Cid.
WASPS on Wednesday afternoons, be there for 1.30, 5 euros for woods, shoes, bowling and tuition if required.  No experience needed, come along and have a go!!
For further information on San Miguel Bowls Club, please contact the President, Eileen Potts on telephone 966730376 or Secretary, Pat McEwan, telephone 966714257.
VISTABELLA BOWLS REPORT WITH LYNNE BISHOP
S.A.L Monday Enterprise league Albatrosses were away to Greenlands Maples where they won four points from the teams of E Blythe, B Brown & A Brown 22-12 and S Burrows, N Burrows & B Pain 22-18. Shots, VB 92 (4) – 102 (10) G.
The Drivers were at home playing the San Luis Klingons. On what was a very windy and dusty afternoon they picked up two wins from the teams of S Whitehall, M Foulcer & P Rafferty 26-15 and J Chaplin, S Norris & I Kenyon 19-13. Shots, VB 98 (4) – 110 (10) SL.
Voyager league Eagles soared to great heights playing a home game against Horadada Falcons, five winning rinks and a drawn game for a very impressive thirteen points, very well done to M Blight, D Stevenson & P Tomkins 30-9. R Smith, R Pownall & D Hudson 25-5. R Savage, K Savage & A Kendall 25-13. K Rennison, R Hudson & G Gandy 17-14. S Cox, P Bagwell & M Cox 18-17 and D Harwood, J Bagwell & J Harwood 16-16.
Shots, VB 131 (13) – 74 (1) H.
Winter league. What an improvement on the previous weeks result and much needed too! Away at Greenlands they cleared up with wins across the board which lifted the team moral.
L Bishop, C Watkins, I Kenyon & B Dunn 27-10. B Regan, T French, A Brown & B Pain 21-13. J Chaplin, B Norris, C Thorpe & M Furness 19-13. S Burrows, B Brown, M Regan & G Thorpe 23-20. L Watkins, B Ewart, J Bowman & E Bishop 17-14.
Shots, VB 107 – 12 (12) – 70 (0) G. No Berleen.
Southern League A division Lanzadores entertained the Quesada Swallows but despite some very competitive bowling they managed to take four winning rinks from us, two of our teams did come good to win their games, B Regan, B Brown & B Dunn 22-9 and J Chaplin, SJ Broadhurst & I Kenyon 22-12. Shots, VB 95 (4) – 100 (10) Q.
Picadors were also at home playing the La Marina Sharks. They each won three games with the Sharks taking the long game.
P Rafferty, B Pointon & C Thorpe 19-12. T French, J Neve & D Jenkins 17-10. K Hardy, S Norris & M Foulcer 20-19. Shots, VB 96 (6) – 102 (8) LM.
Division C Conquistadores were away to the San Luis Pumas, another great win for Russ and his team..well done. R Savage, K Savage & G Gandy 26-11. S Cox, T Sambrook & A Kendall 20-13. D Harwood, M Blight & D Hudson 19-11. M Cox, R Hudson & D Stevenson 17-14. Shots, VB 103 (10) – 101 (4) SL.
Vistabella are offering new bowlers a free morning of bowling on a saturday morning with a hour of tuition.
Sponsored by Autos Direct, TV Choice & Rivingtons Restaurant.
All results & tables can be found on:-
www.levantelawnbowls.wixsite.com
LA MARINA REPORT BY BARRY LATHAM
Shots really counted on Monday. The Pathfinders had a very close game in the morning when they drew with El Rancho. John Morgan led Dave Bulfield and Angie Butler to a win. While Colin and Lynne Armitage plus Margaret Sadler managed a draw. So guess who led his rink to yet another win with great help from Dave McGraw and Lorita Rae. Yes, Baz Sadler.
Seven more shots gave the Explorers the two extra points in a 10 – 4 win over Monte Mar Matadors. Jim Manning, Jim Reeves and Margaret McLaughlin plus Dave Hadaway, Tom Spencer and Roger Stacey had good wins while Dave's better half had a well fought win with the help of Phil Pape and Garth Slater. The same with Margaret Finlayson's rink with Mike Smith and the versatile Maureen Kidd winning in a very tight game by one shot. Always looking for consistency in bowls, well we've got that but the wrong sort. We lost again in the Winter League 10 – 2 away at BBC this time. Colin and Lynne Armitage with the pair of Mike's, Stone and Smith got our two points.
Must thank our reserve, Roger Stacey for travelling all that way to see us lose. Six shots overall separated us. The Sharks travelled to Vistabella to play the Picadors and came away with an 8-6 win.  Alan Castle, Phil Pape and Janet Parsons plus Roy Hart, Peter Parsons and Andy Bartlett plus Dave Lewis, Jim Manning and Margaret McLaughlin all won. The Seagulls had a great win over La Siesta Blues at home by 10 pts to 4. The four winning rinks all scored more than 20 shots.  Len Daniels, Steve Hindle and Steve Douglas 25-11, Jim Freeman, Dave Taylor, and Dave Bulfield 29-21, John Morgan, Mike Stone and Lynne Armitage 24-7 and Barry and Wendy Latham with Barbara Forshaw 25-4.
The Dolphins like the Winter League are the strong ones propping up the Div B.  Playing the Quesada Swifts they swiftly lost 11-3. Martin Butler, Mike Smith and Allan Wilcock won 25-6 while the other point came from Brian Duff, Cliff Rawlinson and Ray Gardiner.