LA MARINA BOWLS REPORT BY BARRY LATHAM
Both teams had close matches on Monday, one winning and one just losing. The unlucky losers were the Explorers, both sides winning 3 rinks but Quesada Pearls getting the overall shots. Tom Spencer, Mike Smith and Anne Stone won by one shot whereas Anne's hubby, Mike had the highest winning rink with the help of Ron Maiden and Roger Stacey. Dave Hadaway, Margaret Finlayson and Janet Parsons were the other winners.
Just the same for the Pathfinders against the Monte Mar Toreadors except the other way round, we had the overall shots for an eight – six win. Our victorious winners were John Rae, Martin Butler and Jean Tregoing; Barry Sadler, Bernie Carr and Lorita Rae and Dave Taylor, Paul Tregoing and Mo Taylor.  Well done the husbands and wives. Oh dear, oh dear.  Winter League dropped below our average this week only getting one point against a strong Quesada side. Lovely to meet up with old friends and I managed with great help from Pete Parsons, Kathy Manning and Wendy Latham our single point.
Well we finished the week on a high note when none of the three teams playing lost.  Well done to everyone.  The Sharks played at home to the Monte Mar Matadors and won 11-3. Roy Hart, Peter Parsons and Andy Bartlett won so did Alan Castle, Phil Pape and Janet Parsons plus Shirley Hadaway, Tom Spencer and Margaret McLaughlin.  Alex Whyte, Margaret Finlayson and Hilary Cronk managed a draw.  Unfortunately an accident stopped play so John Mallett, Ron Maiden and Maureen Kidd also won. The Seagulls won 10-4 against Country Bowls Geckos with Colin Armitage, Arthur Cronk and Ann Stone winning a very close game.
Even closer was the game won by Jim Freeman, Steve Hindle and Steve Douglas who won it on the last end. John Morgan, Mike Stone and Lynne Armitage had the highest winning rink.  While Barry and Wendy Latham plus Barbara Forshaw carried on their winning ways. The Dolphins playing away at San Miguel against the Cougars had a great draw winning 3 ½ to 2 ½ rinks and just losing out on the overall shots by four. Brian Duff, Cliff Rawlinson and Martin Butler; John Withers, Mike Smith and Shirley Withers and John Rae, Dave McGaw and Allan Wilcock all won.  Bill Jones, Carol Smith and Jack Chorlton drew.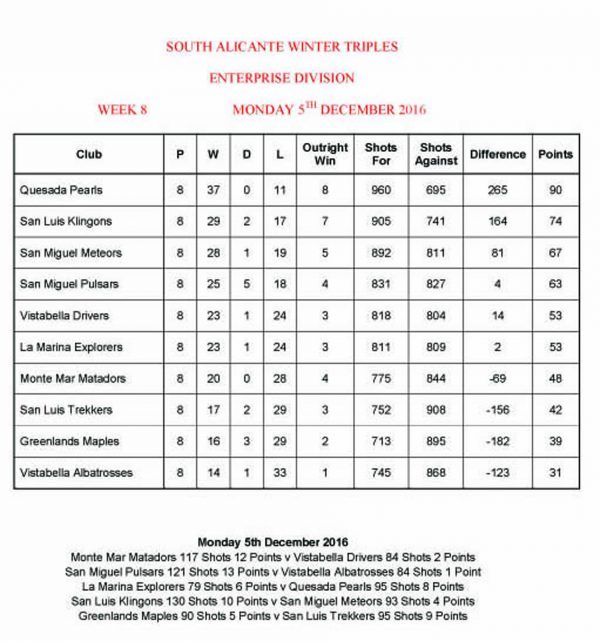 EL RANCHO BOWLS CLUB.
Monday brought a trip to La Siesta to play The Apollos, on a wet mat after a very wet day and night. As we know some rinks can be a little tricky and you can be well behind before you find the lines. But the company was good and the rain held off, but we came away with just the one rink.
The Broncos played their postponed home fixture against Horadada Falcons on Thursday and took the rinks by 4-2, with the shots by 2, a good result!
Friday morning brought La Siesta Blues to take on The Mustangs and put in a good challenge. But The Mustangs stayed resolute and took all the rinks and the overall shots by a very reasonable margin. June Whitworth, Jane Hamill and Stew Hamill 18-11. Barbara Jones, Merv Armstrong and David Whitworth 26-9. Jim Taylor, Irene Thomson and Eddie Thomson 34-7. Ann Taylor, Malc Sykes and Jim Gracie 21-18. Maxine Wright, John Skipper and Rod Wright 16-15. Henry Ryder, Jan Bright and Richard Lee 23-7.
In the afternoon The Raiders played host to San Luis Pumas and it was a good day for them too, taking 5-1 and also the overall shots. Gill Bartlett, Tony Robinson and Richard Needham 9-23. David Wright, Peter Blackburn and Keith Longshaw 23-9. Gary Dunstone, Rob Clark and Graham Day 13-11. Fred Dunstone, Bob Easthope and Mick Ager 23-9. Janet Wright, Brian Taylor and Gary Newson 24-18. Ngaio Baldwin, Diane Yates and Terry Buswell 17-15.  For membership details contact Brian Taylor on 965077093 or  at briantaylor_es@yahoo.co.uk or Carolyn Harris on 966774316 or at elranchobowls.secretary@gmail.com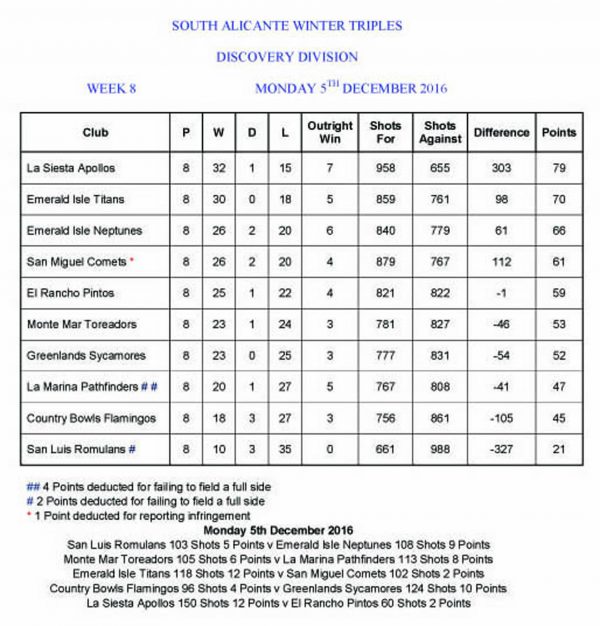 EMERALD ISLE BOWLS CLUB
Robin(the Scribe)
Moonrakers v El Rancho. (Away). 28/11
What a good result at El Rancho,  3 rinks each, we lost shots.  Result. 6-8. Our winners were:  Ann Ede-Robin Adams-Ernie Bennett. 15/14.    Lil Harris-Frank King-Ally Burns. (17-16).   Maureen Jeffs-Mike Petty-Ron Ede, with best win, (23-13).  Well done to everyone.
Outlaws v Vistabella Conquistadores.  A great match against the League Leaders, 3 draws & 2 wins for the Isle, 103-91 shots, 9/5 to Outlaws.   Every one gave it all they had,  Wins for: Linda Burns-Glyn Inwood-Ron Ede (22-12).  Jo Close Mike Petty- Pete Creswell.  18-8.    The 3 Draws were:  Robin Adams- Ernie Bennet-Frank King. (18/18) Ann Ede Alan Clasper-Joe Dear. (19/19).  Maureen Foulds, Sheila Wickens , Bob Foulds, (17/17). Very well done to our team.
Dec 2nd. Cavaliers v Greenland Oaks.  What a great result for the Cavaliers, winning 4 rinks to 2 & shots111-101.   (10-4).  Wins for Yvonne Mallaburn- Frank Close- Colin Lindgren. (19-18). Dennis Rhodes, Keith Joliffe-Drew Grrrard (21-14).  Mel Highland- Ron White- Ann Marie Stevenson (22-10). Linda Vincent- Glenda O'Dell- Mel O' Dell. (18-16).   The Cavaliers Power on.
Mon 5th Dec. Neptunes v San Louis Romulans.  Very good result for the Neptunes, winning 9-5,  (shots 108-103) 3 rinks won, 1 draw.   Winners: Alan Brown-Sue Johnson- Peter Willicott  (17-16).  Carol Donelan-Mary Malcolm – Dennis Birkett (23/13) Margaret Riley- Jack Redfern- Bill Allen (16-13). Dennis Jackson- Derek Barker- Ken Donnelly got the draw  19/19.
5th Dec, Moonrakers  v La Siesta Pioneers. A Gloriuus win for the Moonrakres, winning on 5 rinks, & well ahead on shots, I have the winners but not the individual scores.
Winners: Jo Close- Mike Petty- Ron Ede.    Lil Harris- Frank King- Alley Burns.     Nancy Inwood -Sheila Wickens- Glyn Inwood.   Maureen Foulds-Maureen Jeffs- Bob Foulds. Ann Ede- Robin Adams- Peter Cresswell.  Everyone played out of their skins, Alan Clasper (Capt) played when unwell, ( no reserves)  & thanks his team got their efforts,  (drinks on Allan)
5th Dec.  E.I. Titans v San Miguel Comets. Great result Titans, you flexed your muscles & won on 5 rinks & shots 118/102.  Result 12-2.    Winners Jean Parkes- Liz Day- Paul Parkes (20-14).   Dennis Rhodes- Linda Voncent- Drew Gerrard (21-19). Yvonne Mallaburn -Pat Coffey- Frank Close (16-10). Pat Heaney-Jan Westall- Jan Brewster (25/18).   Mary Whitelock – Colin Highland- Mike Stacey (26-17). BRILLIANT !!
Well done to all the teams, what a great week.
Many thanks to BRIN for organising the monthly game v Bobs Hijackers (our friends) the last match of the year was won by the Hijackers, but we all enjoyed it & the great company, see you next year,  Happy Christmas from the Isle.
GREENLANDS BOWLS CLUB BY DAVE WEBB
What a way to finish the week, in the winter league we were at home to Monte Mar on Saturday as the original match was rained off. The game was played with enthusiasm and good humour and the sun shone. Final score was – Total shots For – 97.  Total shots against – 70.  Points for – 12.  Points Against – 0. Winning rinks were – Sheila Stead, Jean Giddings, Graham Watt, skip Mel Brown. 22 shots to 12.  Brian Tomlin, Doreen Watt, Florence Edwards, skip Mike Edwards. 21 shots to 14. Zoe Wilcck, Dennis Brown, Dave Thompson, skip Jim Wilcock. 17 shots to 16. Phil Lockley, Mary Lockley, Marilyn Fryatt, skip Jim Oliver. 17 shots to 15.  Jean Thompson, Joan Oliver, Dave Webb, skip Mike Kelly. 20 shots to 13.
in the Enterprise Division, The Maples were at home to San Luis Trekkers. Final score was – Shots for 90.  Shots against – 95.  Points for – 5.  Points against – 9.  Winning rinks were – Brian Tomlin, Zoe Wilcock, skip Jim Wilcock. 16 shots to 9.  David Fryatt, Sheila Stead, skip Jim Oliver. 16 shots to 8. In the Discovery Division, The  Sycamores were away to country Bowls Flamingos. Final score was – Total shots for – 124.  total shots against – 96.
Points for 10. points against – 4.inning rinks were -Joan Hunter, Terry Lawton, skip Mike Edwards. 28 shots to 13. Vc Young, Doreen Watt, skip Florence Edwards. 17 shots to 16. Diane Lawton, Mary Lockley, skip Mike Cassidy. 23 shots to 21.Jean Giddings, Phil Lockley, skip Graham Watt. 21 shots to 7.  In the winter league on Wed we were at home to Finca Guilla. Final score was – Total shots for – 106. total shots against – 58. Points for – 10.  points against – 2. g rinks were – Brian Tomlin, Doreen Watt, Florence Edwards, skip Mike Edwards. 29 shots to 2. Zoe Wilcock, Dennis Brown, Dave Thompson, skip Jim Wilcock. 24 shots to 15. Phil Lockley, Mary Lockley, Marilyn Fryatt, skip Jim Oliver. 23 shots to 10. Jean Thompson, Joan Oliver, Dave Webb, skip Mike Kelly.21 shots to 11.  Another successful outcome from our visit to La Siesta in the winter league.  Total shots for – 89.  Total shots against – 87.  Points for – 10. Points against – 2.In Div C, The Cedars were at home to Vistabella Conquistadors. Final score – 119 shots for, 81 shots against. Points for -10. Points against – 4.In Div A The Oaks were away to Vistabella Picadors, Final score  – 102 shots for.  103 shots against. Points for – 8.  Points against – 6. for all inquires please tel Haley on 966844399.
LA SIESTA BOWLS CLUB BY ROD EDGERTON
Cracking Result for the Apollos beating El Rancho Pintos at home by 150 shots to 60 gaining 12 points to there opponents 2 keeping the team at the top of the table. Best result came from Irene Laverick, Ramsay Sinclair & Brian Gardiner 38 – 6 leading  from start to finish and after 9 ends the score was 24-1 .Dawn & John Taylor and Harold Chareleton also won 30 – 5. Closely followed were Barbara Jack & Jean Cooper winning 28 – 5,another team which lead from beginning. Sheila Chorley,Trish and Pat Reilly won 20 – 10 coming from behind on the 9th end picking up 15shots on the last 9 ends. Finally Ann & Robert Heath with Brian Fraser won 20-15.
Not such good news for the Pioneers who lost by 123-79 to Emerald Isle Moonrakers on a very heavy green.The sole winners were Dennis Andrew,Penny Porter and Rab Logan 21-14. 12 points go to Emerald Isle and 2 to the Pioneers.
Two Winter League matches this week both resulting in 12-2 defeats. The first on Saturday away at Quesada by 120 shots to 77. The winning rink was Barbara Cooper,Tony Campbell,George Richardson and Jean Cooper who held on to win 16-15. On Wednesday our visitors Greenlands won by 89 shots to 87 with Janet Charman,Trish Reilly,Tony Dalton and Brian Gardiner winning for La Siesta by an excellent 34-12.
The Blues travelled to El Rancho Mustangs and on a green which most visiting teams find tricky this was no different for La Siesta who lost 14-0 with a shots scoreline of 67-138.
The Golds were away at Horadada Royals and lost 10 points to 4 with a score difference of 77-126.Winners for the Golds were Hilary Clarke,Fred Charman and Tony Dalton 25-16 and Ron Sheldon,Val Dalton and Sid Gallup 16-13
MONTE MAR BOWLS AND SOCIAL CLUB
Sponsored by The Belfry, The Pub, Bowling Abroad and Avalon
Monday December 5th
Monte Mar Toreadors v La Marina Pathfinders
The Toreadors were up against La Marina Pathfinders today and managed to win on three rinks but lost on overall shots by 105 to 113. The result was therefore points Toreadors 6 – 8 Pathfinders. Well done to our winning rinks of Sheila Roberts, Howie Williams and Skip Joan Harding. Sue Bounds, Les Bounds and Skip Jan Gatward. John Caiger, David Thomas and Skip Babs Caiger.
Monte Mar Matadors v Vistabella Drivers.
Winning on five rinks well done to, Sue Kemp, Tony Finan, Skip Brian Zelin 28 – 15.  Keith Simpson, Joe Ridley, Skip Diane Ridley 23 – 13. Denise Ashberry, Val hignett, Skip Alan Ashberry 14 – 13. Geraldine Fisher, Harry Dobson, Skip Gordon Fisher 21 – 13. Ronnie Cairns, June Young, Skip Dave Melville 17 – 11.
Shots Matadors 117 – 84 Drivers. Points Matadors 12 – 2 Drivers.
Wednesday December 7th Winter League
Monte Mar v Bonalba
A good result against Bonalba winning on four rinks and winning the Berleen. Well done to all, too many winning rinks to mention all the names.
Shots Monte Mar 110 – 67 Bonalba. Points Monte Mar 10 – 2 Bonalba.
Friday December 9th
Monte Mar Matadors v La Marina Sharks.
Shots Matadors 75 – 110 Sharks. Points Matadors 3 – 11 Sharks.
Winning on one rink and drawing on one rink well done to, Sue Kemp, Tony Finan, Skip Brian Zelin 19 – 15. Ronnie Cairns, June Young, Skip Dave Melville 16 – 16.
For further information about Monte Mar Bowls and Social Club check out our website  www.montemarbowls.com or email us at info@montemarbowls.com. We are also on Facebook.
SAN LUIS BOWLS CLUB REPORT 09.12.16.
It's been another busy week but we've survived so far. South Alicante Winter Triples: Monday 5th December, Enterprise Division SL Klingons home v SM Meteors, had a good result, points10-4, 130 shots-93. Winners: Pam Lockett, June and Keith Jones 37-12, Janet McEneany, Keith Roberts, Peter McEneany 30-12, Steve Simmons, Lynne Morris, Tom Hill 23-16, Kath Reid, Keith Phillips, Giuseppe Galelli 20-13. SL Trekkers, away v GL Maples also had a good match; points 9-5, shots 95-90. Well done to: Ros Holmes, Bill Webb, Brian Pocock 24-13, Doug Beattie, Fay Beattie, Peter Fuller 18-13, Irene Everett, Allen Bowen Vic Slater 22-18, Margaret and Barry Roseveare, Drew Russell 14-14.
Discovery Division SL Romulans, were home v EI Neptunes and worked hard for 5pts-9, shots 103-108. Winners: Margaret Stephens, Terry Baylis, Geoff Shand 21-14, Danny McErlean, Geoff Francis, Harry Epsom 21-19, Dennis Jackson, Derek Barker, Ken Dullaway 19-19.
Winter League: Wednesday 7th at home to San Miguel and there were some very close run games before another good result this week; shots 104-64, points 10-2. Winners: Ros Holmes, Jo Pering, June & Keith Jones 13-12, Shirley Verity, Ray Clarke, Jules Pering, Russell Marks 27-4, Ann Holland, Keith Phillips, Peter McEneany, Sabrina Marks 17-15, Kath Reid, Sheila Cammack, Dave Blackie, Scott Malden 28-11. Our Berleen team had a close fought match but just missed out on the points this week.
Friday 9th December; not the best of days for results but we'll keep battling. LLB Southern League Division A: SL Lions, after a wet start and some close games at home v VB Lanzadores finished 5pts-9, shots 93-105. Winners: Ray Clarke, June & Keith Jones 15-15, Bob White, Steve Simmons, Scott Malden 20-13, Kath Reid, Dave Blackie/Keith Phillips, Phil Morrachan 22-13. After the match many members of both teams stayed at Casa Ventura to enjoy a festive meal together. SL Tigers had the long trip away to Mazarron, for a frustrating result; shots 82-137 points 0-14. SL Pumas away v ER Raiders had a tough battle and some close games, finally taking 2 points-12, shots 85-109. Well done to: Margaret Stephens, Terry Baylis, Geoff Shand 23-9.
All bowlers are welcome to join the chicken drives on Wednesday & Sunday afternoons or Saturday morning; for more information please check the club website: www.sanluisbowls.byethost7.com
Sheila Cammack.
SAN MIGUEL BOWLS CLUB BY PAT MCEWAN
San Miguel Cougars had a good result against Country Bowls Geckos winnings 9 points to 5.  An even better result against La Marina Seagulls, winning 10 points to 4.  Sheila Errington, Eileen Potts, Brian Errington 19-10:  Bob Hanton, Carl Eagle, Mike Bayfield 21-15:  Jim Jarvie, Frank Scotthern, Bill Brownlee 20-19:  Bob Nesbitt, Dave Champion, Ann Eagle 34-8.  Total shots for 119, against 95.
Cougars picked up 7 points against La Marina Dolphins at home, with a very close shot difference of 110 to 106.  Winning rinks were Bob Hanton, Carl Eagle, Mike Bayfield 31-13:  Stan North, Ros Stockell, Jack Jackson  25-16:  Bill Reeves, Peter Ross, Barbara Scotthern 17 across.
The Meteors had a fantastic result against Greenlands Maples storming away with a 14 – nil win. Total shots 140 to 71.  Well done team.
This week the Meteors were away to San Luis Klingons managing to pick up 4 points.  Well done to Reg Cooper, Cliff Plaisted, Steve Cantley 21-11:  Val & Chris Collier, Stuart Denholm 19-9.  Shots to San Miguel 93, against 130.
The Pulsars were away to Vistabella Drivers only winning on one rink, well done Anita, Sheila, John 22-15.  But turned the tables on Vistabella Albatrosses when they played at home winning 13 points to 1.  Brilliant results by Eileen McLaren, Tom Dalgleish, Eddie Cowan 20-16:  Paul Hayward, Ron Nairey, Paul Thomas 23-12:  Sue Milner, Keith Green, Gary Raby 21-6:  Anita Brown, Sheila Booth, John Staden 17-11: Peter Rees, Jan Farmer, Brenda Rees 18-17:  Alan Booth, Bill Knight, Derek Farmer 22 across.  Shots for 121, against 84.
In the Winter League, San Miguel played against Greenlands coming away with 8 points.  The following week, they played San Luis and only managed to pick up 2 points.  Well done to William Holtham, Tony Sansom, Brian Allen, Mary Dyer 22-19.  Close games by Cliff, Val & Chris, Stuart 15-17:  Carol, Dave, Lee, Lynn 12-13.  Shots for 64 – against 104.
The Comets played La Marina Pathfinders away, winning on 4 rinks and a close overall shots 101 to 98. Comets didn't do as well against Emerald Isle Titans only winning on one rink.  Well done to Joe Getgood, Dave Bradbury, Bob Donnelly winning 24-10.  Overall shots 102 for the Comets, 118 against.
The Jaguars had a great result away at La Siesta coming away with 12 points.  Jan Farmer, Ron Nairey, Paul Thomas 19-18:  Irene Ward, Janet Thomas, Dave McEwan 15-13:  Ken Hope, Nancy Campbell, Gary Raby 25-16:  Sue Milner, Alan Campbell, John Staden 21-12:  Anita Brown, Tom Dalgleish, John Marshall 23-12:  Bill Knight, Eddie Cowan, John Raby 13-14.  Shots for 116, against 75.  The good news for the Jaguars first game away at La Manga was that it was cancelled due to torrential rain!!!!! The bad news is, we still have to play it within seven days!!!!!
For further information on San Miguel Bowls Club, please contact the secretary Pat McEwan, telephone 966714257.
VISTABELLA BOWLS REPORT WITH LYNNE BISHOP.
Winter league. Another great result from our team this week, beating the Emerald lsle all stars 10-2 it was a very satisfying win, two games were very tight but went our way we are pleased to say. L Watkins, T French, C Thorpe & M Furness 26-12. L Bishop, P Tomkins, B Dunn & I Kenyon 25-11. J Bowman, B Norris, A Brown & B Pain 18-7 and S Burrows, B Ewart, B Brown & G Thorpe 18-17. Shots, VB 97 -78 (2) EI.
Berleen team of S Kirk, S Jenkins, D Chaplin & D Jenkins won 17-16.
SAL league, nothing to rejoice about here, the Albatrosses had a nightmare playing the Pulsars at San Miguel only coming away with one point, not good!
The Drivers went all the way to MonteMar for two points against the Matadors, that came from the trip of J Chaplin, S Norris & I Kenyon.
The Eagles had a bye.
Southern league A. The Lanzadores had a successful day at San Luis against the mighty Lions, three winning rinks and a drawn rink, congratulations to the team, not an easy green. Shots, VB 105 (9) – 93 (5) SL. Thank you to our hosts for inviting us to stay for a Christmas lunch…which we all enjoyed.
Picadors were at home to the Greenlands Oaks, two winning rinks and also the shot difference…just!
Southern league C. The Conquistadores away to Greenlands Cedars had a blip this week and lost their game 4-10. They will be back fighting fit after Christmas.
Sponsored by Autos Direct, TV Choice & Rivingtons Restaurant.