The Finals of the newly named South Alicante Summer Knockout Competition were held at Vistabella Bowls Club from 8th to 10th September, the first year the competition has been run under the LLB.
The Competition has been running since late March early April with games prior to the Semi Finals finishing early July and has seen just under, 120 games in total.
The Semi's started on Friday 8th September, in the morning, we had the Mixed Trips and Men's Pairs disciplines both Mixed Trips games followed a similar pattern and after 11 ends it would have been difficult to pick a winner in either game, Violet Campbell, Jacqui Johnston and Fred Roberts led Beryl Regan, Andy Leggatt  and Mike Regan by 9 shots to 8 and Deidre Leeming, Jason Prockopowycz and Derek Sale led Lynne Bishop, Charlie Watkins and Arthur Brown by 11 shots to 10  then it changed and after 18 ends, Fred's team ran out 16 – 11 winners, while Arthurs team pulled themselves together to win 19 – 14.
The Men's Pairs were a bit more one sided both finishing after 17 ends Phil Lockley and Dave Webb shocked the much fancied pairing of Terry and Peter Morgan winning 18 – 9 and Martin Foulcer and Pat Rafferty were on song beating John Pooley and Dennis Birkett 24 – 10..
The afternoon saw the semis of the Ladies Pairs and Mixed Pairs, in the Ladies Pairs Peta Rhodes and Carol Broomfield were pitted against Anita Brown and Brenda Rees in yet another tight fought game Anita and Brenda led most of the way up to the 7th end but by the 11th it was 9 all, they then won the next three ends to lead 12 -9 but Peta and Carol then dug in to finally run out 16 -12 winners.
The other semi was slightly more one sided with Mary Whitelock and Ann Marie Stevenson proving just too strong on the day for Eileen McLaren and Ros Stockell Ann Marie and Mary winning 17 – 9. The Mixed Pairs probably produced the game of the day with Peter Morgan and Jacquie Johnston taking on Sue Milner and Gary Raby, Peter and Jacquie looked to be holding all the cards at 13 -4 up after 10 ends but Sue and Gary were determined not to give up and levelled at 16 all after 16 ends dropped 1 on the 17th but finished on a high with 2 on the last end to win 18 – 17.
The other game was between Brenda Jiggins and John Rimmer who took on Mary and Phil Lockley, Brenda and John were always in command and won by 21 shots to 13.
Saturday Morning gave us the Semi Finals of the Men's singles and Ladies Singles. In the Men's singles Martin Foulcer took on Peter Morgan and seemed to be on his way to a comfortable win leading 17 – 10 after 17 ends but Peter gave him a shock and pulled back to 17 all after 23 ends Martin however then sealed it to run out a 21 – 17 Winner.  The other Semi was between Drew Gerrard and Terry Morgan Drew raced to an 11 – -3 lead and despite Terry's best efforts he was never able to close the gap Drew finally winning 21 – 13.
The Ladies Singles had one of those games that looked as if it was going to be close with Carol Rudge and Anita Brown battling it out at 12 shots all after 14 ends only for Carol to take control and win 21 – 13. The other game however was a real nail biter Carol Broomfield and Ann Eagle slugged it out for 20 ends to get to 16 all but then Carol took control and won 21 – 17.
The afternoon started us on the first of the Finals with Martin Foulcer and Pat Rafferty taking on Phil Lockley and Dave Webb in the Men's Pairs unfortunately Phil and Dave were unable to produce the form they showed in the Semi giving Martin and Pat a comfortable 24 – 6 victory. The Mixed Trips final once again seemed to suffer from the 11th end turn around Violet Campbell, Jacquie Johnston and Fred Roberts led 12 -7 at this point only for Lynne Bishop, Charlie Watkins and Arthur Brown to take the bull by the horns and win the next 7 ends to take the title 22 -12.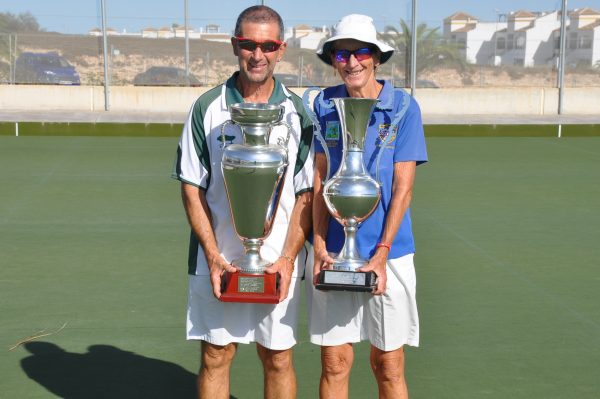 The remaining finals were played on Sunday and both the Mixed Pairs and Ladies Pairs Finals were cliff hangers everything went to the last end with both teams in with a chance of winning in the Mixed Pairs Sue Milner and Gary Raby led Brenda Jiggins and John Rimmer 14 – 12 and despite a 1 to Brenda and John Sue and Gary held on to win 14 – 13. In the Ladies Pairs game Peta Rhodes and Carol Broomfield led Mary Whitelock and Ann Marie Stevenson 14 – 13 with one end to go and sealed the title 15 -13 by picking up 1 on the last end.
The final two games were the Men's and Ladies Singles and once again we were treated to two hard fought games. In the Men's Singles Martin Foulcer who was defending the title he won last year was really made to fight all the way by Drew Gerrard after 20 ends Martin lead 14 – 13 but despite Drew picking up a 3 on the 23rd end Martin finally came out on top        21 – 16 to retain his crown.
The Ladies Final was similar Carol Broomfield took an early lead of 14 – 4 after 10 ends but Carol Rudge slowly pegged her back and after 20 ends Carol only had a 2 shot lead at 19 – 17 but a 2 on the next end was sufficient for Carol to pick up her second title of the day 21 -17. All in all a great day to be sat watching bowls at Vistabella Bowls Club.
Arthur and Barbara Brown who organised the event would like to thank Vistabella Bowls Club for the use of their Green and particularly Sandra Burrows who ran a very successful raffle, our Sponsors deVere Spain who sponsored us for the second year running, Jean Cooper for coming along on Sunday to along with the deVere representative present the winners with their trophy's and prizes, plus all the participants in this year's competition who helped to make it such a success and last but not least of all our Umpires and Markers who as usual did a great job.