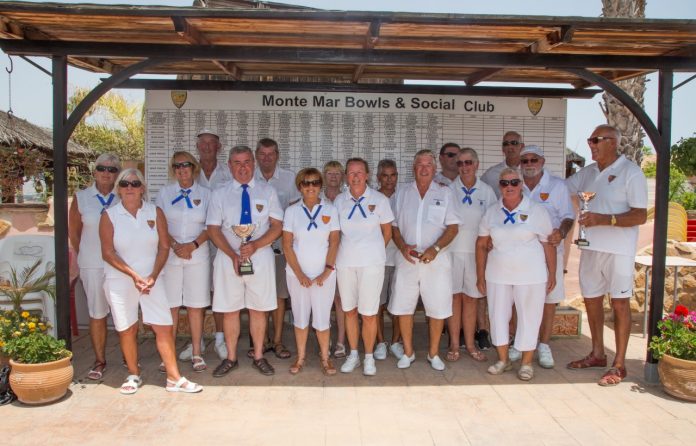 Sponsored by The Belfry, The Pub, Bowling Abroad, Avalon, Lounge D and Rogers.
TORROS SUCCESS
A happy Torros squad after been presented with the trophy for winning the South Alicante Harrier League. A big thank you to the successful selection team of Diane Ridley Selector, John Hunt Vice Captain and Chris Harding Captain.
MONTHLY CHICKEN RUN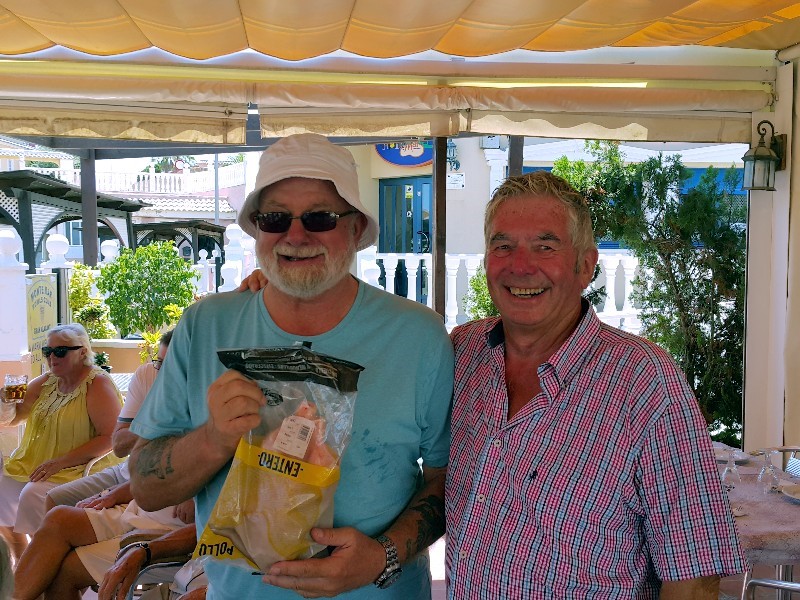 The July chicken run on a hot Sunday morning, was very well supported by members. The chickens this month were donated by Carole and Roger Packer, so a big thank you to you both. Sadly they will be returning to the UK at the end of the summer, they go with our best wishes for the future. We will see them at the club time to time in the future.
The special eggs donated by Ian and Julia Hamilton were won by by Jan Soars and Derek Darby, with Pauline Merry and Chris  Harding winning the other eggs. The winners of the chickens were Julia Hamilton and Lucky Jack Burrell. Well done to all winners and thank you to everyone who participated.
JILL ALBUTT
Club members were sadden to learn that former member Jill passed away during the evening of 8th August, finally losing her fight against cancer. Jill and husband John had returned to the UK  because of Jill's illness more than two years ago.
Until they returned to the UK Jill and John had been well known bowlers on the Costa Blanca bowling circuit. Our thoughts and best wishes are with John and his family at this difficult time.
GRAN ALACANT MIXED RINKS
Between 15th and 17th September the Monte Mar Bowls Club are hosting their annual Gran Alacant Mixed Rink competition. Everyone is welcome to come along to watch players from all over the Costa Blanca complete for the trophy. Play will be on each day from about 10am until 4pm.
On the first day September 15th there will be a cake stall which has been very popular in the past, be there early to avoid disappointment. Other social events will be staged so look out for information.
For further information about Monte Mar Bowls and Social Club check out our website  www.montemarbowls.com or email us at info@montemarbowls.com. We are also on Facebook