Congratulations to San Luis' National Champions:
Ian Kenyon Men's Singles Champion
Ian Kenyon + Steve Simmons, Men's Pairs Champions.
Obviously for the last two weeks, as far as many bowlers (players and spectators) were concerned, it has been all about the Linea Directa National Lawn Bowls Championships played at Emerald Isle. So many hopeful players started but gradually they were knocked out until only the finalists were left to fight the last battle. All through the championships there has been some excellent bowling and that continued to the finals.
In the pairs final Steve and Ian played the home team of Pat Heaney & John Rimmer, keeping just ahead but when Emerald Isle took the lead by 1 shot Steve and Ian kept their focus, replying with 2 shots, then adding more to stay ahead for the last few ends to win. In the singles final, again it was a real nip & tuck game between Ian & Paul Parkes, with them matching each other's play so well and the lead changing with almost every shot.
Paul went into the lead but Ian kept fighting (keep calm & eat a banana) and pulled back with some excellent shots to take the title after 26 ends of play. Fortunately the spectators had enough energy to stand and applaud both players – although San Luis supporters were probably the loudest! We are so proud of our national champions.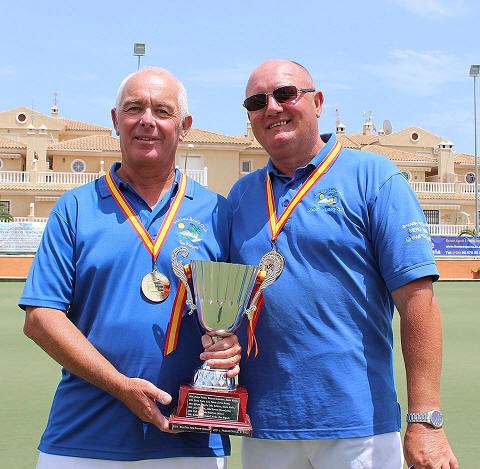 Whilst attention has been focused on the championships at Emerald Isle, members of San Luis & La Siesta having been taking part in the annual "egg-cup" challenge. After 4 matches, 2 away, 2 at home the overall scores were: San Luis 15 rinks & 409 shots, La Siesta 7 rinks & 336 shots. Today's last match at San Luis was followed by one of Kevin's excellent BBQs. Hopefully everyone involved has enjoyed the challenge.
It's back to "work" as normal next week as the leagues resume, let's hope we can match these positive results.
Information: www.sanluisbowls.byethost7.com  or contact June Jones, Club Captain: 691903773.
Sheila Cammack