The weather for this years Champion of Champions stayed fine but with strong winds on Thursday & Friday.
Last years Mens singles champion Russell Marks (San Luis) again made the final to set up a match against Quesada's Derek Toozer. Both played extremely well with shot changing with each bowl but in the end it was Derek Toozer who took the title.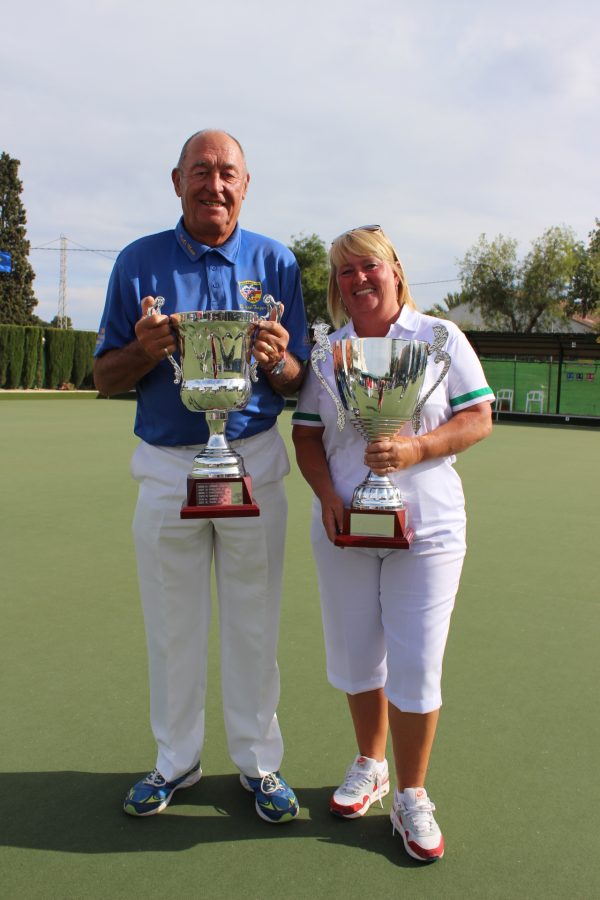 In the Ladies Singles the final came down to Helen Chambers (Mazarron) against Anne-Marie Stevenson (Emerald Isle), both had beaten some strong players in the rounds. Anne-Marie dropped a single shot on the first end but from then on took control, winning comfortably.
The Ladies Pairs final pitted Lin Watkins & Carol Thorpe (Vistabella) against the San Miguel pairing of Gail Willshire & Lynn Greenland (San Miguel). The Vistabella ladies failed to show their form from previous rounds allowing Gail & Lynn to dominate the game. They had a comfortable win.
In the Mens Pairs the Vistabella pair of Martin Foulcer (Last year's National Singles champion) & Ian Kenyon took on Jim Gracie & Eddie Thompson (El Rancho). This was truly a nip and tuck final. At the 15th end there had only been 4 ends with a multiple shot count. The El Rancho pair led by just a single shot but the last 3 ends proved to be their downfall, dropping 8 shots  to lose by 7.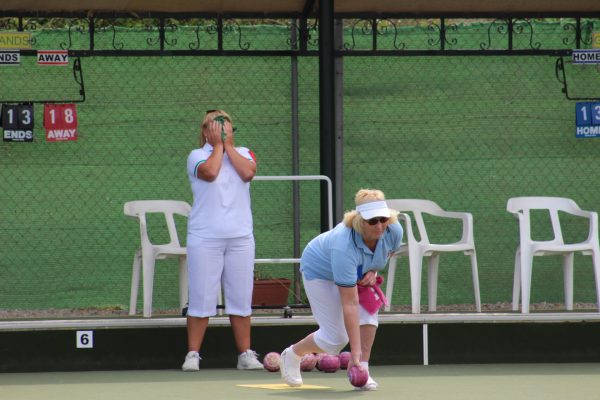 The Mixed Pairs had Sabrina Marks & Tom Hill (San Luis) taking on Carol Broomfield & Jason Prokopowycz (Quesada). After 9 ends there had only been 11 shots scored & the San Luis pair led by 1 shot. They picked up a 3 on the next end but failed to score in the next 6 ends & despite winning the final end the title went to defending champions Carol & Jason.
The Mixed Triples was a North/South battle between Paul Mayne, Dee Lane & Norman Vickers (Finca Guila) and Sue Kemp, Danny King & Brian Zelin (Monte Mar).  The early part of the match went in the favour of the Finca Guila team who led 15-3 at the halfway stage. The Monte Mar team managed to score a 7 on end 15 to bring them to within 2 shots but they then lost the remaining ends and the Finca Guila team took the honours.
Due to the number of players in multiple events the rinks semi finals were played on Sunday morning but with both winning teams unable to play in the afternoon the final was scheduled for Monday afternoon.
This took place between the San Luis team of Steve Simmons, Sabrina Marks, Keith Jones & Russell Marks and the Monte Mar team of Geraldine Fisher, Janet Gatward, Gordon Fisher & Roy Mercer. The match was dominated by the Monte Mar team who led 13-0 after 9 ends. The San Luis   side staged a comeback but it was not enough and the Monte Mar team took the title.