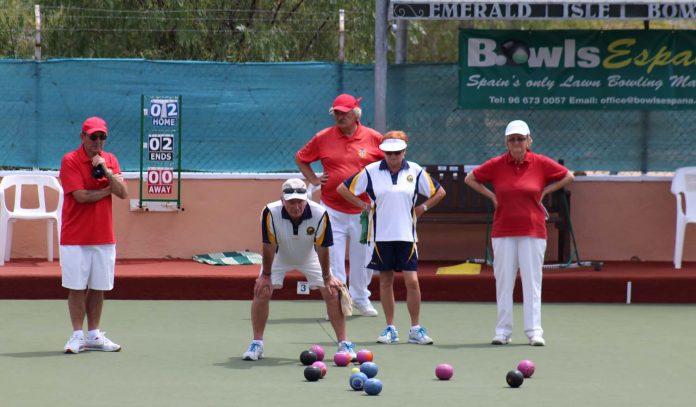 Two results from last week, In the Spitfire Division, San Miguel MOORS had a bad day away at Quesada, coming away with 2 points. A shot difference of 70 for San Miguel and 126 for Quesada. Well done to Don Whitney, Peter Ross and Mary Dyer winning 24-11.
The CHRISTIANS faired only slightly better at home against Vistabella, collecting 3 points but a better shot difference of 98 to San Miguel 109 to Vistabella. Winning team was Pat McEwan, Steve Cantley and John Raby 21-16 and Ken Hope, Janet Thomas and Reg Cooper with a 15 across draw.
There has been some brilliant bowling by all players in the Linea Directa National Lawn Bowls Championships. San Miguel bowlers are bowling well, good luck to all who have got through the rounds and to those still yet to bowl!!
Club mornings are running as normal throughout the championships, 0945 for 1015 start. WASPS still on Wednesday afternoons, come along for 1.30. €5 for an afternoons friendly bowling, with shoes and woods available if needed. Free tuition if required.
For further information on San Miguel Bowls Club, please contact the President, Rosamond Stockell, telephone 965329778 or Secretary, Pat McEwan, telephone 966714257.