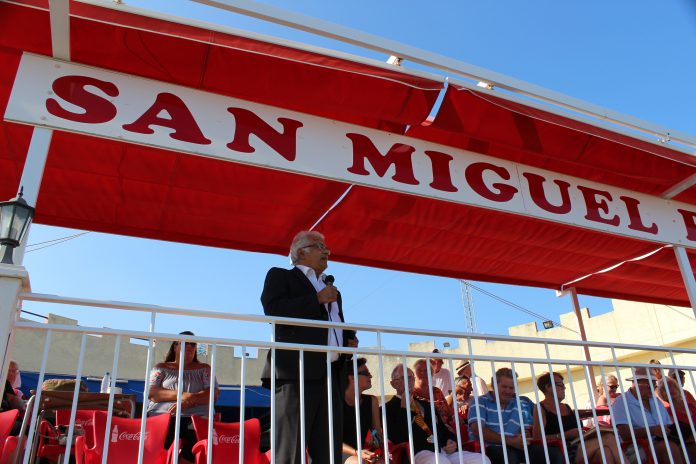 It is with regret that we have to announce the death of Kevin Connelly. His funeral took place at San Pedro on Saturday morning. Kevin and his late wife Ann had been members of San Miguel for a number of years.
San Miguel PULSARS had a good win at home against La Siesta Apollos, winning 10 points to 4. Well played by Irene Ward, Sheila Booth, Mike Douglas 16-11: Paul Hayward, Keith Green, John Staden 17-13: Pat McEwan, Ken Hope, Dave McEwan 14-11: Ian Hope, Jan Farmer, Derek Farmer 23-16. Total shots 100 for San Miguel – 87 against.
The METEORS were away to Monte Mar winning 8 points to 6. Winners were Noel Davis, Don Whitney, Fred Willshire 17-13: Margaret Rogers, Carol Rudge, Ian Rogers 18-16: Tony Sansom, Stuart Hemmings, Lyn Greenland 24-14; San Miguel got the overall shots 99 to 89. Well done.
San Miguel Comets were away to Quesada Diamonds winning on two rinks. Good bowling by Bob Nesbitt, Carl and Ann Eagle 17-15: Bob Graham, Sandy Hannon, Jack Jackson 18-15. 4 point to San Miguel 10 to Quesada. Shots 98 to 113.
The WINTER LEAGUE managed to pick up 4 points against Vistabella, with a total of 69 shots to 86 shots. Well played by Jan Allen, Val Collier, Don Whitney, Stuart Denholm 23-12: Margaret Patterson, Brian Miller, Allan Patterson, Cliff Plaisted 19-13, and a close game by Steve Cantley's team, losing by 1 shot. The Berleen also lost by one shot!
Last week the JAGUARS had a good win at home against Vistabella Picadors winning 10 points to 4. Good games by Pat McEwan, Jan Farmer, Dave McEwan 23-16: William Holtham, Eddie Cowan, Alan Campbell 20-14: Anita Brown, Tom Dalgleish, John Marshall 19-11: Ken Hope, Janet Thomas, John Raby 25-16. Shots were close 112 to San Miguel 107 to Vistabella.
The JAGUARS were away to Vistabella Lanzadors coming away with 5 points. Three teams drew and one won. Winning team was William Holtham, Pete Masters, Alan Campbell 17-12: Teams that drew were Pat McEwan, Jan Farmer, Dave McEwan 20 all: Anita Brown, Tom Dalgleish, John Marshall 20 all: Paul Hayward, Sheila Booth, Mike Douglas 17 all. Shots were 97 to San Miguel 105 against.
The COUGARS only managed to pick up 3 points against Emerald Isle Claymores. Well done to Meg Brownlee, Bill Knight, Bill Brownlee 21-14: Bill Mosely, Peter Ross, Bob Donnelly drew 20 across. Total shot for 87 – against 117.
Watch out for Jan Allen, she is now collecting the Federation Fees for 2018!!!
And HAPPY BIRTHDAY to PAUL HAYWARD who has reached the grand old age of 70.
WASPS still on Wednesday, 1.30pm, €5 for an afternoons bowling, use of shoes and woods and free tuition if required.
For further information on San Miguel Bowls Club, please contact the President Rosamond Stockell, telephone 699 232 910 or Secretary Pat McEwan telephone 966 71 4257.