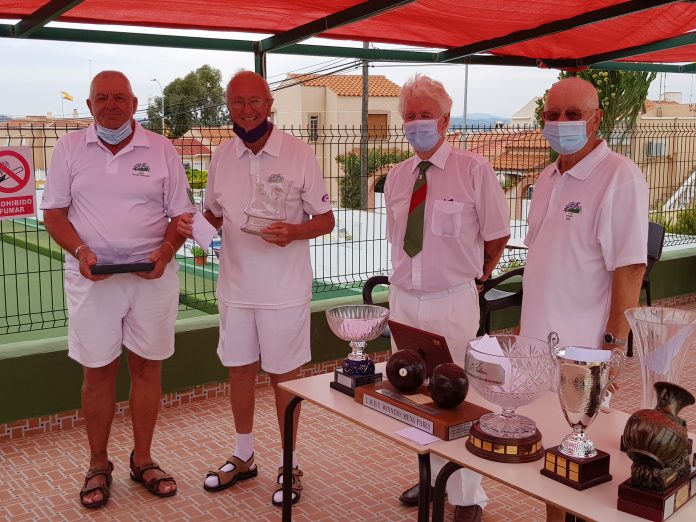 The last weekend of May brought us a true festival of bowls, although for Peter Parsons it was more like a marathon playing in all 5 sessions.
Friday morning however started very disappointing with heavy rain and a waterlogged carpet.  The session had to be delayed until the afternoon when the weather and carpet had dried out completely.  I cannot obviously report on all the games so I have only listed the results, but you can see for yourselves how nail biting some of these games were.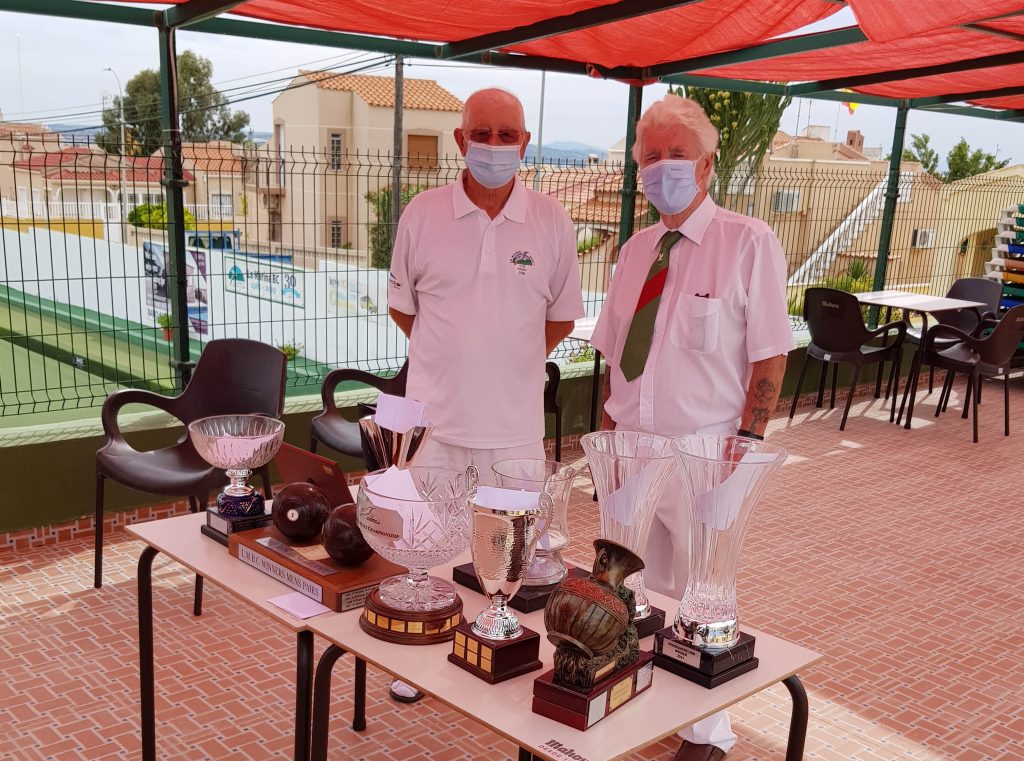 Mens Triples – Dave O'Sullivan, Garth Slater and Alex Morrice versus Len Daniels, Dave McGaw and John Rae  18-13.
Mixed Triples – Janet Parsons, Tom Spencer, Peter Parsons versus Irene Mangan, Marliyn Fryatt, Alex Morrice  17-15
Drawn Pairs – Alex Whyte & Peter Parsons versus Janet Parsons & Alex Morrice 17-16
Mixed Pairs – Janet & Peter Parsons beat Anne & Mike Stone 20-15.
Mens Pairs –  Len Daniels & John Rae versus Mike Smith & Mike Stone 30-13.
Ladies Pairs – Irene Mangan & Maryiln Fryatt versus Anne Stone & Carol Smith 25-16.
Pensions Urn – Peter Parsons versus Don Fowkes  21-9.
Ladies Singles – Irene Mangan versus Maureen Kidd 16-5 (conceded).
Men's Singles – Peter Parsons versus Alex Whyte 21-19.
Sunday afternoon finished with the 2 singles finals, presentation of trophies and a buffet for all to enjoy.
Our picture shows our trophies along with our President John Morgan and our Competition Secretary/Organiser Don Fowkes.  Our thanks go to all competitors, markers, umpire and spectators for a very enjoyable weekend.