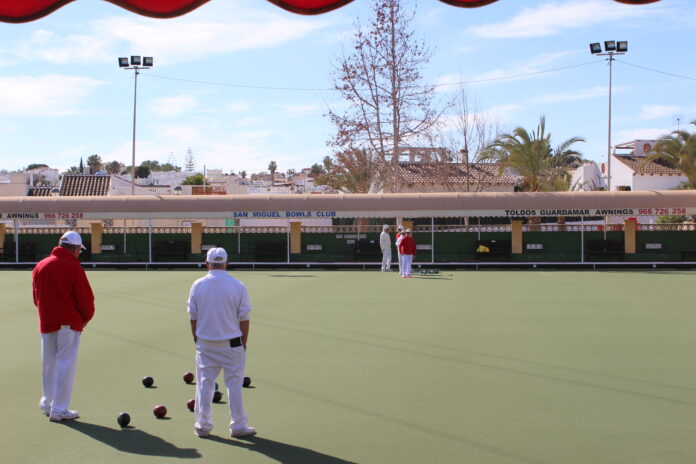 Titans opened the weeks bowling at home against La Marina Pathfinders and they won 8-4 Aggregate of 90-80. D Jones S Marks R marks 28-11, N Prior S Elvin M Dyer 18-13, G Wallis G Odell D Gerrard 18-16
Neptunes played at home against El Rancho Pintos and had a fine 12-0 Aggregate of 105-54 M Riley R Pollock R White 31-7, C Thomas B Eldred M Thomas 22-11,  M Oakley C Wilsom  M Willicott  18-10, G Dyer S Johnson K Jolliffe 17-10,  E Morris M Ellis J Pooley 17-16
Moonrakers played at Greenlands Beech and slipped to a 2-10 Aggregate of 67-103 defeat, V Cameron E Sheppard T Upham 23-17.
Cavaliers played at La Marina Sharks in re arranged game and had a good win 8-4 Aggregate of 89-83, S Johnson M Munro D Gerrard 17-11, N Prior I Grimshaw B Kavanagh 23-21, P Coffey M Dyer C Lindgren 16-14.
Outlaws played a rearranged game at home against Greenlands Elms and they got beaten 2-10 Aggregate of 58-101, M Nash J Mcguire B Carter 14-12
Cavaliers played at San Luis Lions and got eaten 4-8 Aggregate of 76 -98, D Jones N Prior B Kavanagh 22-11, P Coffey M Dyer C Lindgren 17-11
Claymores played at home against La Siesta Blues and had a fine 10-2 Aggregate of 93 -72, C Thomas P Willicott S Elvin 27-9, E Morris G Dyer M Willicott 22-15, M Oakley M Ellis J Pooley 19-13, M Riley R Pollock R White 13 -12.
Highjackers visited the Isle and were beaten by 110-97
ELWYN MORRIS