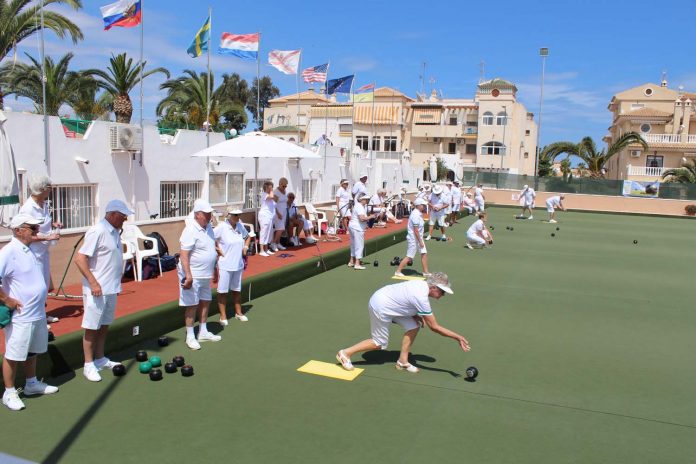 EL RANCHO BOWLS CLUB.
The end of the Christmas break found The Broncos entertaining Mazarron Mariners; despite fielding a rink short Broncos didn't put on a bad display, taking two rinks and the overall shots by a small margin.
In the afternoon The Pintos were at San Miguel playing The Comets and put on a good display taking 2 rinks and drawing a third, always a good result away from home. Particularly at San Miguel, without a wood in hand for a few weeks.
Friday morning found The Mustangs playing host to La Manga Crusaders, in glorious weather which can make you feel just a little smug. Crusaders came in their usual good humour; they are always a pleasure to play, despite expecting to struggle on a rink so different to their own. But they have an attitude the same as ours, bowls is about the bowls and good company, the result being secondary. Although some of the rinks had quite large shot differences, the play was close, but The Mustangs took all the points in a good fun match.
The Raiders meanwhile were playing The Royals at Horadada, who are a very strong team for the division, so although we took a bit of a pasting, we mustn't let ourselves lose heart. It is only a game and sometimes we take on stronger players, as long as the company is good, we will improve and enjoy our bowls, and losing doesn't mean you haven't played well.   For membership details contact Brian Taylor on 965077093 or  at briantaylor_es@yahoo.co.uk or Carolyn Harris on 966774316 or at elranchobowls.secretary@gmail.com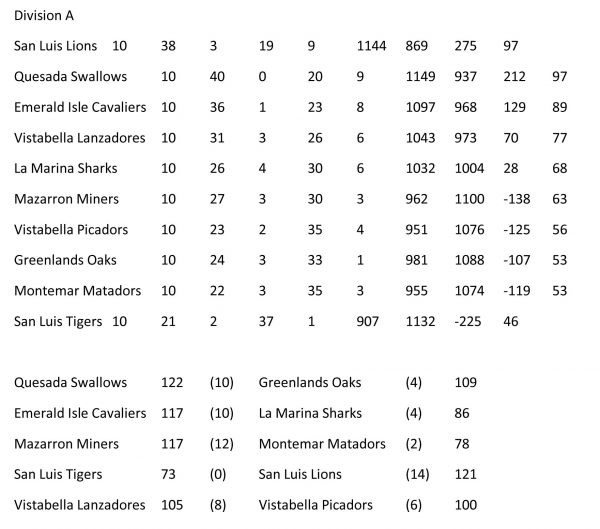 EMERALD ISLE BOWLS
Winter Ieague 4th Jan.    Not a happy start to 2nd half of the season for the Isle, losing  to San Miguel by 64 shots to 77,  points 4-8.   Emerald Isle winners:  Mike Veal, Yvonne Mallaburn, Frank Close & Colin Lindgren.  (16-12).  Mel Highland, alley Burns, Anne Marie Stevenson & Drew Gerrard.  (15-12).
Mon 9th Jan.  E,I. Moonrakers v E.I. Saturns.  A great start for the Moonrakers.  Winning 115 – 64 shots, 5 rinks to 1,  points, Moonrakers 12,  Saturns 2.  Winners were:  Vic Cameron, Maureen Jeffs, Ernie Bennet.  (31-6). Lil Harris – Sheila Wickens, Alex Fay,(23-16). Maureen Foulds, Tony Harris, Frank King, (34-10).   Jo Close, Mike Petty, Ron Ede, (2414).   Linda Burns, Sheila Adams, Glyn Inwood.  (17-12). Saturns Winners:  Les Bath, Alan Gower, Gordon Smith 16-10.  Keep it going the Rakers.
Mon 9th Jan. E.I.  Titans v E.I  Neptunes. A fantastic result for the Titans, winning by 135 shots to 76. & 13 points to 1.    Titans winners were:  Chris Parsons, Jan Westall, Steve Westall, (24-7).   Jean Parkes, Lin Day, Paul Parkes.  (22-12).      Linda Vincent, Glenda O'Dell, Mel O' Dell. (20-15). Dennis Rhodes, Keith Joliffe, Drew Gerrard. (26-11).   Mel Highland, Frank Close, Anne Marie Stevenson, (25-13).  Mike Veal, Colin Highland, Ian Brewster.  DREW with Carole Donnellan, Mary Malcolm & Dennis Birkett   18 all.    Two very good teams but only one winner on this occasion, Congratulations Titans. 
Tue 10th Jan.    Fed 4s. E.I. Shamrocks v Pilar Horadada.   First match of Season,  new team, new players, but a PERFECT result for the Isle.    E.I. Shots 52-38,  all 3 rinks won, Points 8-0.   Winners were: Maureen Foulds, Mary Malcolm, Alan Howcroft, Jim Mulloy, 18-16.     Linda Burns, Yvonne Mallaburn, Ally Burns, Frsnk Close 19-10. Robin Adams, Sheila Wickens, Alex Malcome & John Mullarkey,  15-12. Well done to one & all.
Winter League, 11th Jan.  E.I. V. Benitachell.  The Isle roll on again winning by. 100-75 shots,  points 11-1, this the result they needed.   E.I. Winners:   Caz Thomas, Jan Westall, John Pooley, Steve Westall, (18-15).    Dennis Rhodes, Yvonne Mallaburn, Frank Close- Colin Lindgram.  (17-16).      Mel Highland, Ron White, Anne Marie Stevenson , Drew Gerrard (18-13).      Pat Heaney,  Sue Johnson,  Dennis Birkett , Ian Brewster, (26-10), Jean Parkes, Mike Veal, Colin Highland, & Paul Parkes. Got the draw. You can't do much better than that.
Fed 4s Thursday 12th Jan.   E.I. V  San Luis. A tough tight match between 2 very good teams.   E.I. Won 1  rink, & lost  2. But won the shots 58-46,    4points each.. Winning E.I. rink: Dennis Rhodes, Dennis Birkett, Drew Gerrard & Colin Lindgren (29-9) Good start lads & lasses.
Berleen Trophy, 11th Jan.  Chris Parsons- Mary Whitelock- Mike Thomas & Ally Burns,  won 24/17   V. Benitachell.
All of us at the Emerald Isle, would like to wish Marion Willicott  a speedy recovery after her recent operation, thank you Marion for all you do for the club.
Happy new year to everyone.      Robin (the scribe) Adams.
GREENLANDS BOWLS CLUB BY DAVE WEBB
In the Winter League we had the long trek to Finca Guila but was well worth the trip, our hosts  made us welcome and the sun shone. Final score was …Total shots for – 77. total shots against – 103.  Points for – 4,  Points against – 8. Winning rinks  – Joan Oliver, Margaret Dewar, John OBrien, skip Dave Webb. 20 shots to 15.  Sheila Stead, Jean Giddings, Graham Watt, skip Mel Brown.  21 shots to 18.  In The Fed 4s The Bulls Played Quesada Leopards. Final score – Total shots for – 42, total shots against – 63  points for – 0. points against – 6.
LA MARINA REPORT BY BARRY LATHAM
Here we go for the second half of the season. Best of bowling to everyone. The Explorers faced Greenland Maples who had a strong side out and won 8 – 6.  We did very well on two rinks and through them we gained an extra two points. Alex Whyte, Dave Hadaway and Jim Manning won by 21 shots and Tom Spencer, Mike Smith and Anne Stone got twice as many as their opponents.  Nice to see Jim back on the green.  In the Discovery Division the Pathfinders have started well with a 9 – 5 win over San Luis.  
We had Colin and Lynne Armitage plus Clive Pratt winning by 24 shots. John Morgan, Paul Tregoing and Mo Taylor got ten more shots than their opponents while John Withers, Martin Butler and Alan Wilcock were 15 shots to the good and Dave Taylor, Lorita Rae and Dave McGaw managed a draw.  Captain Dave was a happy fellow when the Winter League entertained Bonalba as we won 10 – 2 with  Dave, Jean Perchard, Barbara Forshaw and Janet Parsons winning handsomely but not to be outdone Shirley Hadaway, Phil Pape, Steve Douglas and Anne Stone had the highest winning rink.
Birthday Girl (well nearly) Maureen Kidd also won helped by Mike Stone, Roger Stacey and Dave O'Sullivan. Last as usual but not least Barry Latham, Peter Parsons, Wendy Latham and Dave Bulfield won on the last end by two.  Keeping up the good work the Berleen came away with a good win thanks to Alex Whyte, Jim Freeman, Mike Surch and Ray Gardiner.  The Sharks seemed to be all at sea when they played away against Emerald Isle Cavaliers. They were put to the sword by 10 to 4.  Jim Manning, Ron Maiden and Margaret McLaughlin won as did Shirley Hadaway, Dave O'Sullivan and Hilary Cronk with another highest winning rink. Into Div B and a crunch match with the Seagulls and the Dolphins clashing. A match of to and fro with someone winning then drawing then losing and so on. 
With each winning three rinks it went down to shots which the Seagulls managed by ten. Seagulls winning rinks were Colin Armitage, Barry Latham and Len Daniels.  For the Dolphins it was Don Harrison, Mike Smith and John Rae.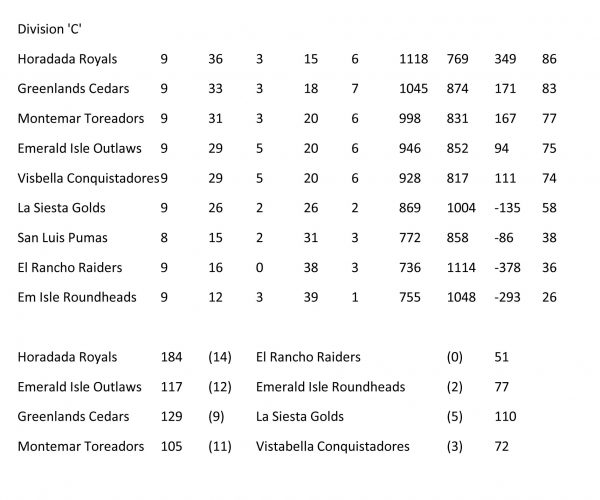 LA SIESTA BOWLS CLUB By Rod Edgerton
With the Xmas break over a return to League bowling. with our Winter League team entertaining near neighbours San Luis who proved too strong and won by 107 shots to 62.For La Siesta our winners were Joy Gardiner, Vic Mahomet with Bill and Sue Jordan who won 14 shots to 13.San Luis getting 10 point for the win with La Siesta getting 2. The theme continued with the long trip to El Cid with La Siesta picking up a single point gained by Joy Gardiner,Fred Charman with Bill and Sue Jordan drawing 19 shots apiece. Overall shots being 105-63. A good result in the Friendly with Ann Edgerton, Molly Russell with Mike and Florence Edwards winning on the final end 18-17.
The Apollos cheered up our New Year with a 12-2 home win against Country Bowls 145 shots to 78..The big winners for La Siesta were Barbara and Jack Cooper with Brian Fraser winning 45-9 and Sheila Chorley,Pat Reilly and Jean Cooper winning 32-11.
The Pioneers did well to manage to take 4 points from the trip to Horadada Falcons as they were down to the bare bones with several absentees due to various reasons including illness.The final results being 98-119 shots.Our winners were Penny Porter,Sid Gallup and Tony Dalton 17-10 and Dennis Andrew,Val Dalton and Fred Charman 21-19.
The Fed 4's match was an all La Siesta event with the Parakeets and the Hooppoes meeting.The Parakeets winning on 2 of the 3 rinks whilst taking the overall shots. Winners for the Parakeets were Janet and Fred Charman with Irene Mangan and Alex Morrice 15-13 on the last end.Tony Campbell,Pat reilly,Brian Gardiner and Jean Cooper won 25-12.For the Hooppoes Penny Porter, Jean Hepehi,John Porter and Vic Mahomet won 16-12.
A good result for the Blues against Emerald Isle Claymores winning 134 shots to 79 and winning on 5 rinks therefore picking up 12 points to 2. Big wins for Beryl Styring,Ramsey Sinclair and Alex Morrice 35-7 and Joy Gardiner,John Taylor and Jean Cooper winning 27-10.
The Golds were away at Greenlands Cedars and finished picking up 5 points winning rinks were Ron Sheldon,Val Dalton with Sid Gallup 28-14 and Janet and Fred Charman with Rab Logan 21-12 whilst Dennis Andrew,Ann Edgerton and Tony Campbell managed a worthy draw 16 apiece picking up 3 shots on the final end.The overall shots 129 – 110 in favour of the Cedars.
MONTE MAR BOWLS CLUB
January 4th 2017 Winter League - Monte Mar v El Cid
A good result for Monte Mar for the beginning of the year. Well done to the four. winning rinks. Also well done to the Berleen. Shots Monte Mar 110 – 72 El Cid. Points Monte Mar 10 – 2 El Cid.
January 11th Monte Mar Matadors v Quesada Pearls
Monte Mar Matadors were at home to Quesada Pearls. Winning on just one rink, well done to Sue Kemp, June Young and skip Brian Zelin 16 – 15. Shots Matadors 79 – 99 Quesada. Points Matadors 2 – 12 Quesada.
January 11th Winter League Monte Mar v San Miguel
As expected it was a tough match against San Miguel. We only managed to draw on one rink. Shots Monte Mar 72 – 105 San Miguel. Points Monte mar 1 – 11 San Miguel.
January 13th Monte Mar Toreadors v Vistabella Conquistadors
A good start for the Toreadors at the resumption of the Southern League after the holiday break, with a fine win against the Conquistadores. The Toreadors winning on four rinks and drawing on one and losing by two shots on the final rink. Shots Toreadors  105 – 75 Conquistadors. Points Toreadors 11 – 3 Conquistadores.
This means we leap frog the Conquistadores to third in the league. Well done to everyone  for a good all round performance.
Monte Mar Matadors v Mazarron Minors - After a long trip to Mazarron we won on one rink.(Friday 13th just sums up the day). Well done to Geraldine Fisher, Harry Dobson and skip Gordon Fisher. Shots Matadors 78 – 117 Mazarron. Points Matadors 2 – 12 Mazarron.
For further information about Monte Mar Bowls and Social Club check out our website  www.montemarbowls.com or email us at info@montemarbowls.com. We are also on Facebook.
SAN MIGUEL BOWLS CLUB BY PAT MCEWAN
San Miguel Meteors played San Miguel Pulsars, winning on all 6 rinks with an overall shot difference of 74!!  Extremely well bowled by Margaret Rogers, Brian Allen, Ian Rogers 23-7:  Noel Davis, Lee Sinclair, Lynn Greenland 24-13:  Val & Chris Collier, Stuart Denholm 21-7:  Brian Miller, Mary Dyer, Lin Miller 25-8:  Jan Allen, Don Whitney, Stuart Hemmings 20-17:  Reg Cooper, Cliff Plaisted, Steve Cantley 22-9.
The Comets were at home against El Rancho winning 9 points to 5.  Good results for Bob Nesbitt, Dave Champion, Barbara Scotthern 23-8:  Sheila Errington, Frank Scotthern, Brian Errington 23-13:  Meg Brownlee, Peter Ross, Mike Bayfield 18-12:  Sandi Hannan, Jim Jarvie, Ros Stockell 16 across.  Shots for 108 Against 95.
In the first Fed Fours game of the season, The Apaches played San Miguel Cherokees losing 2 points to 6, and  the shot difference by 2!!  Jan Allen, Alan Campbell, John Staden, Dave McEwan were the only winners of the day, winning 18-11, Good job you were playing!!
The Winter league had a good result against Montemar winning 11 points to 1, shots for 105 – against 72.  Great games by Jan Allen, Don Whitney, Stuart Hemmings, Steve Cantley 27-13:  Brian Miller, Brian Allen, Lin Miller, Mary Dyer 23-13:  Cliff Plaisted, Val & Chris Collier, Stuart Denholm 24-20:  Noel Davis, Reg Cooper, Gail & Fred Willshire 18-13:  Carol Rudge, Dave Greenland, Lee Sinclair, Lynn Greenland 13 across.
The Jaguars had a good result against San Miguel Cougars in the Southern league winning 10 points to 4.  Well done to Eileen McLaren, Eddie Cowan, John Raby 25-23:  Sue Milner, Alan Campbell, John Staden 33-4:  Jan Farmer, Ron Nairey, Paul Thomas 28-5:  Pat McEwan, Janet Thomas, Dave McEwan 20-17.  Shots for 129 – against 99.
The WASPS are proving very popular, Wednesday afternoons at 1.30.  Come along, and for 5 euros you can have an afternoons bowling, complete with woods, shoes and tuition if required.
For further information on San Miguel Bowls Club, please contact our President, Eileen Potts on telephone 966730376 or Secretary, Pat McEwan, telephone 966714257.
SAN LUIS BOWLS CLUB REPORT 13.01.17.
It's been a busy time as all winter league matches restart/start. Premier 20 K/O Competition 5th January v Benitachell, a very close match 4-4 but San Luis won on overall shots and will next play Emerald Isle.
South Alicante Winter Triples: Monday 9th, Enterprise Div. SL Klingons had a good result v SL Trekkers, points10-4, 117 shots-87. Winners: Kath Reid, Keith Phillips, Giuseppe Galelli 25-9, Colin Jackson, Sabrina & Russell Marks 20-8, Pam Lockett, Ray Pollock, Mal Hughes 25-15, Ann Holland, Shirley Verity, Julian Pering 23-8. SL Trekkers, Winners: Barry & Margaret Roseveare, Neil Morrison 26-8, Mags Haines, Vic Slater, Brian Pocock 21-16. Discovery Div. SL Romulans, home v LM Pathfinders took 5pts-9, shots 80-116. Well done to: Dennis Jackson, Bob Bromley, Babs Shand 17-11, Chris Lythe, Danny McErlean, Phil Hasler 17-10, Margaret Stephens, Terry Baylis, Geoff Shand 18-18.
Winter League: Wednesday 4th away v La Siesta, a good result 10pts-2, shots 107-62. Winners: Margaret Stephens, Ray Clarke, Julian Pering, Russell Marks 16-11, Ann Holland, Keith Phillips, Sabrina Marks, Mal Hughes 37-8, Irene Everett, Lynne Morris, Peter McEneany, Tom Hill 20-12, Kath Reid, Sheila Cammack, David Blackie, Scott Malden 21-17. Wednesday 11th a great result home v Vistabella, shots 110-58, 10pts-2. Winners: Kath Reid, Sheila Cammack, Dave Blackie, Scott Malden 24-7, Ann Holland, Keith Phillips, Sab Marks, Mal Hughes 29-7, Shirley Verity, Ray Clarke, Jules Pering, Russell Marks 17-7. Pam Lockett, Jo Pering, June & Keith Jones, 25-17.
Thursday 12th FED 4's League Div A SL Ospreys; a hard fought battle away v EI Leprechauns, 4pts-4, 46 shots-58. Winners: Shirley Verity, Keith Phillips, Sab & Russ Marks 20-17, Steve Simmons, Sheila Cammack, June & Keith Jones 17-12. Div B SL Condors had a close match away v CB Badgers, 2pts-6, shots 44-49. Winners: Mags Haines, Bill Webb, Barry Edwards, Roy Cordell 18-12. Div C SL Bazas home v MM Picadores, an excellent result; 8pts-0, 64shots-33. Winners: Doug Beattie, Margaret Stephens, Fay Beattie, Drew Russell 23-10, Dennis Jackson, Margaret Clarke, Dave Blackie, Scott Malden 23-11, Pat Malden, Pat & Graham Bird, John Malden 18-12.
Friday 13th LLB Southern League, SL Lions had an impressive win v SL Tigers, shots 121-73, points 14-0. Winners: Janet McEneany, June & Keith Jones 26-12, Bob White, Ray Clarke, Scott Malden 20-16, Pat & Graham Bird, Peter McEneany 16-13, Colin Jackson, Dave Blackie, Phil Morrachan 24-5, Ann Holland, Ray Pollock, Giuseppe Galelli 20-15, Kath Reid, Keith Phillips, Mal Hughes 15-12.
Sheila Cammack.
VISTABELLA BOWLS REPORT WITH LYNNE BISHOP
A happy new year to everyone, good luck for a successful & healthy one. kicking off with a good win in the winter league, played at home v La Marina on Jan 4th, shots VB 100 (10) – 69 (2 ) LM. Unfortunately we lost the Berleen.
This weeks game was away v San Luis resulting with just one win, L Watkins, T French, C Thorpe & M Furness 20-15. A very hard fought match on this notorious green for everyone. Shots, VB 58 (2) – 110 (10) SL. S Jenkins, B Ewart, D Chaplin & A Brown won the Berleen, we also had a winning friendly.
S.A.Enterprise league saw the Drivers v the Albatrosses, with the latter just scraping the win. Drivers winners were F Barclay, B Ewart & G Thorpe 20-11. A Leggatt, D Jenkins & P Whitehall 16-14 and Mo Foulcer, D Chaplin & C Thorpe 20-19. Albatrosses winners were L Bishop, B Brown & B Dunn 16-9. G Paylor, S Allman & E Bishop 16-11 and L Watkins, S Burrows & M Furness 23-20.  Shots, Albatrosses 99 (8) – 96 (6) Drivers.
S.A. Voyager league Eagles were away to the  Quesada Diamonds, two wins from D Harwood, T Sambrook & P Tomkins 29-25..a high scoring game! and S Cox, M Cox & A Kendall 20-14. Shots, VB 103 (4) – 119 (10) Q.
Southern league A. The second home derby this week for the club, Lanzadores v Picadors. The Lanzadores took three wins, a great comeback for the team of S Burrows, N Burrow & B Dunn..worth four points! Good wins also for Eric Bishop's and Ian Kenyon's teams. The Picadors had three wins from Pat Rafferty's, Barry Norris's & Gary Thorpe's team. Shots, Lanzadores 105 (8) – 100 (6) Picadors.
Southern league C. Conquistadores were away to MonteMar Toreadors coming away with one win & a drawn game, shots, VB 72 (3) – 105 (11) MM.
Fed 4's first game for the Vikings was at home v Quesada Panthers, such a well matched game, one win, one draw & one defeat, we lost the long game by one shot! Vikings 47 (3) – 48 (5) Panthers.
Sponsored by Venture Fleet, Autos Direct, Rivingtons Restaurant & TV Choice.