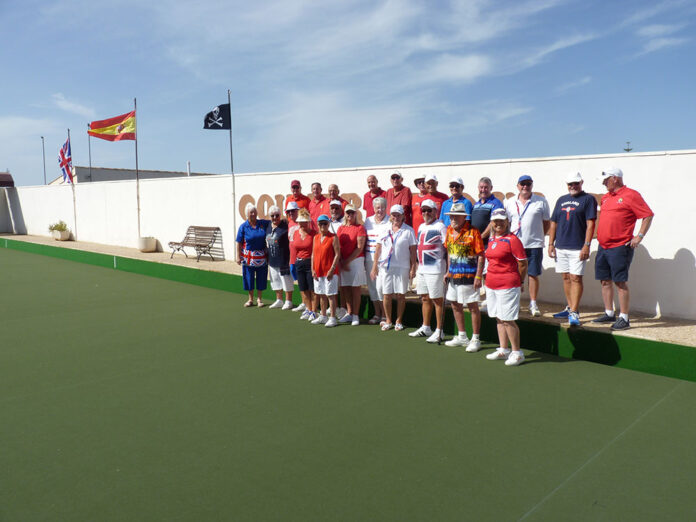 The last week of the league program before the Christmas break is upon us and we celebrated with a member's party lunch, which was enjoyed by 50 plus members on Wednesday.
On Monday the Flamingos entertained La Siesta Appollos and soon took control of the match on the home surface resulting in a convincing win 12 points to 0, 109 shots to 51. Winning rinks were Sylvia Rennie, Gary Ponsford, Andy Failes 24 to 10, Brenda Jiggins, Derek Jiggins, Graham Richardson 21 to 10, Clive Hoyal, Trish Dix, Peter Dix 29 to 9, Keith Holliman, George Burrage, William Miller 21 to 9, Sheena Mallet, Derek Lewis, John Mallet 14 to 13.
In the Southern League it was catch up time on Thursday after the cancelations of the week before, the Geckos travelled to Emerald Isle to play the Cavaliers and had a hard time coming away with only 1 winning rink and 2 points, the winning rink was Derek Lewis, John Jukes, Graham Richardson 19 to 14, a bad day at the office.
Meanwhile the Panthers entertained Emerald Isle Outlaws and soon got control of the game coming out on top with an 8 to 4 points win and plus 12 shot. Winning rinks were Jayne Storey, Phil Newham, Kevin Storey 17 to 10, Val Lever, Geoff Eggleton, Allan Lever 20 to 14.
On Friday the Geckos travelled to San Miguel and had a big fight on their hands, it came down to the last end of the match and the Geckos held out to win the match by 3 shots, 7 points to 5. Winning rinks were Derek Lewis, John Jukes, Graham Richardson 28 to 9, Del Gunning, William Miller, Peter Whitehall 21 to 16, drawing rink Sheena Mallet, Trish Dix, John Mallet 18 to 18.
At home the Panthers found it hard going against the visitors from San Luis, the Tigers taking the points 10 to 2 and plus 15 shots, the only winning rink was Brenda Jiggins, Sue Hudson, George Burrage 27 to 7.
New members and guests are always made welcome at the only club in Murcia region competing in the Lavante Lawn Bowls Leagues, why not come along to one of our roll up mornings on Tuesday, Thursday or Sunday at 10 am.
Peter Dix