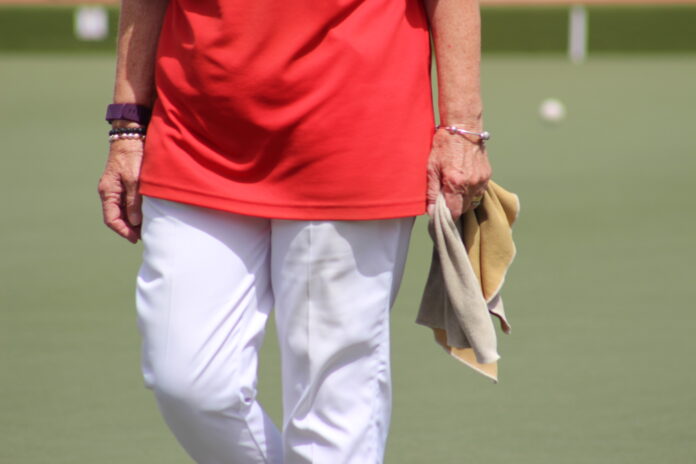 San Luis Bowls Club certainly had a good week at the office.
LLB South Alicante League Monday 1st
SPITFIRE Div. Wellingtons were away v Vistabella Fairways. The wind stayed away for the majority of the morning and some of the rinks produced a few heart stopping moments.
Shots 94-70, points 10-2 Winners: Janet Webb, Sandra Burrows, Keith Jones 25-13. Neil Burrows, June Jones, Dave Webb 19-13. Chris Jackson, Bill Webb, Caroline Smyth 15-13. Dee Hoey, Stuart Wilson, John Smyth 22-9.
HARRIER Div. Hercules were at home v La Marina, with both teams having some close heads.
Shots 91-79, points 8-4 Winners: Sue Kenyon, Jane Hamill, Ian Kenyon 20-12. Margaret Morrison, Ralph Jones, Neil Morrison 29-11. Phil Lockley, Mary Lockley, Derrick Cooper 19-16.
Valencian Championship League Wednesday 3rd
DIV A. Falcons were at home v San Miguel and got off to a flying start.
Shots 111-58, points 10-2 Winners: Ladies Singles – Sandra Burrows 21-10. Pairs – Stewart Wilson, Dave Webb 19-14. Triples – Dee Hoey, Caroline Smyth, John Smyth 29-8. Rinks – Kath Reid, Giuseppe Galelli, Vic Mahomet, Pat Reilly 31-5.
DIV B. Hawks were away v Emerald Isle and kept the pressure on right to the end, winning with 103 shots-61, points 12-0 Winners: Ladies Singles – Barbara Louis 21-4. Gents Singles – Ian Kenyon 21-10. Pairs – Phil Lockley, Mary Lockley 24-16. Triples – Terry Baylis, Cas Blay, Stewart Hamill 15-14. Rinks – Dave Louis, Ralph Jones, Bob Bromley, Derrick Cooper 22-17.
Now we can all have a week off whilst the Nationals are being played.
Dee Hoey