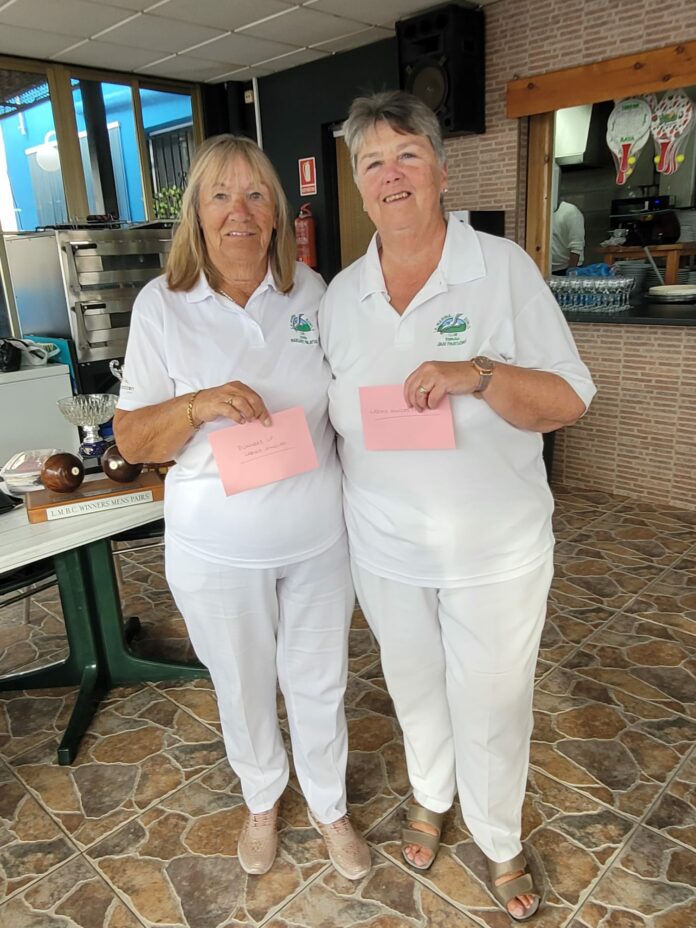 Our final positions for the Winter Leagues, Friday's top Division A, the Sharks came 8th of 9, and in Division B the Seagulls came 4th of 9,  In the Monday's top Enterprise League the Pathfinders came 8th of 9 and in the Discovery League Explorers came 1st of 9.  We will have to wait for next seasons leagues to see if the Sharks and Pathfinders maintain their positions but our Explorers will definitely be going up to the Enterprise League.
Last week was our finals weekend for our internal competitions and what a festival of bowling it turned out to be.  We will start with the Mixed Pairs,  Shirley Hadaway and Norman Ship versus Anne Stone and Len Daniels,  unfortunately I have no report on the game but the final score was 22-17 in favour of Hadaway and Ship.
Mixed Trips next Margaret MacLaughlin, Margaret Finlayson and Alex Whyte versus Janet & Peter Parsons with Tom Spencer, this turned out to be a very exciting game at 10 ends Janet, Tom & Peter were leading 17-8, and by the 16th that had narrowed to 20-19 and on the final end the 2 Margarets with Alex picked up a 3 to lead for the 1st time and win the game 22-21.  Very well done.
Mixed Rinks Garth Slater, Norman Ship, Irene Mangan and Alex Maurice versus Mike & Carol Smith with Shirley Hadaway and Mike Stone, at 5 ends Alex held the lead at 9-3 and at 10 ends he held the lead 13-7 and at the 17th and penultimate end the game was level at 17 each.  Garth, Norman, Irene and Alex then picked up a 4 on the last end to win the game.  Very well done.
Next we have the men's trips consisting of Len Daniels, Alan Birch and John Rae versus Garth Slater, Norman Ship and Alex Maurice at 5 ends Alex is leading 10-0, and at 10 ends with the same shot difference and at 13-3, at 15 ends it closed down to 2 shots 13-11, but Alex, Norman and Garth got 5 on the last end to secure a well earned victory 19-11.
You then have the Pensioner's urn, a very popular singles competition sponsored by our Vice President, John Morgan, and although there was no big scoring ends Garth Slater won a resounding victory of 21-4 over a very gallant Trevor Stemp.
Our Drawn Pairs is again a very popular competition sponsored by a ex member Mike Brain in memory of his wife Brenda.  And our contestants were Carol Smith & Margaret Finlayson versus Norman Ship and Marilyn Fryatt   After the 2nd  end the lead never changed, on the 5th end Carol and Margaret were leading 8-7, on the 10th end 15-9 on the 15th 20-15 and they maintained their lead to the end winning 24-15.
Our men's pairs Peter Parsons and Mike Stone versus Len Daniels and John Rae again another game where the lead never changed on 5 ends Peter and Mike were 9-5 up and 10 ends 15-8, on 15 ends 20-10 and the game was conceded by Len and John after the 16th end 21-10.
The Ladies Pairs was played prior to the weekend and I am afraid I have no match report.  The contestants were Kath Manning and Lesley Joynes versus Audrey Birch and Marilyn Fryatt with Kath and Lesley coming away as close victors.
That just leaves our 2 blue ribbon events the Men's and Ladies singles,  I will start with the Men's where Alex Whyte got a early lead over Alex Maurice with a 9-1 lead at 5 ends, that stood him in good stead throughout the game, 13-6 at 10 ends 19-8 at 15 ends and all over after 19 ends when Alex Whyte reached his 21,   and both are to be congratulated on a very busy weekend for the pair of them.
This just leads our ladies singles that was a battle royal to behold between Janet Parsons and Margaret Finlayson,  I would just list some ends and then you can appreciate what a great game it was. 5th end 3-2 Janet,  10th end 7-5 Janet, 15th end 9-8 Janet,  20th end 12-11 Margaret, 25th end 15-14 Janet, 30th end 19-17 Janet, 32nd
20-20, 33rd end Janet secures her victory with 21 shots.  What a game a real pleasure to watch and a very fitting game to be last off of our green.
Many thanks must go to Trevor Stemp for his enthusiasm and organisation to what proved to be some very successful competitions.
Finally our entrants put forward to the Champions of Champions with all our best wishes will be:  Janet Parsons – Ladies Singles, Alex Whyte – Men's singles,  Kath Manning and Lesley Joynes – Ladies Pairs, Pete Parsons & Mike Stone – Men's Pairs, Shirley Hadaway & Norman Ship – Mixed Pairs, Margaret Finlayson, Margaret MacLaughlin & Alex Whyte – Mixed Trips, and Garth Slater, Norman Ship, Irene Mangan & Alex Maurice – Mixed Rinks.