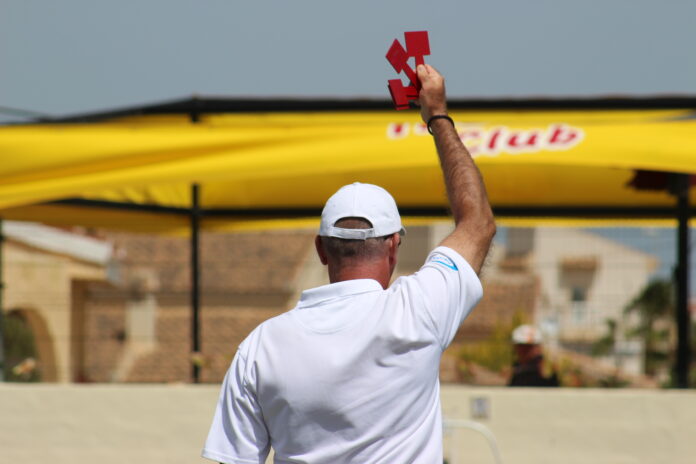 Monday the 13th and both our Explorers and Pathfinders are playing teams at the bottom of their current league tables.  The Pathfinders last year crept ahead of the Explorers and got promoted to Division 1, were to be fair they are finding it quite difficult – St Louis Cling ons, La Marina Pathfinders and St Louis Apollos are being squeezed a little at the bottom and today the Pathfinders and Apollos (the 2 bottom teams) Pathfinders 50 points, Apollos 44 points play each other, our Pathfinders are away and end up losing 4 points to 8.  With a shot difference of 74-97, leaving us 54 points and Apollos 52 points and a fight to the finish.
Our other team the Explorers played against El Rancho Pintos, but from a very difference perspective, Our Explorers are currently on top and looking very strong although today we had to settle for a draw at 6 points each.  We won 3 trips but lost the shot difference 77-82.  Our 3 winning trips were, Kath Manning, Jim Reeves & Mike Stone, 19-17 – Steve Wright with Carol & Mike Smith 16-15, and Janet Parsons, Margaret Finlayson & Tom Spencer 21-13.
Friday and our Sharks were at home to San Miguel Apaches, where we won 1, drew 1, and won the overall shots 82-75 giving us 5 points to 7.   Our winning trip was Kath Manning, Carol Smith & Peter Parsons with a score of 30-3.
The Seagulls meanwhile had to travel to The Emerald Isle, and came away with a very satisfactorily win of 7-5 and a shot difference in our favour of 88-76, our winning trips were Trevor Stemp, Alan Birch, Alex Maurice 23-9, Audrey Birch, Norman Ship & Garth Slater 27-16, and drawing trip being Dave & Lesley Joynes with Len Daniels at 13 each.
Dave Hadaway