The week started well for our Lancasters team, who now top the South Alicante summer league div 2.  At home to San Luis Hercules, this little lot won on 4 rinks, to record a fine 10-2 victory – S Heath, R Lewin, P Morgan 31-8. J Cleal, K Gordon, J Brinton 25-9. S Cooper, D Gould, A Reid 23-8. C Lowry, S Jakeman, K Lowry 19-15.  Blenheims meanwhile, also were in winning way in div 1, as they secured 8 points away at Vistabella.  Here's the points scorers – G Phillips, B Elliott, Jason P 13-12. G Carnell, C Dye, T Morgan 16-14. G Kershaw, A Linley, J Pitt 19-8.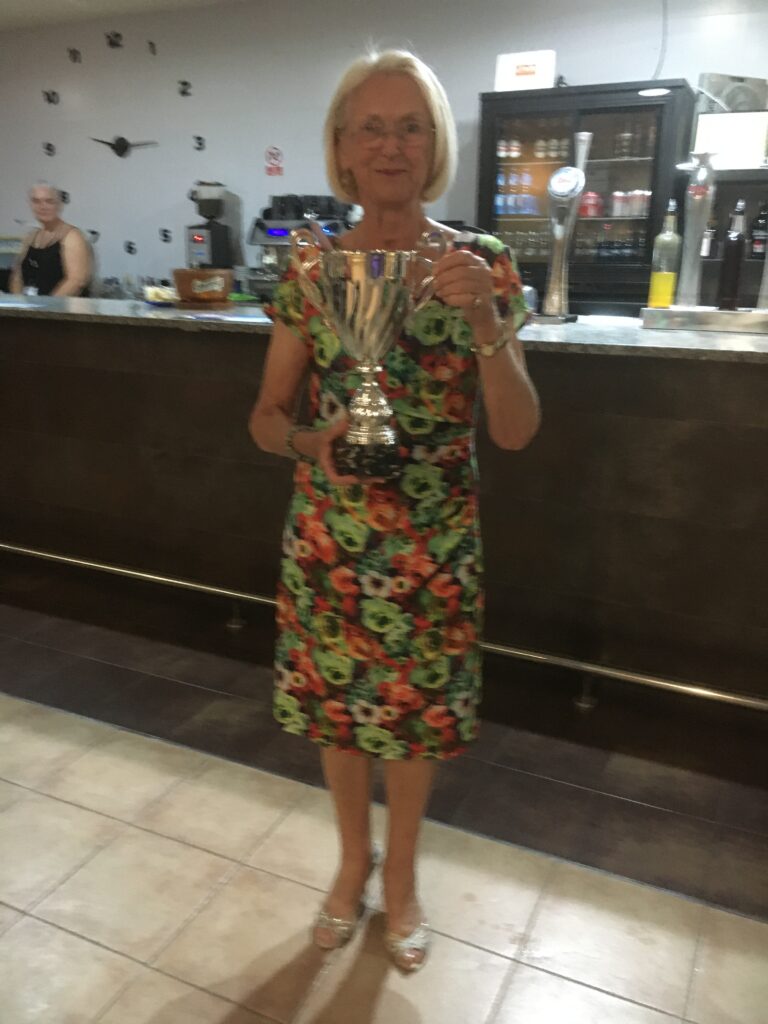 In the VCL, Lions had a home fixture against Vistabella Saxons.  M Highland won ladies singles 21-16, and T Morgan won mens singles 21-18, as the team lost the match 4-8.  Over at San Luis, Tigers came away with a 6-6 draw against the Hawks.  Wins for C & K Lowry (17-16) in the pairs, plus S Heath, S Jakeman, K Gordon, J Brinton in the rinks (24-10), ensured that overall shots went QBC way.
Later than in previous years, QBC held their annual dinner presentation last week.  A delicious 3 course carvery was followed by the awards ceremony.  Rounding off the evening, get up and dance music was provided by the excellent two's company.
Cover photo is of George Carnell & Anne Linley, winners of mixed pairs.