VISTABELLA BOWLS REPORT WITH LYNNE BISHOP
S.A.Enterprise league. The Albatrosses in need of important points got a good result from their home game against Greenlands Maples. L Bishop, SJ Broadhurst & J Bowman 26-9. T French, C Watkins & B Pain 18-10. G Paylor, S Allman & E Bishop 19-13. VB 113 (10) – 89 (4) G.
The Drivers at San Luis playing the Klingons managed to pick up five points, any points from there we should be grateful for! S Whitehall, M Foulcer & P Rafferty 23-16. J Chaplin, S Norris & I Kenyon 16-11. F Barclay, L Barber & G Thorpe 17-17. VB 86 (5) – 121 (9) SL. The Voyager league Eagles were away to Horadada Falcons and clocked up three wins, J Bagwell, P Cadwell & A Kendall 17-7. D Harwood, P Bagwell & P Tomkins 17-11. R Smith, K Rennison & R Pownall 16-13. VB 83 (6) – 98 (8) H.
Winter league was a windy affair, played at home against Javea Green we won on two rinks, lost on three but gained the overall shots. J Chaplin, M Foulcer, B Norris & E Bishop 24-12. L Bishop, P Tomkins, A Brown & I Kenyon 21-12. VB 86 (6) – 84 (6) JG.
Fed 4's Vikings got mulched by the Emerald Isle Leprechauns, playing away from they lost on all three rinks, VB 45 (0) -84 (8) EI.
Southern league Lanzadores away to the Emerald Isle Cavaliers, two wins from J Chaplin, S Broadhurst & I Kenyon 19-16. B Regan, D Chaplin & J Bowman 17-14. Could have been better! Shots, VB 92 (4) -122 (10) EL.
Picadors at home v Quesada Swallows, three winning rinks, F Barclay, B Ewart & G Thorpe 27-10. K Hardy, S & B Norris 28-11. D Gunning, J Neve & M Foulcer 16-16. Shots, VB 109 (7) – 97 (7) Q.
Conquistadores away to La Siesta Golds won on one rink, L Prockter, P Tomkins & B Prockter 19-11. Shots, 91 (2) – 115 (12) LS.
Sponsored by Venture Fleet, Autos Direct, Rivingtons Restaurant & TV Choice.
SAN MIGUEL BOWLS CLUB
All 3 San Miguel teams didn't do too well in this weeks SABA league. The Pulsars managed to get 4 points at home to San Luis Trekkers. Well done to Pat McEwan, Ron Nairey, Dave McEwan 16-13: Peter Rees, Ken Hope, John Raby 15-13. There were some very close games with Sue Milner, Brenda Rees, Eddie Cowan losing 19-17: Anita Brown, Sheila Booth, Gary Raby losing 15-14: Ron Squires, Keith Green, Paul Thomas losing 18-16. Shots for 89 – Against 106.
The Comets also picked up 4 points away at Emerald Isle. Good result by Sheila Errington, Peter Ross, Brian Errington 21-10: Carl Eagle, Jack Jackson, Bill Brownlee 24-9. They lost the shots by 1 !!!!!
The Meteors had a really bad day at Quesada losing on all rinks, better luck next week!! Jan Allen, Dave Greenland, Ian Rogers had hard lines and got beat 18-17. Shots for 90 – Against 132.
The WASPS are still going strong, Wednesday at 1.30pm, Come along and have a try. Suitable for all players.
For further information on San Miguel Bowls Club, please contact the President, Eileen Potts, telephone 966730376 or Secretary, Pat McEwan, telephone 966714257.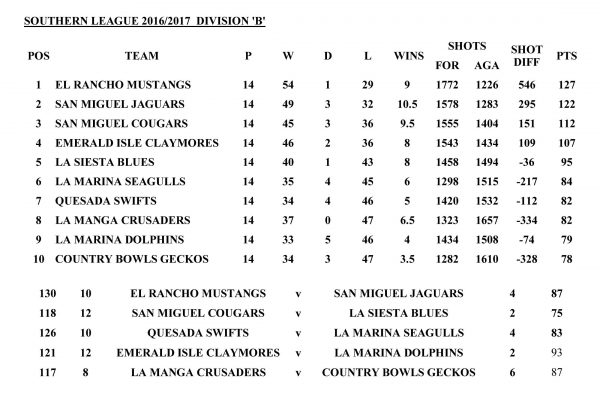 LA MARINA REPORT BY BARRY LATHAM
I wish I hadn't said anything about our best week being last week as we only had one win this week. Explorers away at Monte Mar playing the Matadors had a good game so I am told but the Opposition won 9-5. Dave Hadaway continued his good form with Jim Reeves and young Anne Stone winning 22-12. Margaret Finlayson scraped through by one shot with the help of Rob Finlayson and Maureen Kidd. Mike Stone battled to a draw with Jim Manning and Janet Parsons. The Pathfinders didn't find their path too well either at El Rancho or as the Captain said "It was a bad day at the office." Went down 12-2 with our only winning rink being John Withers, Martin Butler and Paul Tregoing. Still counting up the overall score. Our first win this week came through the Winter League with us beating Monte Mar by seven points to five.
Both won two and a half rinks each with ours being Shirley Hadaway, Don Harrison, Mike Smith and Anne Stone followed by Barry and Wendy Latham, Peter Parsons and Kathy Manning. The draw came from John Mallet, Mike Stone, Mo Kidd and Dave Bulfield. The Sharks at home to San Luis Lions had a really close game and just lost overall by two shots with both sides winning three rinks. The winners were Alex Whyte, Jim Reeves and Kathy Manning; Alan Castle, Phil Pape and Janet Parsons; last but not least Roy Hart, John Mallet and Andy Bartlett. Seagulls flew over to Quesada to play the Swifts and were out flown by them to the tune of 10-4. The two winning rinks were Dave Taylor, Gina Hindle and Lynne Armitage plus Barry Latham, Wendy Latham and Barbara Forshaw. The Dolphins played Emerald Claymores somewhere and lost 12-2. Our victorious threesome was Brian Duff, Martin Butler and Maria Duff. Well done to them.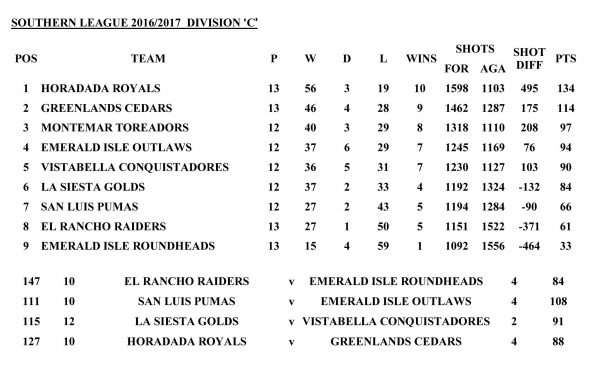 MONTE MAR BOWLS CLUB
Saturday February 4th
Monte Mar Toreadors v Greenlands Sycamores
At the third time of arranging we were able to complete our match at Greenlands after bad weather had intervened previously.
After resuming on the eighth end and the previous scores a hard fought match ended with the Sycamores winning on four rinks with the Toreadors winning on shots. Well done to our winning rinks of Sheila Roberts, Danny King and skip Les Bounds. Cliff Norris, Howie Williams and skip Graham Smyth.
Shots Toreadors 97 – 91. Points Toreadors 6 – 8 Sycamores.
Monday February 6th
Monte Mar Toreadors v La Siesta Apollos
A fine all around performance by the Toreadors saw them winning on three rinks and drawing on one. Well done to the winning rinks of Sue Bounds, Les Bounds and skip Jan Gatward. Dave Thomas, Howie Williams and skip Graham Smyth. Steph Mathingson, Rita Towle skip Joan Harding and drawing rink of Sheila Roberts, Pauline Woodfine and Barrie Woodfine. Our two losing rinks both lost on the last end.
Monte Mar Matadors v La marina Explorers
Winning on three rinks and drawing on one well done to Sue Kemp, Harry Dobson and skip Brian Zelin 17 – 3. Geraldine Fisher, Mike Farrelly and skip Gordon Fisher 21 – 11. Ronnie Cairns, Alan Ashberry and skip Roy Mercer 21 – 13. Denise Ashberry, Dave Melville and skip Bill Young 18 – 18.
Shots Matadors 109 – 98 Explores. Points Matadors 9 – 5 Explores.
Wednesday February 8th
Winter League Monte Mar v La Marina
A bit windy for bowling but an enjoyable morning had by all. Winning on two rinks and drawing on one. Well done to Sheila Roberts, Ethel Finan, Val Hignett and skip Alan Ashberry. Jan and Bill Webster, Pauline Woodfine and skip Barrie Woodfine. The drawing rink of Ronnie Cairns, Howie Williams, Joan Harding and skip Barrie Woodfine.
Shots Monte Mar 72 – 93 La Marina. Points Monte Mar 5 – 7 La Marina.
Thursday February 9th
Monte Mar Picadors v Emerald Isle Shamrocks
Picadors still doing well winning on on two rinks.
Points Picadors 6 – 2 Emerald Isle.
Monte Mar Lords v San Luis Condors
Winning on one rink well done to Ronnie Cairns, Babs Caiger, Dave Melville and skip Bill Young.
Shots Lords 44 – 57 Condors. Points Lords 2 – 6 Condors.
Friday February 10th
Monte Mar Matadors v San Luis Tigers
Winning and five rinks a good all around performance, well done team.
Shots Matadors 121 – 73 Tigers. Points Matadors 12 – 2 Tiger
For further information about Monte Mar Bowls and Social Club check out our website www.montemarbowls.com. or email us at info@montemarbowls.com. We are also on Facebook.
LA SIESTA BOWLS CLUB BY ROD EDGERTON
The week commenced with a set back for the Apollos in their quest for promotion with a home defeat by Montemar Toreadors by 115 shots to 99. La Siesta securing 5 points to their opponents 9. Winners for La Siesta were Dawn Taylor, Norman Adcroft and Harold Charleton 19-16, Sheila Chorley with Bill and Sue Jordan 21-19 whilst Irene Laverick, Ramsay Sinclair and Brian Gardiner managed a creditable draw 19-19.
The Pioneers made the long trip to Mazarron with a depleted squad and lost by 135 shots to 76 the sole winners in a 12-2 defeat being Jean James, Tom Heaslewood and Val Dalton 22-13. Well done to Tony Dalton and his team in getting a full team together in difficult circumstances.
Things picked up on Tuesday with the Fed 4's results. The Parakeets at Home to San Luis Bazas won on all three rinks getting the full 8 points with a shots difference of 54-40. The biggest win came from Joy and Brian Gardiner with Tony Campbell and Pat Reilly who won 18-9.The Hoopoes visited Horadada and came away with a 6-2 win by 70 shots to 34 and the biggest winning rink was Val Dalton, Jean Hepehi with Florence and Mike Edwards who won 32-7.
The Winter League team carried on from last week's encouraging result with a home victory against Finca Guila by 95 shots to 79 picking up 7 points to their opponents 5.Winning rinks for La Siesta were achieved by Jack Cooper, Brian Harman with Bill and Sue Jordan by 23 shots to11 and Irene Laverick, Tony Campell, Pat Harman and Jean Cooper who won 25-14. The rink of Florence and Mike Edwards with Pat and Trish Reilly secured a further point with a draw 19-19.
The Blues travelled to San Miguel to play the Cougars and came away with just the single winning rink of Dave Davies, Brian Gardiner and Harold Charleton who won 21-8. The overall shots being 75-118, thus La Siesta came away with 2 points to San Miguel's 12. The friendly team of Alex Morrice, Ramsey Sinclair and Beryl Styring managed to win their encounter by 14-12.
Before the Golds home match with Vistabella a minute's silence was held in memory of Dave Livesey who passed away this week. Dave has been a member of La Siesta for several years, he will be sadly missed by all, both at the Bowls Club, and by his many friends in the Monday Cribbage League. Our thoughts are with Aileen and family at this sad time.
Good news for the Golds was an encouraging 12-2 victory over the Conquistadors by 115 shots to 91 taking 12 points to their opponents 2. Star rink was provided by Derek Souter, Penny Porter and Johnnie Ryder 27-12. Thanks to Jim Hudson for stepping in and providing a good win with Tom Heaslewood and Hilary Clarke by 22-14. So well done everybody for a great team effort.
GREENLANDS BOWLS CLUB BY DAVE WEBB
In the Enterprise Division, The Maples were away to Vistabella Albatrosses. Final score was Total shots for – 89. total shots against – 113. points for – 4. points against – 10. Winning rinks were …………..Sheila Stead, Ann Butterworth, skip Jim Oliver. 16 shots to 15. Jean Thompson, Joan Oliver, skip Marilyn Fryatt. 23 shots to 15.
In the Fed 4s The Bulls were away to Country Bowls Badgers. Final score was ………..Total shots for – 44. Total shots against – 62. Points for – 2. points against – 6. Winning rink was – Janet Bliss, Jean Thompson, Rudy Wattley skip Graham Watt. 24 shots to 17. In Div A, the Maples were at Home to Mazzaron Miners. Final score was ……………Total shots for – 91, total shots against – 102. Points for – 4. Points against – 10. Winning Rinks were – Sheila Stead, Joan Oliver, skip Mel Brown. 22 shots to 9. David Fryatt, Zoe Wilcock, skip Jim Wilcock. 22 shots to 10.
EMERALD ISLE BOWLS CLUB
3rd Feb, E.I. Claymores v La. Marina Seagulls, 2 good teams in a tight match: E.I 2 wins & 1 draw but winning the shots. 115-89, Points 7 all. E I. Winners: Alan Brown- Sue Johnson- Pete Willicott, (34-7). Carol Donnellan – Mary Malcolm. & Dennis Burkett (17-8). Barbara Doran, Cas Thomas & Mike Thomas. Got draw. Good Result.
E.I. Outlaws v Greenlands Cedars. A great result for the Outlaws, winning on 5 rinks, & taking points, 112-80. Outlaw winners: Robin Adams, Mike Petty, Margaret Breen, (20-18). Ann Ede, Sheila Wickens, Ally Burns. (16-14). Linda Burns, Frank King, Ron Ede, (13-10). Maureen Foulds, Joe Dear, Ernie Bennett, (30-7). Sheila Adams, Reg Fooks & Stan Cheetham. (20-14). The result we needed.
Fri 3rd, E.I. Cavaliers v Vistabella Picadores: not the result we wanted, winning on 2 rinks, losing shots by 89-104. Points 4-10. Cavalier Winners: Pat Coffey, Jan Westall, Steve Westall, (17-14). Linda Vincent , Glenda O'Dell, Mel O'Dell. (22-10).
Roundheads v Horradada Royals, Bad day, lost 14-0.
6th Feb. Moonrakers v Quasada Diamonds: Disaster Day for Moonrakers, 14-0 Nuff said!!!
6th Feb: Neptunes v San Miguel Comets: Good result for Neptunes, winning 4 rinks – 2
Shots, 98-97, points, 10-4. E.I.Wlnners, Graham Roberts, Len Fisher, Brian Kavanagh, 25-11. John Jarvis, Ed Shepherd, Jim Mulloy, (18-14). Barbara Doran, Cas Thomas, Mike Thomas, (16-12). Elwyn Morris, Barbara Eldred, John Malarky, (26-15).
Nice one Neptunes.
7th Feb, E.I. V Highjackers, (friendly). Good desultory for the Isle, won on 4 rinks drawing on 2. Winning 12-6. Big money winners, E.I. Winners, Steve Watson, Liz Page, Tony Kelly, Hijackers, June, Eddie & Mike P. Thanks Hijackers for the usual enjoyable match.
8th Feb, Winter Leageu. E.I. V Greenlands. Perfect result for the Isle, winning all 5 rinks.& Shots by 96-71. Points, 12-0. Winners were: Dennis Rhodes,Mary Whitelock,John Pooley & Colin Lindgren , (22-10). Jean Parkes, Mike Stacey, Jim Mulloy, Paul Parkes. (21-15). Sue Johnson, Mike Thomas, Dennis Burkett & Ian Brewster,(16-14). Cas Thomas, Jan Westall, Pat Coffee, Steve Westall. (16-14). Mike Veale, Ron White, Ann Marie Stevenson @ Drew Gerrard (21-18). Just what we needed.
Premier Knockout, Sat 4th Feb. Good win for the Isle, winning 3 rinks, & shots 70-55.
Winners: Colin Lindgren, (21-11). Mike Veale, Paul Parkes, (21-10) Pat Heaney, Dennis Birkett, Ian Brewster, 15-14. Well done everyone.
9th Feb, Fed 4s poor day for Shamrocks, winning only one rink, & losing shots,, 48-68. Points, 2-6. E.I. Winners: Robin Adams, Sheila Wickens, Alex Malcolm & John Mularkey.
Fed 4 s, E.I. v Vistabella Vikings: A perfect score for the Isle, winning on all 3 rinks, sorry I don't have the individual names and scores, but a fine result, up to 3rd!!
Fri 10th, Outlaws v San Lois Pumas: a poor day for the Outlaws, winning on 2 rinks, & losing shots by 3. Points 4-10. Winners.Robin Adams, Mike Petty, Margaret Breen. (21-12). Maureen Foulds,Tony Harris, Ernie Bennett, (18-11). Unlucky, some very close games.
E.I. Claymores v La Marina Dolphins. A brilliant result for the Claymores, winning on 5 rinks, & taking shots, 121- 93. Points 12-2. Claymore winners: Margaret Riley, Jack Redfern, Bill Allen, (23-15). Len Fisher, Cas Thomas, Mike Thomas (17-12) Carol
Donnelson, Mary Malcolm, Dennis Birkett. (24-11). John Jarvis, Ed Shepherd & Jim Mulloy, (22-12). Alan Brown, Sue Johnson, Pete Willicott, (18-17). A great result for a great team, Enjoy your BOWLS. Robin (the scribe) Adams.
EL RANCHO BOWLS CLUB.
Monday found The Pintos playing at home against The Pathfinders from La Marina, a stiffish breeze making the bowling a little tricky and as you would expect the home mastered it more quickly than The Pathfinders. But it was a good match with most mastering the mat at some time during the game, but it can be a little disconcerting when the wind changes just after release of the bowl and in the end the Pintos took 5 rinks and the overall shots.
The Broncos had a bye and I believe were playing a friendly at Emerald Isle in the afternoon.
On Friday morning the Mustangs played San Miguel Jaguars at El Rancho, which was bound to be a tough match against the then league leaders. The stiff cold breeze proved a little tricky, but the lack of runs makes it a fair surface all round. I am sure the Jaguars were a little disappointed in going away with 2 rinks and hence 4 points, but the Mustangs will be pleased against the strong visitors.
Judy Foley, Keith Cunningham and Geoff Jones 19-12. Barbara Jones, Sheila Cooper and Carolyn Harris 18-26. Maxine Wright, John Skipper and Rod Wright 11-20. Henry Ryder, Jan Bright and Richard Lee 21-15. Irene Thomson, Jane Hamill and Eddie Jones 24-8. Bob Morgan, Merv Armstrong and David Whitworth 37-6.
In the afternoon the Raiders entertained the Roundheads from Emerald Isle, playing well and taking full advantage of the home mat to take rinks and the overall shots, a good result. Ngaio Baldwin, Peter Baldwin and Graham Day 25-22. Helga Schiffman, Peter Blackburn and Keith Longshaw 11-15. Marion Haynes, Diane Yates and Dave Haynes 10-21. Ann C Taylor, Shirley Edwards and Bob Taylor 36-5. Gill Bartlett, Bob Easthope and Rob Clark 38-9. Fred Dunstone, Gary Dunstone and Gary Newson 27-12. For membership details contact Brian Taylor on 965077093 or at briantaylor_es@yahoo.co.uk or Carolyn Harris on 966774316 or at elranchobowls.secretary@gmail.com