Country Bowls by Geoff Paylor & Gordon Dixon
The 'Badgers' travelled to the 'Hornets' nest at La Siesta on Monday in search of valuable points after last week's disappointment.
Alas, with the team cut to the bone in terms of players for selection we got what we deserved and came away with our tails firmly between our legs.
I don't doubt for a moment that the team gave 100% effort but the 'Hornets' had just a little more quality and luck.
Scores are as follows; Linda Freeman, Derek Jiggins & Geoff Paylor. 26 – 8, Lynne Bryce, Peter Dix & Gary Ponsford. 20 – 18, Ben Nokes, Peter Robins & Andy Bryce. 17 – 17. 5 points for us with 9 to La Siesta. Shots Badgers 90 – Hornets 119
Many thanks to Dave Smith & Derek Jiggins for turning up at short notice.
On Wednesday, Horadada were the latest team to play at Country Bowls in the VCL. Early on all games were evenly balanced except the pairs where Country Bowls gained an early substantial lead.
In the singles Country Bowls gradually got on top and ran out worthy winners. The pairs were consistent and won rather easily and the trips had a titanic struggle but came up with a strong last end to triumph.
The rinks were put under a lot of pressure by a very good Horadada team who dominated the later ends to come out on top.
All in all a good win for Country Bowls 10 – 2 which lifts us from the bottom of the league, a very enjoyable and friendly mornings bowls played in the glorious sunshine.
Scores are as follows; Ladies Singles. Trish Dix. 21 – 2, Gents Singles. Peter Dix. 21 – 2, Pairs. Brenda Jiggins & Geoff Paylor. 31- 2, Triples. Salma Hempstead, Derek Jiggins & Phil Warrington. 17 – 2, Rinks. Graham Richardson, Ben Noke, John Hassell & John Mallet. 10 – 0. Total Shots. 100 – 75
For information on Country Bowls please ring 966191552 or visit our website www.countrybowlsmurcia.com
El Rancho Bowls Club.
With the Buckskins having a bye in the Harrier league this week El Ranchos first match was against San Luis Hawks at home, it was a tough old match with El Rancho just taking the pairs and losing the trips by just the one shot. So not a bad day against a good opponent, the sun shone and the company was good. Ladies singles: Sheila Cox 14-21. Gents singles: Jim Gracie 11-21. Pairs: Jane Hamill and Richard Lee 20-12. Trips: Ron Edwards, Rob Clark and Shirley Edwards 17-18. Rinks: Diane Yates, Jean Bagwell, John Skipper and Stew Hamill 19-25.
What a splendid day Thursday was, as most if not all will know, El Rancho hosted a fund raising match between a supplemented Ireland team and El Rancho.
The purpose to offset  the cost of speech therapy for Andrew Latham, son of Wendy and Barry who are members of La Marina BC. Andrew had a massive brain haemorrhage in 2015 and was not expected to live, but survive he has, with most of his faculties. But alas the power of speech has not at this point returned, but it is hoped that expensive speech therapy will allow this to happen.
The activities provided with hard work by many, to extricate money from our pockets, proved to be very successful and I know such monies were given happily. The bowls match as you would expect proved to be great fun with much jollity and was enjoyed by both teams and the great numbers who had turned out to watch, support and spend their funds, a great day only marred by the necessity of the occasion.
So on to Friday were El Rancho played host to Quesada Tigers in their VCL fixture, many have had a lot of practice and fun of course, this week. El Rancho had a splendid day taking 4 of the 5 rinks and also the overall shots. Ladies singles: Diane Yates 21-13. Gents singles: David Whitworth 21-19. Pairs: Sheila Cooper and Carolyn Harris 18-16. Trips: June Whitworth, Rob Clark and John Skipper 16-21. Rinks: Ron Edwards, Jean Bagwell, Shirley Edwards and Jim Gracie 22-13. For membership details contact Brian Taylor on 965077093 or at briantaylor_es@yahoo.co.uk or Carolyn Harris on 966774316 or at elranchobowls.secretary@gmail.com.
Greenlands Bowls Club by Dave Webb
In the VCL League we were at home to La Marina and following recent form we were kept to just one winning rink and very close in another. So the final scores were – total shots for – 64. shots against – 101. Points for 2. points against – 10. Our only winning rink was the ladies singles, Mary Lockley. 21 shots to 15. The Trips lost out by only 2 shots but there is always next week to look forward to.
Horadada Bowls Club   by   Barry Evans
On the playing front as very bad week for the Club.
Monday had us playing at home against a strong La Siesta team and we suffered from a bad case of Wasp stings! La Siesta won on four rinks and by 115 shots to105.Our winning rinks were Wayne Jackson, Ron Odell and Alan Miller 21 – 11 and Pat Patton, Margaret Odell and Brian Patton 23 – 11.Two of our other rinks only narrowly lost so it could have been a better result.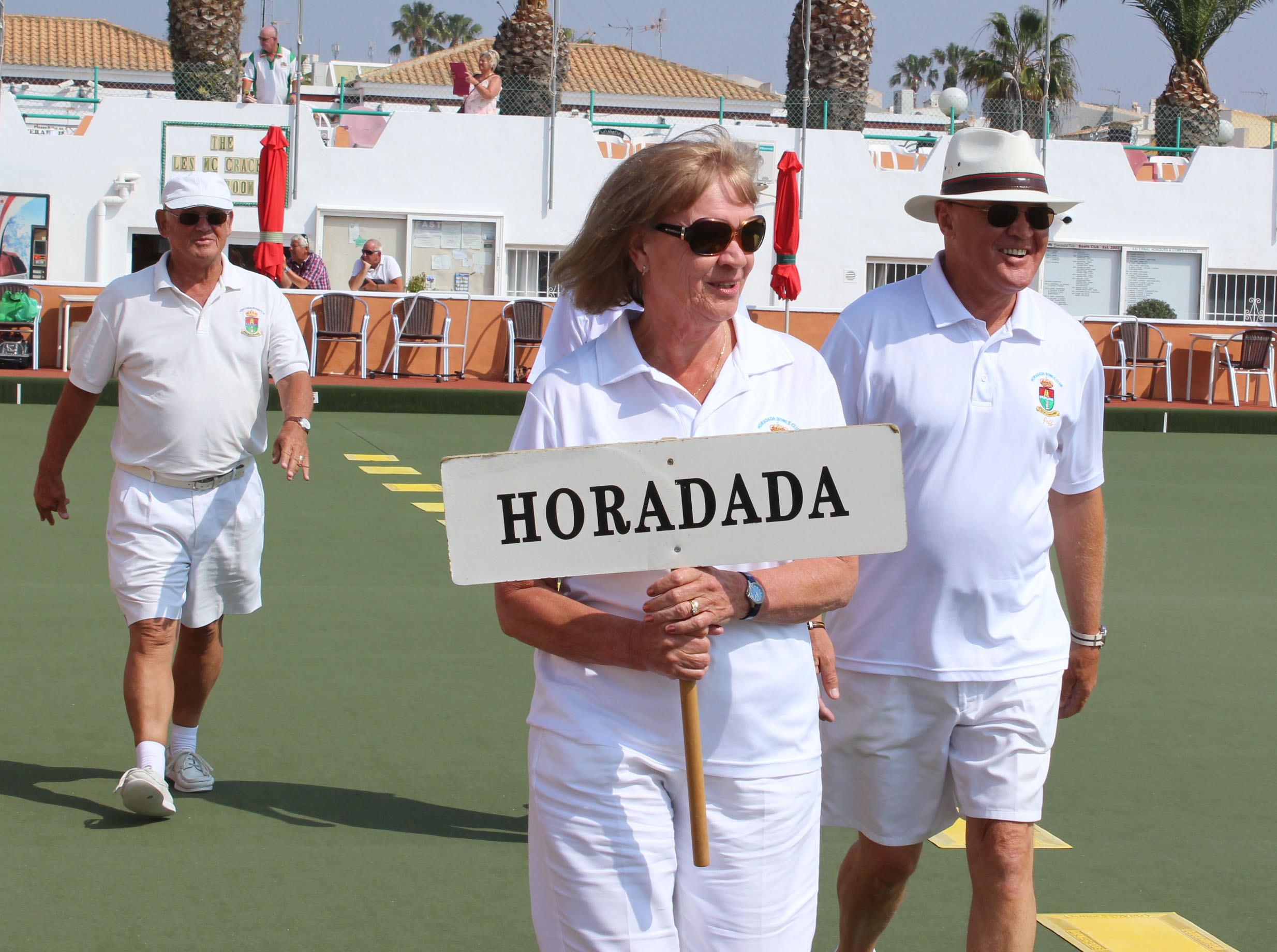 Many thanks to those replacement players who had to be drafted in at short notice.
In the VCL we were away at Country Bowls. Here we only had one winner, our rink of Les Davis, Roy Thompson, Jeff Hier and Alan Miller won 22 -10.We lost overall by 75 shots to 100.
We now have gap for the Nationals so let's hope we can pick up on our winning ways when the leagues restart. Good luck to our Nationals entrants.
There is a practice game arranged for Monday 21st, 09.30 for 10.00, so please try and make it.
Horadada always welcomes new members and our roll-up days are Tuesday and Thursday. Please contact Fred Trigwell on 659139129 for further details.
Quesada Bowls Club with Dee Stephenson
Its been a busy week with some good results.
On Monday the Blenheims were hosted by San Miguel Christians. Some very close results on the rinks but the Blenheims dug in and came away with a very good result winning on 5 rinks with a draw on 1 rink. Overall points 13-1, shots 82-115. Quesada Lancaster's were at home to San Luis Wellingtons who were on top form and achieved a resounding win of 14-0 and 155-74 shots.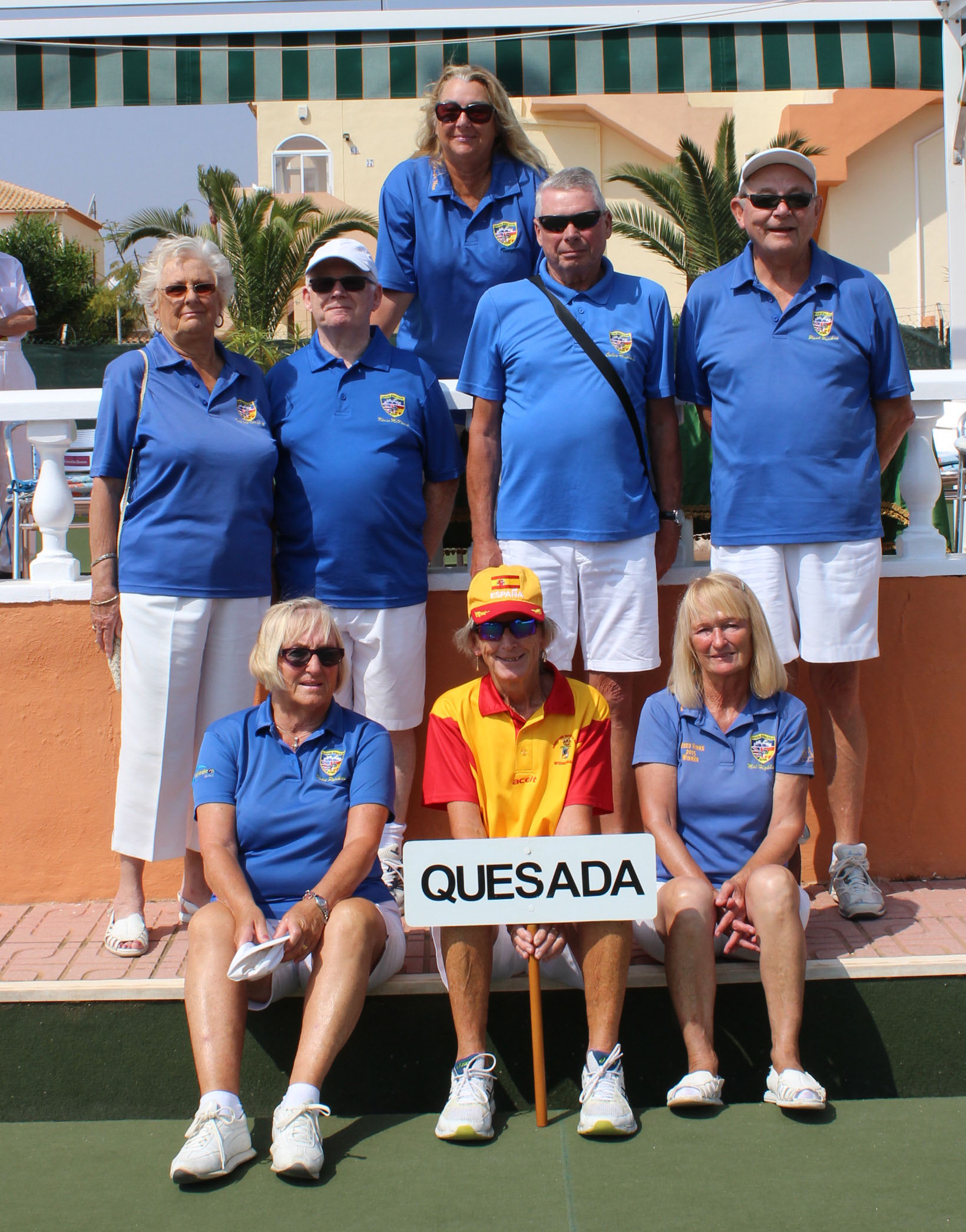 On Wednesday there was a home draw between QBC Tigers and QBC Cheetahs. The game was played in competitive but good spirits but Lancasters had a very good win 10-2 and 116 – 55 shots.
The Lions didn't have the best of days at San Luis against the Falcons who are top of the league.  But well done Chris Brazier, Pearl Houghton and Graham Phillips winning against a team skipped by Russell Marks.  Fortunately The Lions have still retained our second place in the league.
The Cheetahs played away on Friday against the San Luis Falcons. After a very tough match, there were some nail-biting results on some of the rinks. San Luis came through in the end to win 3 – 2 rinks but to show how close it was the shots were a draw at 74 -74, the Cheetahs best shots score for the season. Points were San Luis 7 and Cheetahs 5.
San Miguel Bowls Club – week ending 11th May
By Gail Willshire
This week's report starts on 4th May when our Marshalls had a great result at El Rancho in the VCL. The team came away with 6 points and only just missed out on the shot differrence, 85 shots to 86!
The husband and wife partnership of Sheila and Brian Errington won the pairs 15:13, the triples team of Ann Young, Bob Graham and John Staden won 22:16 and the rinks team of Ian Hope, Ken Hope, Paul Hayward and Mick Rogers won 25:15.
Continuing with the VCL matches, the Deputies played away against the Monte Mar Lords during the week and managed a creditable 8:4 victory with 84 shots to 68. The singles both won handsomely, Ann Allen 21:13 and Gary Raby 21:7 and the triples team of Jan Farmer, Jim Jarvie and Alan Campbell were also able to add signficantly to the shots, winning 21:11.
Unfortunately the Sherriffs came across an in form team from Vistabella this week. The marauding Vikings came to San Miguel and managed to win on 3 of the 5 rinks taking the shots as well, 72 to 90. Noel Davis and Fred Willshire were able to get a win in the pairs 14:10, and Jan & Brian Allen and Lynn Greenland won the triples 21:17.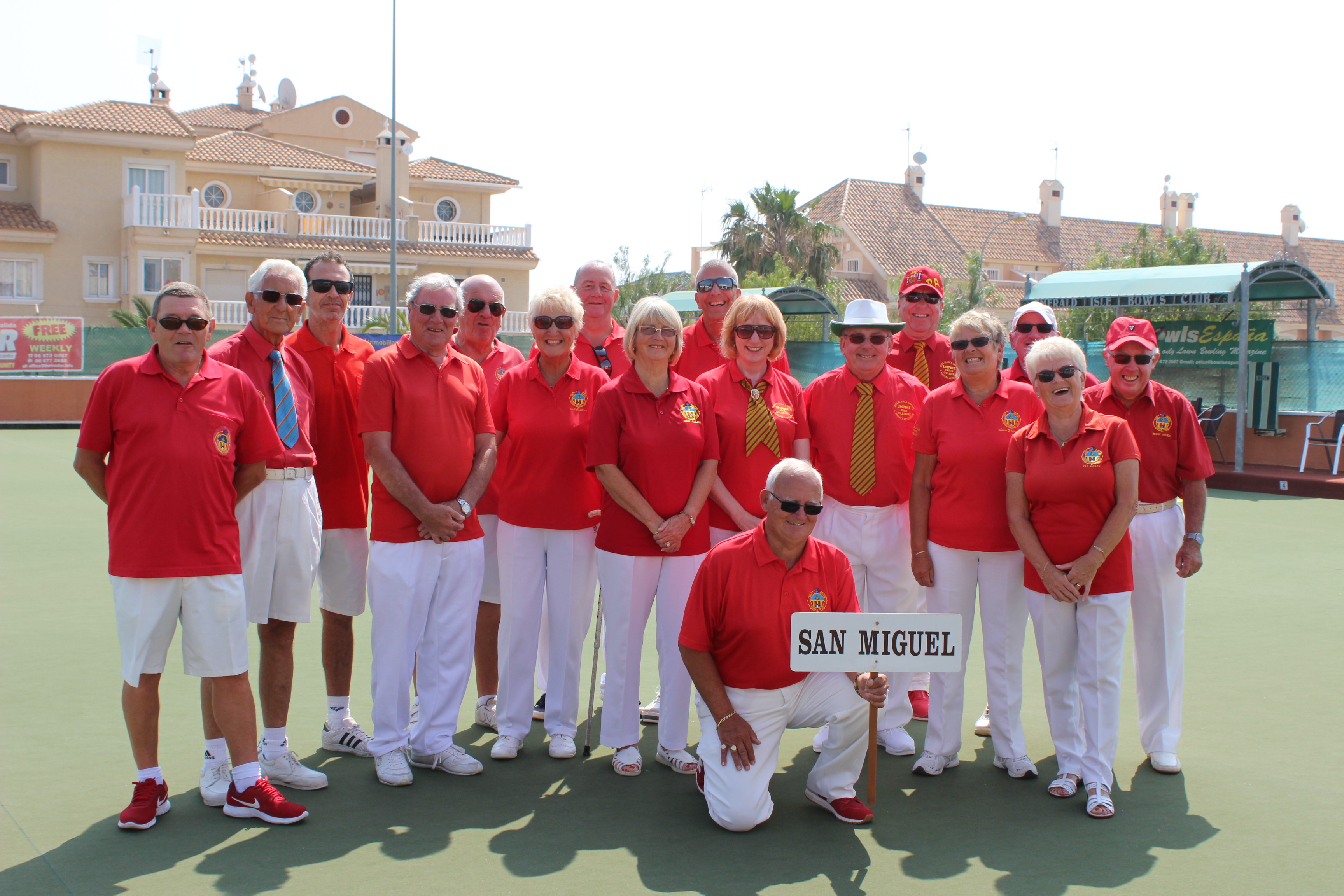 The Monday leagues saw results at either end of the spectrum for the club. The Moors had a fantastic result against Greenlands Gladiators, winning across the board and taking the shots 134 to 78. Possibly the best result came from Margaret Patterson, Noel Davis and Mary Dyer. At the half way point they were 3:13 down but clawed their way back to win 16:15.
At the same time the Christians were at home to Quesada Blenheims and, sadly, only managed to get 1 point thanks to a 13:13 draw from Pat McEwan, Ann Young and Dave McEwan. Not a good day at the office!
Good luck to all those playing in the Nationals. I'll update you all on progress next week.
If you are thinking of taking up bowls, why not come to Wasps on Wednesdays 1pm for 1:30 start. €5 for an afternoon's bowling with shoes and woods available to borrow.
For further information on San Miguel Bowls Club please contact the President Stuart Hemmings on 965720461, or the Secretary Gail Willshire on 965020492.
San Luis Bowls Club Report 11.05.18.
Another busy weeks League bowling, with a less wind, thankfully, before the Linea Directa National Lawn Bowls Championships start (12th-26th May at Emerald Isle).
Monday 7th May:  South Alicante Summer League:
SL Wellingtons away v Quesada Lancasters:  A reversal of fortunes this week, resulting in a comprehensive. Points : 14-0. Shots: 155-74. Winners: Kath Reid, Neil Morrison, Ian Kenyon 22-14, Pam Lockett, June Jones, Keith Jones 21-19, Helen Hammond, Derrick Cooper, Scott Malden 27-12, Margaret Morrison, Sabrina Marks, Russell Marks 30-9, Irene Everett, William Holtham, Vic Slater 24-10, Bob White, Brian Pocock, Julian Pering 31-10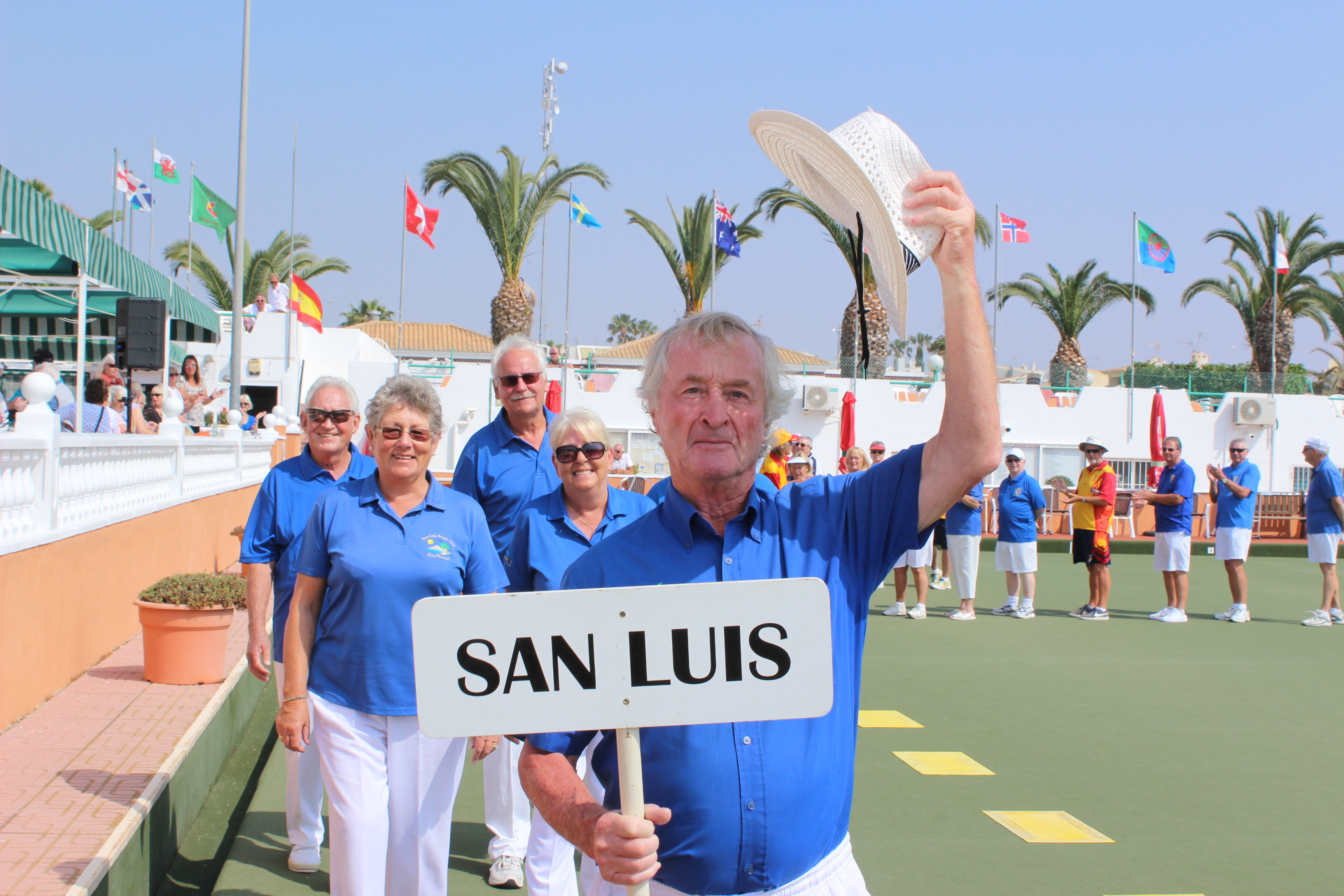 SL Hercules home v Monte Mar Toro: It looked at one point as if the Hawks were going to have a very good win. However, Montemar came back and picked up three rinks. Points: 8-6. Shots: 116-105. Winners: Audrey Ford, Terry Bayliss, Charlie Marigold. 24-11.Ros Holmes, Roger Inwards, Roy Cordell 23-13, Dennis Jackson, Bill Webb, Brenda Brown 19-16.
Wednesday 9th May VCL:
SL Falcons playing yet another game against a Quesada team, the Quesada Lions, and another very good result.  Points: 10-2. Shots: 98-53. Winners: Singles–Kath Reid 21-11, Colin Jackson 21-10, Pairs- June Jones, Keith Jones, 21-8, Rinks – Helen Hammond, Pam Lockett, Scott Malden, Ian Kenyon 23-11.
SL Hawks away to El Rancho, always a difficult venue.  An excellent performance by the Hawks.  The trips were 15-2 down after 9 ends, but fought hard to go into the last end all square. Our skip played a do or die shot, and succeeded in taking the jack and his bowl into the ditch, winning the game.  Points: 10-2. Shots: 97-71. Winners : Singles-Ros Holmes 21-14, Bill Webb 21-11, Trips- Dave Tilley, Ian Ross, Derrick Cooper 18-17,   Rinks- Cas Blay, Ralph Jones, Barry Edwards, Roy Cordell 25-19,
Friday 4th VCL: No game for the Falcons.
SL Hawks: A home game at last, versus Quesada Cheetahs:  Good wins for the Ladies Singles and the Rinks. The Trips had a very tight game but managed to hold on and win. Points: 7-5 Shots: 74-74: Winners: Singles – Ros Holmes 21-10, Trips –15-13, Rinks – 21-11.
Good luck to all our San Luis members who are playing in the Nationals, at Emerald Isle. I am sure they would really appreciate some vocal support from you, when they are playing!
Information: www.sanluisbowls.byethost7.com or contact June Jones, Club Captain: 691903773.
Ros Holmes