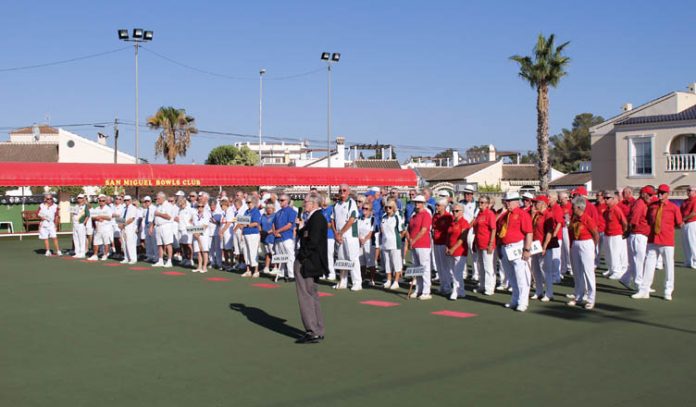 Following on from the success they enjoyed at the National Championships in May, Línea Directa´ are continuing with their support of Lawn Bowls by sponsoring the 2016 Valencian Championship, which got underway with the opening ceremony at San Miguel Bowls Club on Saturday.
Held over two weeks at three different venues, San Miguel, La Siesta and San Luis Bowls Clubs, the tournament was opened in a blaze of colour as almost 300 bowlers from across the Costa Blanca took to the San Miguel rink behind their individual club banners.
The undoubted sporting and social highlight of the Valencian bowling calendar was once again blessed with bright sunshine as the competitors streamed out onto the magnificent green, as ever resplendent in their club colours.
Vic Slater, the owner of Casa Ventura, handed over the 3 greens to the Championship Committee after which we had the usual round of welcoming speeches, followed by the Spanish National Anthem.
In welcoming the guests, players and dignitaries, the National Director and Valencian Delegate, Bob Donnelly, said that he was delighted to see such a large turnout as he then went on to thank Línea Directa´ for their generous contribution to the sport.  He also thanked the owners of the three contributing clubs for the use of their venues before wishing the players the best of competition during the two-week tournament as well as the tournament umpires and markers who were all contributing their time absolutely free.
Neil Reardon, representing Línea Directa´, said that company have always strived to commit the very best attention to their English speaking clients who are a key part of the business and its success. He said that the Director, Francisco Valencia, asked that he could wish the best of luck to all participants in the tournament and thank them for their continued confidence in Línea Directa´.
The competition itself got underway on Sunday at all three venues with the men's and ladies singles competition. In the men's section the defending champion is Drew Gerrard who has since moved from San Miguel to the Emerald Isle Bowls Club, Drew got his tournament underway with a preliminary round match against Quesada veteran Harry Rhodes.
In the ladies competition 2015 winner Sue Kemp of Monte Mar gets her tournament underway on Monday in a first round meeting with Jenny Bowman of Vistabella.
The complete bowling schedule is available at http://levantelawnbowls.wixsite.com/llb-spain. Competition gets underway at 10am daily and continues throughout the day. Admission is completely free and spectators are extremely welcome to attend.
The strong play and deep rooted camaraderie exhibited by all players indicates that once again the 2016 Línea Directa Valencian Lawn Bowls Championships will be another excellent competition.