This week saw the Finals of our Club Championships and once again we were entertained with some fantastic matches and a number of really exciting close finishes.
The results were as follows –
Ladies Pairs – Winners- Debbie Williams & Jill Glastonbury
Men's Pairs – winners – Stewart Beattie & Derek Randall
Aussie Pairs Winners – Jim Thomas & Alan Ferrand
Mixed Pairs Winners – Paul Trunchion & Jill Glastonbury
Mixed Trips Winners – Betty Anderson, Stewart Beattie & Derek Randall
Mixed Rinks Winners – Pat Coburn, Paul Trunchion, Clive Scott & Jill Glastonbury
Novices Winner – Richard Warilow
Mixed Singles Winner – Paul Trunchion
Ladies Singles Winner – Yvonne Briden
Men's Single Winner – Ian Brown
Overall Club Champion – Ian Brown
El Cid Bowlers celebrated the conclusion of this year's Club Championships (sponsored by Vives Pons Asociados) with a Gala Dinner Dance Awards Evening.
Players and guests enjoyed a excellent meal followed by the presentation of Club Trophies and individual awards to all Finalists and Winners.
President Jim Sissens welcomed everyone with a special mention to our 3 guests from sponsors Vives Pons. He also gave a note of thanks to our Markers and Umpires and to Stewart Beattie our Captain who organised the Championships.
Stewart announced the presentation of awards and thanked all players who had taken part this year and the many new bowlers entering their first competitions. The Captains choice of most improved player went to Richard Warilow..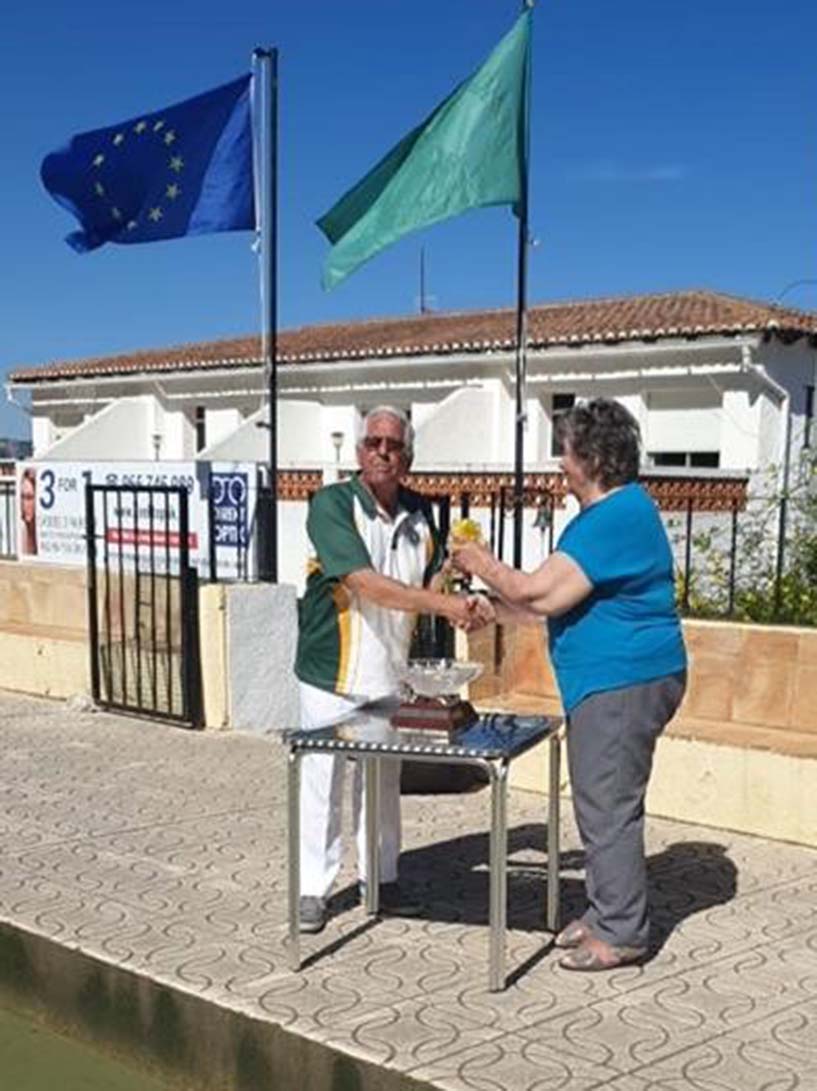 The evening finished off with dancing to super entertainment provided by Chloe and Vic – Moonshine Duo.
Jim Sissens also thanked and presented flowers to Jennifer Beattie, Hazel Brown and Yvonne Briden who had transformed the room, tables and awards into a wonderful presentation of El Cid colours.