In July, 6 – 14th, the Spanish International squad took part in a 10 Nation Test match in Cardiff, Wales.
Graham Cathcart, the manager of the squad, was invited to join the tournament at late notice, to replace another Nation who had pulled out of the tournament. Despite the late notice and lack of time to properly prepare for the event, the squad readily accepted the invite as it was felt it would be good preparation for the Atlantic Championships in May 2019, which is being held in Cardiff. It also gave the opportunity of getting players more experience of playing against such high level opponents, some of which they will also face in 2019.
The event took the form of test match conditions….. team of 5 ladies and 5 gents, who played in round robins of Singles, Pairs, Triples and Rinks – The singles and rinks being played at same time and the pairs and triples played at the same time.
The team representing Spain were –
Gents
Terry Morgan (Singles and Triples), Derek Eldon (Triples and Rinks), Julian Pering (Triples and Rinks), Tom Rogers (Pairs and Rinks) and Graham Cathcart (Pairs and Rinks). Substitute – John Pooley.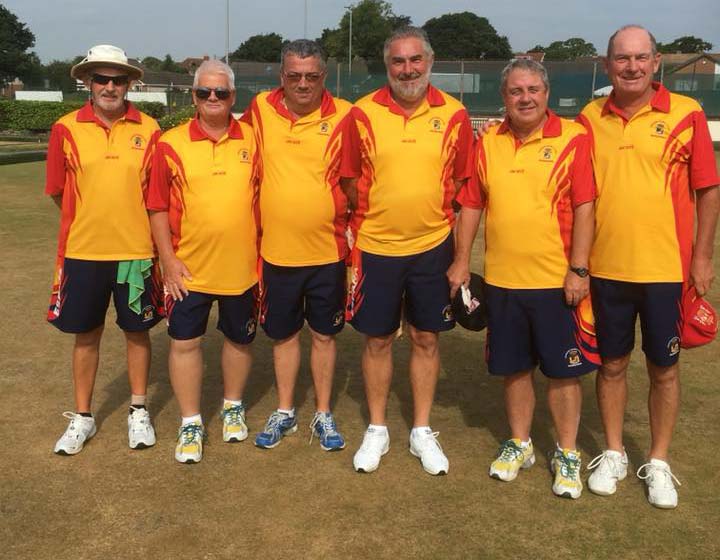 Ladies
Maggie Holmes (Singles and Pairs), Lynne Eldon (Triples and Rinks), Jo Pering (Triples and Rinks), Debbie Colquhoun (Pairs and Rinks) and Jenny Thompson (Triples and Rinks). Substitute – Gillian Atkinson.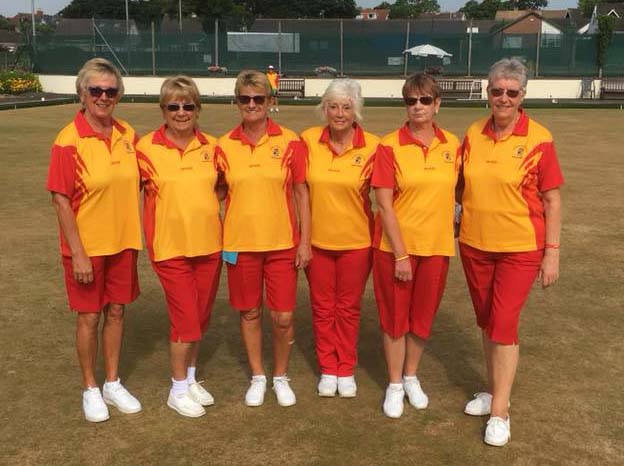 The Gents Triples played really well in their group stage and managed to qualify for the quarter finals. They met a very good Wales team, in the quarters and played very well against them, "slaying the Dragon" 19 – 9. Next up they met a very good Irish triples team. Unfortunately, it was a bridge to far for them, on what was a tricky rink, which the Irish guys adapted to better, and overall played the better bowls while playing several BIG telling shots.
The guys did not go down without a fight however, and fought hard till the very last. The guys were gutted at getting beat, which was understandable (and very positive), but given everything, it was a brilliant achievement. So, congratulations, Terry, Derek and Julian on EARNING your bronze medals.
The gents pairs were left gutted in their league. Having finished joined 2nd, on points with Wales and Namibia, in the quarter final qualification place, the calculators were quickly brought out….. Namibia had the best shot difference by just 3 shots, but Wales and Spain were also equal on shot difference, with Spain having the highest shots for. The guys were told they were therefor qualifying (by local "officials") then told they weren't by the other local "officials". Not till a while later, when the Tournaments organisers got involved, was the sad news shown.
The tournament was been playing under the "Commonwealth games" rules…. Which states that it is LOWEST shots AGAINST that separates teams and NOT HIGHEST shots FOR. So, unfortunately, but quite correctly, as the rules showed, Wales went through to the quarter finals. Graham and Tom were understandably gutted, especially given the fact that they beat the two top teams in their group. But that is the way the cookie crumbles sometimes.
In the ladies Singles, Maggie Holmes, playing in her first ever single tournament at this level, found herself in a very strong group, including the Malaysian player who went on to win the tournament. Maggie equipped herself well and fought hard, never giving up. The experience she took away from the experience was phenomenal.
The Ladies rinks, 2 of whom had never played at this level before, and a team that had never played together before the tournament, overcame those hurdles and played well together. They lost narrowly against Ireland, in a game, with a bit of luck they could have won and put them into the quarter finals.
Having lost their opening two games in the rinks to two very strong, established teams in South Africa and Malaysia, Spain went into their last two games knowing 2 wins would see them into a quarter final slot. Unfortunately, in their first game, they turned up to find the green, which had been watered the night before, followed by unexpected rain, was running at a very slow 7-8 seconds.
As a team, all 4 struggled badly to adapt to the green speed, and got beat by the U.S.A., a game which Spain felt very strongly they could have won, but in fairness, the U.S.A. team adapted better to the very tricky conditions. By their second game, the green had sped up considerably, back to around 15 second mark and they duly delivered a victory over Jersey, a game in which John Pooley (substitute) was given his first taste of a full blown international match.
In the Gents Singles, Terry Morgan, was finding the same problem as Maggie, finding the conditions alien to him, against some very strong opponents, more acquainted in playing singles at International level. That said, Terry fought well and will no doubt have learned an awful lot for the experience.
In the Ladies Pairs, it was a case of what could have easily have been. Debbie and Maggie, played very well against very strong pairs' teams in their section.
They beat Ireland and lost out, twice, by a single shots to Malaysia (went on to win silver, getting beat by one shot to the winners Australia) and Canada, games which, with a little bit of lady luck they could have won. If they had one either they would have qualified for the quarter finals.
The Ladies Triples, found it very hard going in their league against very strong teams, and again struggled to get into "their rhythm" on the "foreign" grass surface. That said, they again learned an awful lot and fought hard. Gillian Atkinson also got, bloodied, on the last game, in which she played well.
Graham, the manager of Spain said about the tournament……
"Overall, I am so very proud of the squad. Yes, we could have, on paper, results wise, did a little better in some disciplines, however, we were playing on a surface that is, on the whole alien to us, (with speeds varying between 8 seconds to 17 seconds) playing against some of the biggest countries in the world, with some of the best players in the world, many of whom were here for a week or two before the tournament started.
There should also be a realisation of what Spain are up against in such tournaments. The team are self-funding, can't practice, as a squad, anywhere near as much as they should be and are not playing against the sort of calibre of opponents they came up against anywhere near as much as they need to be. Until you see and play against the calibre of some of these players, countries, some cannot comprehend the gap the squad are trying to negotiate.
When you hear comments like "you shouldn't get beat by Malaysia" you realise how out of touch some people are. It is very understandable, but Malaysia is one of the top teams in the world now. In a relatively short time they have jumped from total beginners to being able to take on the best in the World and beat them. They have achieved this through a lot of hard work, hiring full time coaches and of course had a lot of money to do so.  Yet, Spain is managing to hold their own, through hard work and team spirit.
So all in all, the squad have a lot to be proud of. Each of the guys tried their very best to contend with in an alien environment. It should also be borne in mind most of the players were playing in there very first tournament, in this sort of company.
Once again the effort shown by the guys, their attitude, their comradery, their team ethic was brilliant. It is, and has been, with one or two exceptions, been our strength since I was lucky enough to take over the management of the Spanish Squad.
We were invited into this tournament at short notice, and agreed to take part with one eye on the Atlantic Championship being held in the same area in May 2019. This baptism of fire will serve us well in that competition moving ahead.
Overall, with everything taken into consideration this tournament was a great success for the squad as a whole, for the individuals concerned and for me personally, as it helped prove to the players personally what I have believed all along, which is always the best way to learn, and shown me definitively where work needs to be carried out.
Personally, I would like to thank all the squad. Throughout the whole tournament, every player conducted themselves in an exemplary manner, fought hard and put 100% effort in at all times, both as individuals, and as part of the squad. With regard to their conduct they did themselves and Spain proud. So much so, it drew several comments from personnel from other countries and the tournament organisers.
You did yourself, the squad, Spain and the Federacion Espanola de Bolos proud. Once again, you have represented our adopted country Spain (which we are so proud of) and the Federacion to the very highest standards, in a manner they should be proud of.
Special praise also goes to the two travelling substitutes… Gillian Atkinson and John Pooley. Despite not playing until the very end, they supported and helped the team non-stop. Thanks guys.
Thanks to all those in Spain, each of the players clubs, friends and family for all the support and well wishes you they sent each and every single day to us. It was very much appreciated and helped immensely.
I would also like to personally thank, Welsh Bowls, for inviting us to take part in the event, particularly Alun Hodges, who worked tirelessly throughout the event and who afforded me time to assist getting things organised. We would welcome any future invite to future tournaments you may run.
Thanks also go to Angharad Griffiths from Strachan Travel, the official travel agent for the tournament, for her assistance regarding transport, travel arrangements and hotel arrangements. Big thanks also go to management and staff of the Clayton Hotel, Cardiff, for your hospitality, for the way you dealt with the very few problems we encountered and for even changing your dining room times to facilitate our early morning departures.
It would be remiss of me to also not give special mention to our temporary coach, psychologist, "booter of the backsides" and general "pest" – Mal Holmes. Thanks Mal it was great fun having you "on the squad"."