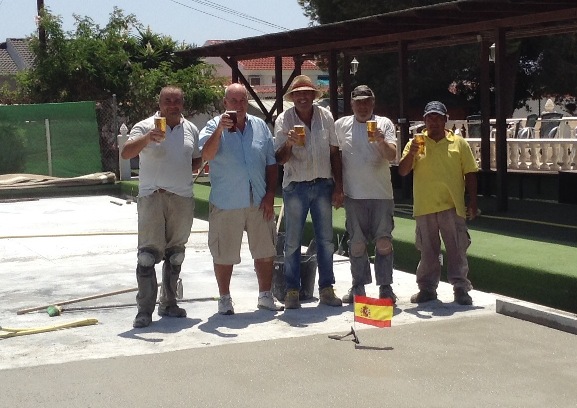 WORK PROGRESSING AT SAN LUIS
A "TOPPING OUT " ceremony was held at San Luis Bowls Club last week as the last section of concrete was being poured on the new bowling green.
Four fantastic workers Juan, Adrian, Marcello and Antonio have done a fabulous job and the members are already delighted with what looks as though it is going to be an excellent surface, a vast improvement on the previous rinks.
Carrying out the work are Greengauge, a Scottish company based in East Lothian, and the market leading suppliers of artificial bowling surfaces, preferred by bowlers worldwide.
Local representative Jackie Breslin, himself a former international bowler and more recently the coach of the national squad, told the Leader that the New Greengauge carpet should be installed by 18th August, just in time for the start of the new lawn bowling season in Spain.
With the venues still to be selected for the Valencian championships, which get underway in late September, San Luis Bowls Club, based at Casa Ventura, could well be one of the favourites to host the tournament.
MONTE MAR BOWLS AND SOCIAL CLUB
Sponsored by Avalon
Spitfire League Monte Mar Torros v San Miguel Moors
Unfortunately, Monte Mar Torros did not end the season in a blaze of glory. In a hard fought match against San Miguel Moors, we lost on four rinks, albeit on the last end on one, we won on one and drew on one – thus losing the match by 83 shots to 110 and by 3 points to 11.
Well done to the winning team of Jan Soars, Chris Harding and skip Mick Soars and to our drawing team of Howie Williams, Ted Hyman and skip Val Hignett.
We can only look forward to a better season next time.
For further information about Monte Mar Bowls and Social Club check out our website www.montemarbowls.com or email us at info@montemarbowls.com. We are also on Facebook.