This week experienced some very tight games throughout the divisions for Vistabella. In the Monday leagues Vistabella  Eagles away to Greenlands Beeches  in the Voyager division drew in games but lost out on shots  to go down 5 – 7 with shots for 74 against 80 really close.
The Buggies in the same division  at home to Greenland Chestnuts won 9 – 3 shots 102 – 67. In the Discovery Division another really tight game with the Drivers at home to Monte Mar Matadors again drawing on games but losing on shots  5 – 7 shots 76 – 91. Vista Bella  Albatrosses  in the Enterprise division did well winning away to La Siesta Apollos 10 – 2 with 118 shots for and 70 against with some notable scores of 26- 12,25 – 11 and 24 – 6.
In the Winter League another massive win for Vistabella  against Bonalba of 14 – 0 with shots 165 – 80. Notable scores were Pam Lockett and Maggie Furness 34 – 12 and Carol Thorpe and Kath Reid 38 – 14.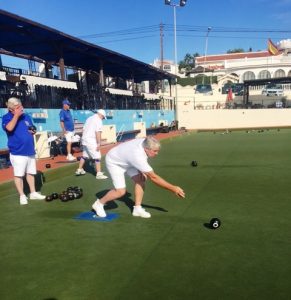 Friday leagues produced some ups and downs. The Picadors trounced Greenlands Ash 12 – 0 with 138 shots to 45 with notable scores of 36 – 6, 31 – 7 and 29 – 9  whereas the Conquistadors in the same division away to Quesada Saints were beaten 2 – 10 though shots were close at 72 for and 97 against it has to be said that the former are the "super C" side. In the B division the Picadors went down at home to the Monte Mar Matadors  5 – 7 shots 89 to 104 another very close game with shots as the decider a very similar result as the Monday meeting..
Vistabella Bowls Club is sponsored by: Venture Fleet Services, TV Choice, Oneway Services, Serenity Insurance, Carpet Heaven.  
How about coming and have a go at bowling we would be pleased to see you. We can arrange a free session and lesson . You could get hooked it's a fabulous game and a very sociable one you'll meet lots of new friends.
Also bowlers are most welcome, and we are looking for new members. Please contact:  Club Captain –Neil Burrows neilburrows@gmail.com or Charlie Watkins Membership Secretary charlieatpathways@yahoo.co.uk.   Reported by : Montestan